How People Become Part Of The Westminster Abbey Choir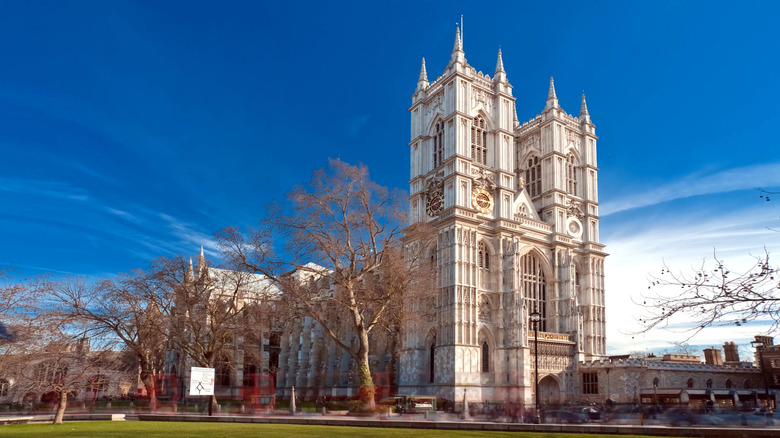 wadstock/Shutterstock
On September 14 the coffin of Queen Elizabeth II, who died at Balmoral Castle in Scotland at the age of 96, was transported by gun carriage to Westminster Hall where the late monarch will lie in state for four days, according to The New York Times. Greeting the queen at Westminster Hall was a long line of mourners who began gathering earlier in the week. Thousands are expected to pay their respects to the queen — the longest-reigning monarch in British history — before she then goes to Westminster Abbey for her state funeral, as The Associated Press explains.
Also upon the queen's arrival at Westminster Hall on September 14 was music from both the St. James's Palace and Westminster Abbey choirs, as the Associated Press goes on to note. The Westminster Abbey choir in particular is an ancient ensemble with deep roots in British history and a long tradition of accompanying royal ceremonies both in times of celebration and in periods of mourning, as was the case with the ensemble's involvement in the memorial proceedings in honor of Queen Elizabeth.
The Westminster Abbey Choir consists of 30 boys and 12 adults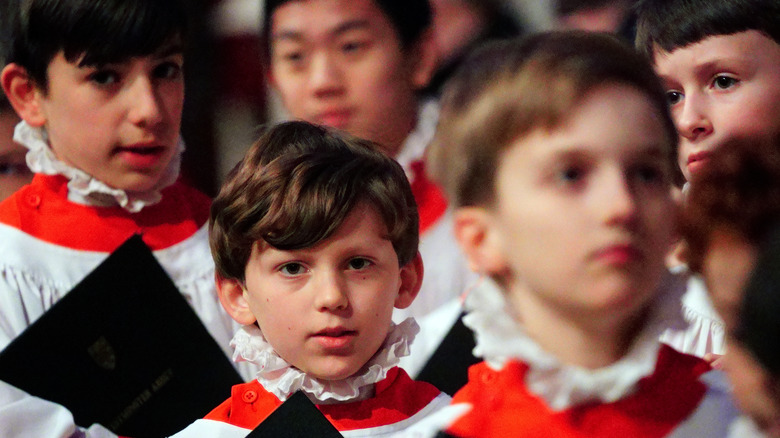 Wpa Pool/Getty Images
As the official Westminster Abbey website explains, the Westminster Abbey Choir is made up of 30 male students from the Choir School hosted by the abbey, and 12 professional adult male singers called Lay Vicars. In the past, the Westminster Abbey Choir was called upon for much more joyous occasions, such as the Queen's diamond jubilee in 2012, the 60th anniversary of the queen's coronation. With a broad and varied repertoire including both ancient works from English history and more modern compositions, the world-famous choir is also known to tour and produce recordings, as well as participate in daily services. An application to become a Lay Vicar, a paid position, is available through the Westminster Abbey website. Lay Vicars are expected to have formal education and professional experience singing at an advanced level.  
As far as the boy singers in the Westminster Abbey Choir, they audition for the prestigious ensemble around the age of 8, as the Westminster Abbey Choir School website explains. Potential choristers then go through a five-step process including an informal and formal audition, choir school visitation by both potential singers and their parents, and academic testing, among other aspects of the vetting process. Prospective choristers also attend a service, sitting near the choir to experience what it might be like should they be approved to join. Those granted admission receive an "all-around education" in addition to an opportunity to sing at high-profile events, as the Choir School also notes.