How China Has Tried To Eliminate The Bible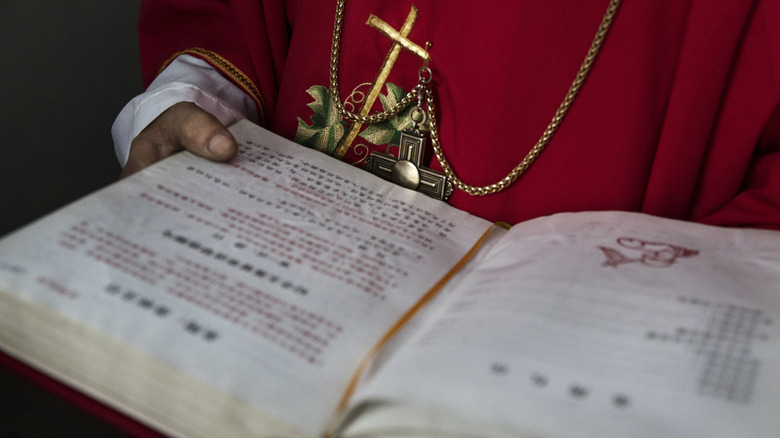 Kevin Frayer/Getty Images
In recent years, Western leaders have been under increasing pressure to call out the allegedly shocking human rights record of The People's Republic of China. This pressure has intensified amid leaked reports on the nation's brutal treatment of the Uighur population, an ethnic minority Muslim group of around 12 million people who the BBC claims are being subjected to mass imprisonment, "re-education," sterilization, and genocide. U.S. Secretary of State Antony Blinken described China's policies and actions against the population as "crimes against humanity" (per the BBC).
As reported in The Boston Globe in 2018, the Uighur's persecution is part of a broader effort on behalf of the Xi Jinping government to promote "traditional values" through China's native religions, such as Buddhism and Taoism.
And it is not just Islam that China is looking to suppress. As many news organizations have reported, recent years have seen the country curtail Christianity through a range of policies that have limited the availability of the Bible to ordinary citizens.
China's attempts to limit religious freedom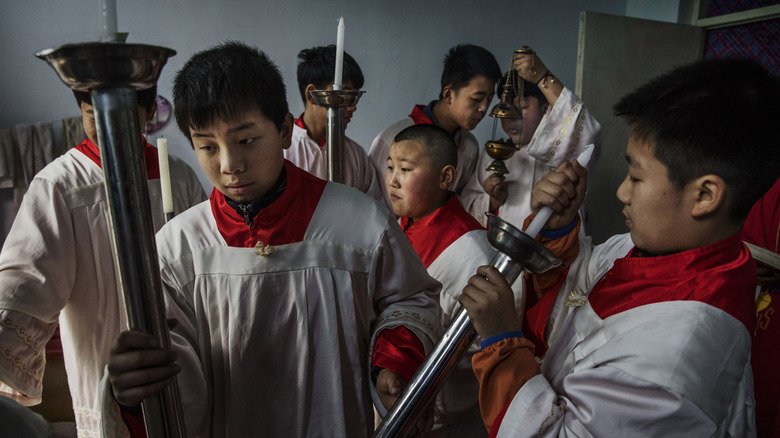 Kevin Frayer/Getty Images
Though no reports suggest that Christians in China have been subjected to the kind of state-sponsored suppression that has allegedly befallen the nation's Uighur Muslims and outraged political leaders and commentators around the globe, incremental changes of policy have seen China increasingly tighten its grip on their religious freedoms.
In April 2018, Newsweek reported that China had instigated a ban on the commercial sale of Bibles in the country on platforms such as Dang Dang, an online marketplace similar to eBay, and several online stores selling the Bible were permanently closed.
In September 2018, it was reported by the Associated Press that China's suppression of Christianity was escalating, with the closure of churches, the destruction of crosses ... and the burning of Bibles. More recently, trials have been held to prosecute those who have distributed audio Bibles (via VOA), and Christian apps and social media accounts have been removed from China's state-controlled internet (CBN News).
In May 2021, an article in Forbes asked: "Are Christians In China Next In Line For 'Re-Education'?" The world watches and waits.