Magic Johnson Received Some Blunt Advice From Michael Jordan After His NBA Return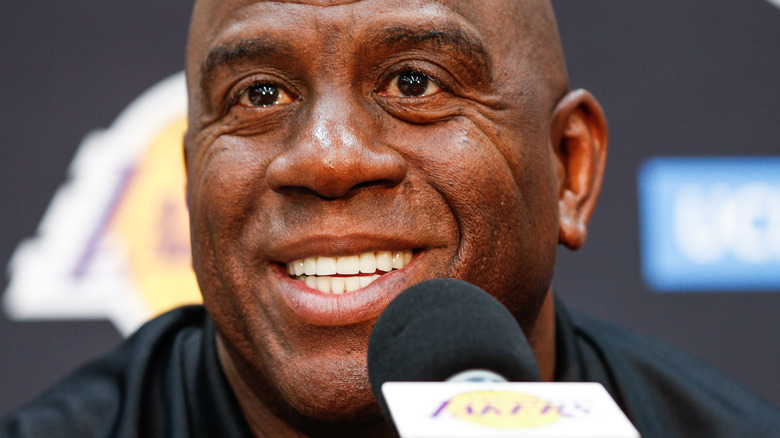 Meg Oliphant/Getty Images
Magic Johnson is arguably the greatest point guard to have ever played in the NBA. His combination of size (6'9") and skill at the position had never been seen before, and has rarely been matched since. Beginning in his rookie season in 1979-80 through the 1990-91 season, Johnson racked up over 17,000 points and nearly 10,000 assists (via Basketball Reference). Playing for the Los Angeles Lakers, he won five NBA Championships, being named Finals MVP three times, to go along with three regular season MVP awards as well as a Rookie of the Year award during this stretch (via Basketball Reference).
Following the '90-91 season, in which he averaged 19 points, 12 assists, and 10 rebounds per game (via ESPN), Johnson unexpectedly and abruptly retired. During a press conference Johnson shocked everyone when he announced, "Because of the HIV virus that I have, I will have to retire from the Lakers today" (via Fan Nation). Johnson was just 32 at the time. Johnson would miss the next four seasons before attempting a comeback in the '95-96 season. During this comeback season, Johnson received some blunt advice from another NBA legend in Michael Jordan.
Comeback season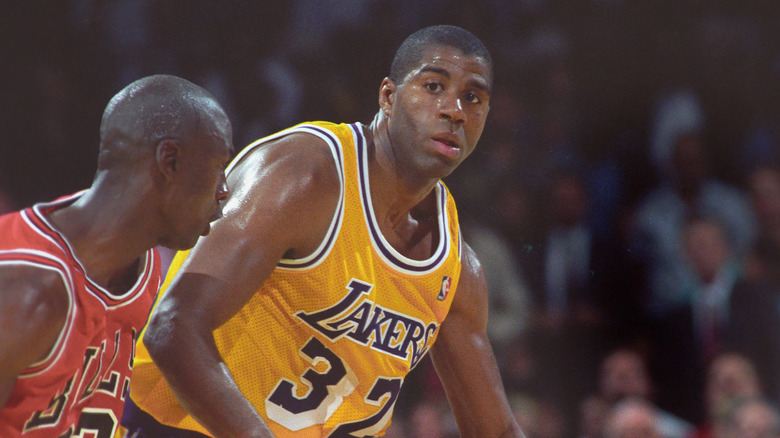 Steve Dykes/Getty Images
Michael Jordan is perhaps the best example of an athlete coming out of retirement and still performing at, or potentially even better than, their level of play prior to retiring. Following the 1992-93 season, in which Jordan's Bulls won their third straight NBA Championship and Jordan led the league in scoring with 32.6 points per game (via Basketball Reference), he retired to pursue a professional baseball career. Following nearly two seasons off (Jordan did appear in 17 games at the end of the '94-95 season before returning in full for the '95-96 season), he stepped back seamlessly into the Bulls, winning three straight championships and averaging over 28 points each season (via Basketball Reference).
When Johnson returned to the Lakers, he was now 36 years old and hadn't played in the NBA for four seasons. He only ended up appearing in 36 games that year, and while he did average a very respectable 14.6 points, 6.9 assists, and 5.7 rebounds per game (via Basketball Network), it was clear that he wasn't the same player he had been. Following a game against the Bulls, Jordan had some blunt advice for the recently returned Johnson.
Honest advice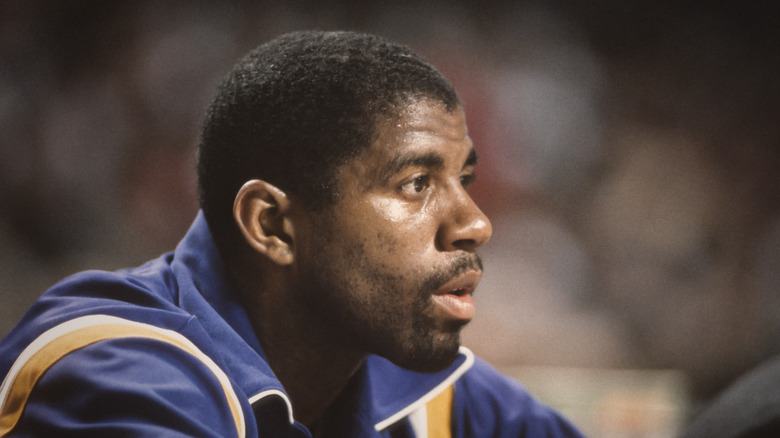 David Madison/Getty Images
Johnson recalled how Jordan took him aside after the game and gave him an honest report on how his comeback and the Lakers' season was going. "He (Jordan) met me in between the locker rooms," Johnson said, "and he said, 'Ervin, you have to remember now, you're not with Kareem (Abdul-Jabbar); you're not with James Worthy. All the guys you used to play with, Showtime, are not on that Laker team anymore. So remember, maybe you should think about retiring" (via Basketball Network).
The Lakers ended up finishing the season 53-29 which was good for fourth place in the West that season, but they were quickly eliminated from the playoffs losing their first round series three games to one to the Houston Rockets (via Basketball Network). Following that playoff loss, Johnson would retire for the second time from the NBA. It's unclear whether or not Jordan's midseason advice had any impact on Johnson's decision, or if he just realized that he was no longer the same "Magic." 
Either way, the decision was final and Johnson wouldn't attempt any more comebacks. Unlike his first retirement that was forced by his HIV diagnosis, Johnson was able to retire on his own terms this time.