The Lesser-Known Band That Annie Lennox And Dave Stewart Got Their Start In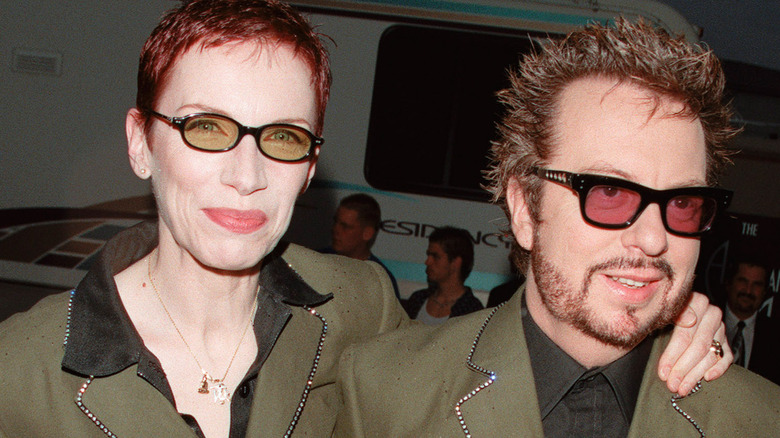 Featureflash Photo Agency/Shutterstock
When a band finds success like the Eurythmics did in the early 1980s, it can feel the group emerged from nowhere, fully formed (via AllMusic). Focused on the songwriting partnership of Annie Lennox and Dave Stewart (above), the Eurythmics will be inducted into the Rock & Roll Hall of Fame, class of 2022, according to the Rock & Roll Hall of Fame website. Of course, no musical artist or group starts out complete. Most musicians, in fact, test their luck and talent for years in the music industry, playing different styles of music in a variety of different projects.
What's more, the bands with which musicians like Annie Lennox and Dave Stewart find fame are also sometimes called a number of things before the group settles on a name. That's certainly the case with Eurythmics: That duo wasn't the first group that Lennox and Stewart were involved in, nor was the synth-pop sound for which the Eurythmics are most well-known today the first style of music they played.
Stewart and Lennox were once a romantic partnership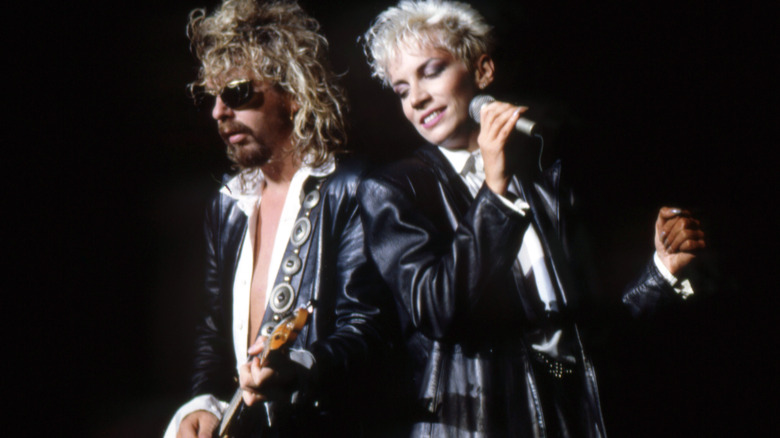 Icon And Image/Getty Images
The Rock & Roll Hall of Fame is located in Cleveland, Ohio, and as Cleveland.com reports, Lennox and Stewart were shocked when they learned they were among the 2022 class of inductees. Formed in 1980, the Grammy Award-winning group's biggest hit is perhaps "Sweet Dreams," released in 1983, per the Rock Hall website. According to their AllMusic band bio, Stewart and Lennox met in the late 1970s — Stewart had played in other projects, and Lennox was a student at the Royal Academy of Music in London.
Early on in the group's history Stewart and Lennox were also a couple. Their last full-length album, "Peace," came out in 1999, and since then, Lennox and Stewart have gone to work on other projects, while they still occasionally make music together. After all these years, and after appearing on the Hall of Fame ballot once before, in 2018, Stewart told Cleveland.com " ... [I]t's quite nice to look and see that body of work we created and be proud of it and feel honored that it's being recognized by these halls of fame, you know?" Stewart and Lennox worked hard, "and it feels good that's appreciated," Stewart said.
Lennox and Stewart played post-punk music early on
Per AllMusic, the group that Stewart and Lennox first briefly played in was called Catch, which shortly transitioned to The Tourists (above). Though still New Wave in style, The Tourists, with Lennox on vocals, were more post-punk influenced and guitar-centric than the synth-heavy sound for which the Eurythmics would later make their name. According to Nostalgia Central, though, The Tourists, who split in 1980, had a few hits with their cover of the Bay City Rollers song "I Only Wanna Be With You" and "So Good to Be Back Home Again" (posted on YouTube).
On the news that the Eurythmics were to be inducted into the Rock & Roll Hall of Fame, Lennox told Rolling Stone, "our journey has been really one of decades and decades. Things have happened personally, musically, and in the world throughout these decades that you could never have anticipated." Alongside the Eurythmics in the 2022 class of inductees is another group that made their name playing New Wave music in the 1980s, Duran Duran and the 1980s hit-making songwriting and performing partnership ​​Pat Benatar and Neil Giraldo (via the Rock Hall website).