Does Paul Revere's Home Still Exist?
"One if by land, and two if by sea; / And I on the opposite shore will be, / Ready to ride and spread the alarm / Through every Middlesex village and farm, / For the country-folk to be up and to arm." So goes Henry Wadsworth Longfellow's famous poem (per poets.org) about the two-lantern signaling system and late-night ride of Paul Revere, a silversmith whose journey on horseback through the Massachusetts countryside provided a crucial warning to colonists before the Battles of Lexington and Concord, which launched the Revolutionary War.
On that night — April 18, 1775 — Revere was actually arrested by British troops on his way to Concord, but before they caught him, he managed to alert founding fathers Samuel Adams and John Hancock to British plans to capture them, thereby helping them to escape, per History. Luckily, Revere's co-rider, Samuel Prescott, did reach Concord, and by then, along with William Dawes, the riders had managed to sound the alarm throughout both towns, revolutionary strongholds where the British made their first attack.
But where did Revere set off from on that fateful night, and does the building still exist? A Bostonian, Revere was in the thick of things as the Boston Tea Party and other key events leading up to the Revolution unfolded, according to Biography. In 1775, he was living in the city with his family.
Paul Revere's home is now open to the public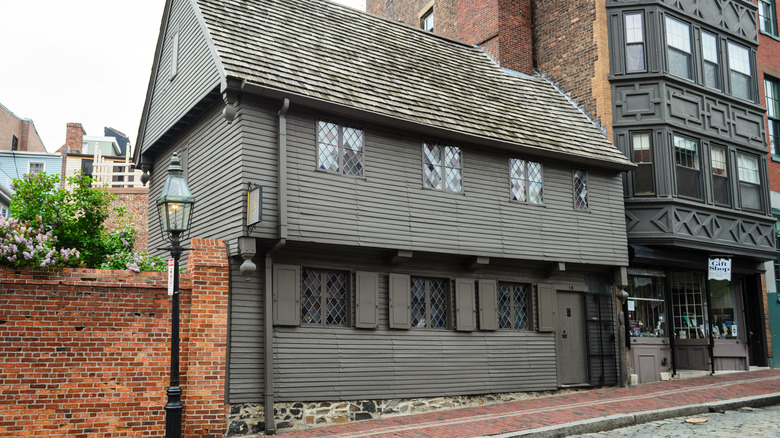 Zack Frank/Shutterstock
The house where they lived is a modest wooden abode in Boston's North End. And yes, it does still stand; in fact, the house now features a museum that's open daily, and it hosts tours for groups of 10 or more by appointment.
Revere moved into the place in 1770 with his mother, Deborah; his wife, Sarah; and their five children. They owned the house until 1800 and lived there for most of the time leading up to then, although according to The Paul Revere House, they might have lived elsewhere during the 1780s.
Most of the house's original structure remains in place today. Visitors will find doors, window frames and rafters that date back to Revere's time, and the layout of the building now stays true to the designs of that era; the house's current owners, members of the Paul Revere Memorial Association, have even decorated the upstairs rooms with items that Revere owned, per The Paul Revere House.
The Revere house fell into disrepair before preservationists bought it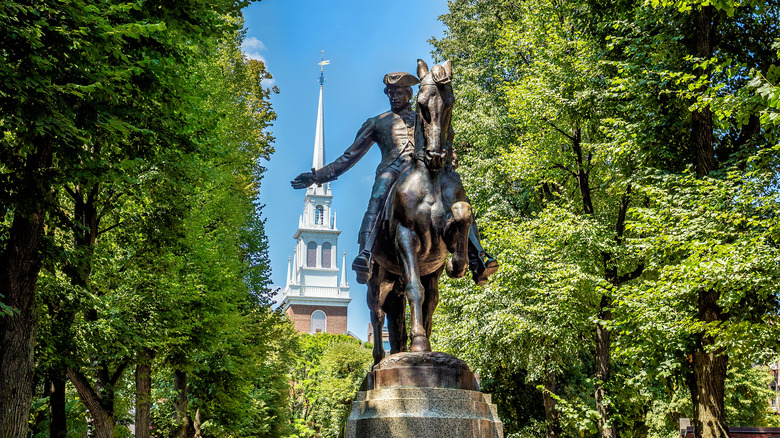 f11photo/Shutterstock
About a century after Revere sold that house, his great-grandson bought the property. John Phillips Reynolds paid $12,000 for the building in 1902, according to The Paul Revere House. Reynolds' move thwarted an effort to bulldoze the house and build tenement apartments where it once stood. It was later sold to the Paul Revere Memorial Association for $30,000.
In the years since, the association has restored the house, which had fallen into serious disrepair and even survived a small fire in the years before Reynolds bought it. The historical landmark now fits in nicely among the tony residences and upscale Italian restaurants of Boston's North End.
As for Revere? After his ride, the British released him, and he went right back to aiding revolutionaries. He was responsible for Boston's first gunpowder mill and later enlisted in a Massachusetts infantry during the war, per History. Revere lived to see America's founding and fathered eight more children after a second marriage. He died in Boston on May 10, 1818, according to Biography.