A Gruesome Find At A Salt Factory In Tennessee Has Sparked A Murder Investigation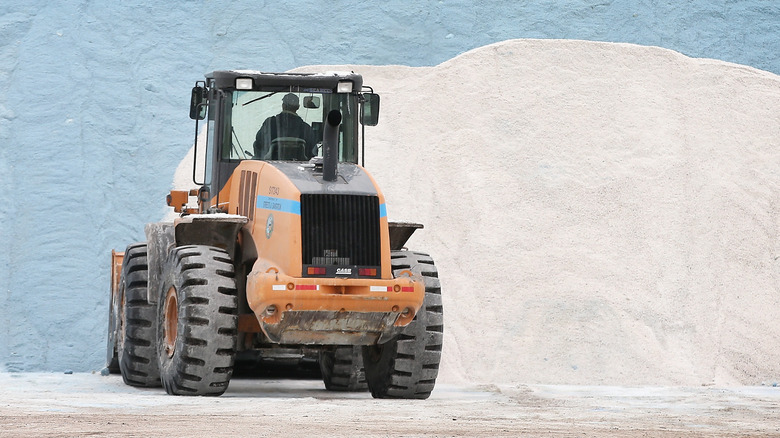 Scott Olson/Getty Images
In mid-December 2022, a human organ that appeared to have been surgically removed from the body it belonged to was found in a salt barn operated by the Tennessee Department of Transportation, according to a report from Kansas City news outlet KSHB. Salt from the Tennessee facility was used to make local roads safer during winter weather. As of this report, little was known about where the organ came from, why it was removed, or how it wound up buried in salt. After a preliminary examination, it was determined the organ belonged to an adult male. Additional DNA testing was anticipated.
After the discovery was made, a murder investigation was announced by the Tennessee Bureau of Investigation (TBI). Referring to the find, Humphreys County Sheriff Chris Davis said (via The Guardian), "I've got 32 years in law enforcement — I do have to say this is probably in the top five of most bizarre things that I've ever seen." According to KSHB, Davis also said that whenever human remains or body parts are found, authorities treat it as a homicide investigation until when and if it can be proven otherwise. No other body parts were found in the area, and public safety was not believed to be threatened (via WJHL.com).
TDOT workers thought they found a rock
Based on WJHL reporting, Tennessee Department of Transportation (TDOT) employees were preparing for a winter storm when they found what they first thought was a rock but were instead human remains dried out by the salt. KSHB described the object as roughly the size of a tennis ball. Efforts are also underway to find out where the salt in the barn may have come from. It's believed the organ could have been in the salt for only a matter of weeks. Given the condition of the human remains, it may be hard to know for certain.
When the discovery was announced, some thought the organ might belong to a young child named Joe Clyde Daniel, who went missing from a nearby county five years earlier. That was proven not to be the case when it was confirmed the organ belonged to an adult male (via KSHB). With few clues and a paucity of hard evidence, Sheriff Davis said (per KSHB), "Somebody, somewhere knows and we're seeking information." Davis (pictured) also urged the public to reach out if they had any clues or just an inclination as to what might have happened.
It was a human heart
The human organ found dried out in salt by TDOT workers was a human heart. The heart was otherwise undamaged, as if it had been removed intentionally, as KSHB reports. Or, as legal analyst Nick Leonardo put it, speaking with KSHB, "A heart doesn't naturally leave the body as part of the decaying process, so clearly, there is some human involvement here. And the question is if it's criminal in nature."
The salt at the facility came from Morton, a major salt producer for food and industrial purposes (via MortonSalt). No evidence suggests the heart came from Morton. The barn in which the heart was found was in McEwen, Tennessee, about 60 miles outside Nashville. Employees were making a salt brine when the heart was found. At the time that the heart was found, a severe winter storm was anticipated, based on Knox News reporting. As of this report, TDOT was fully cooperating with the investigation.