The Melancholy Meaning Behind Bruce Springsteen's Song, Nebraska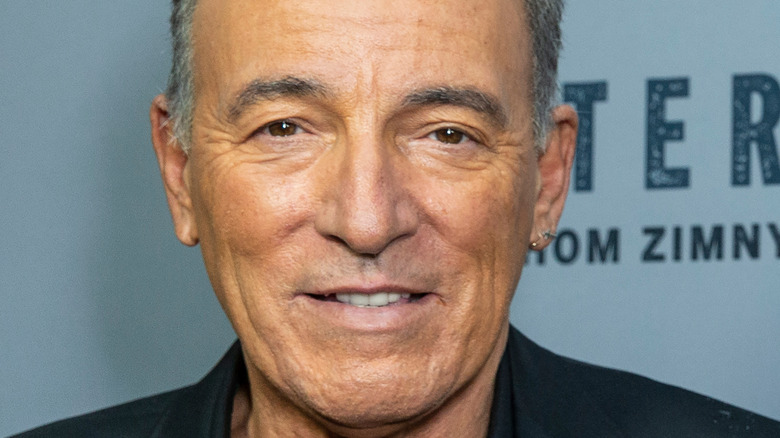 lev radin/Shutterstock
By the late 1970s, Bruce Springsteen had become interested in narrative songwriting in which he took on the persona of a character. He began to explore this technique on his 1980 album, "The River." "I tried to walk in his shoes and tried to get you to walk in his shoes, also," Springsteen recounted on VH1's "Storytellers" (via YouTube). So when Springsteen saw the 1973 Terrence Malick film "Badlands," which starred Martin Sheen and Sissy Spacek, on TV one night, he became intrigued with the film's protagonist, a barely fictionalized version of a man named Charles Starkweather, per "Bruce Springsteen: Two Hearts, the Story."
"This type of writing is often very detailed because you're creating a physical world that's not yours... So it involves a certain amount of research," Springsteen said on the VH1 program. In the case of the song that would become "Nebraska," that research involved learning more about Starkweather and the trail of destruction he and his underage girlfriend left in their wake during a murder spree in the late 1950s.
Two teens on a spree 
In January 1958, Charles Starkweather, a 19-year-old from Lincoln, Nebraska met 13-year-old Caril Ann Fugate and soon the young couple went on a murderous spree across Nebraska and Wyoming that lasted more than a week, per Biography and the City of Lincoln Nebraska Libraries. The opening lines of Springsteen's song succinctly give the listener a glimpse of what was to come. "I saw her standin' on her front lawn/Just a-twirlin' her baton/Me and her went for a ride, sir/And ten innocent people died."
After a high-speed chase outside of Douglas, Wyoming, the police arrested the couple whose victims included Fugate's mother, stepfather, and two-year-old half-sister, along with seven strangers (Starkweather also killed a gas station attendant a month before he met Fugate for a total of 11 murders), per City of Lincoln Nebraska Libraries. Following their convictions, the state executed Starkweather in June 1959 and Fugate served 18 years in prison before being paroled in 1976. After Bruce Springsteen became intrigued by "Badlands," he read the non-fiction book "Caril," by the journalist Ninette Beaver and cold called the newspaper where she had worked, per "Bruce Springsteen: Two Hearts, the Story." "I called up and the woman who had reported the story was still there, 30 years later," Springsteen recounted in "Storytellers."
A Southern Gothic writer and a Noir film 
Bruce Springsteen's conversation with Ninette Beaver didn't start well. "Honest to God, I know I should know who you are, but I'm just drawing a blank," Beaver told him when he called her at the newspaper, per "Two Hearts, the Story." Once he'd explained who he was, they discussed the case and Springsteen began writing the song. Besides relying on the Charles Starkweather story, Springsteen turned to the writings of the Southern Gothic author Flannery O'Connor, who he'd been reading for inspiration. The songwriter also dug into the 1955 Noir film "The Night of the Hunter," that starred Robert Mitchum — "a kind of horror story told from the perspective of a child," Springsteen explained in "Storytellers."
But as he recounted in the VH1 program, even after doing the research, the song needed more. "You can put together a lot of detail but unless you pull something up out of yourself it's just going to lay flat on the page... 'Nebraska' is a song with the premise that everyone knows what it's like to be condemned." Springsteen's new song became the heart of his next album,1982s "Nebraska," a stark and haunting exploration of the darker aspects of our world and the hope of redemption.