Sulfur Hexafluoride: Helium's Evil Twin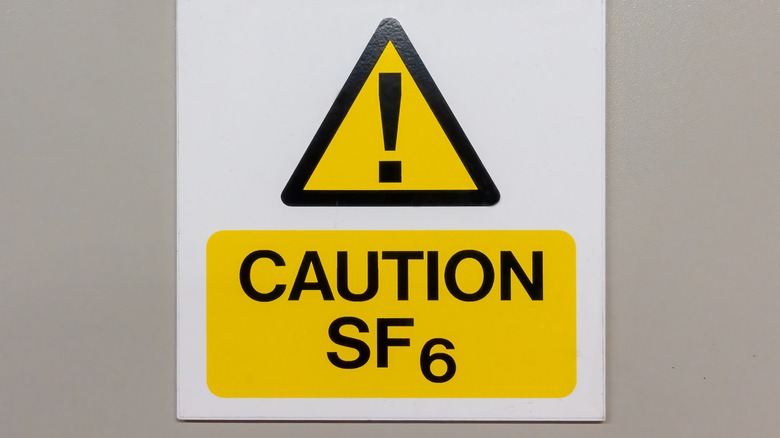 J R Price/Shutterstock
Helium is a curious gas. The silly games that tend to be played with it are, of course, noble pursuits indeed. Noble pursuits for a noble gas, you might say. Per Britannica, helium has no taste or odor like the rest of the noble gases (a group that also includes argon, krypton, oganesson, radon, neon, and xenon). It would seem generally unremarkable if it didn't have that unique effect on our voices.
You may not know, however, that it's not a toy to be played with. As NBC News reported in October 2022, MRI machines need large amounts of liquid helium to function (2,000 liters of it), and the scarcity of it may pose a tremendous medical conundrum for the future (just when our future needed yet another challenge). Even lesser-known than the serious uses of helium is another gas, sulfur hexafluoride. It is, in many ways, the exact opposite of helium, and so it has some truly remarkable (and rather terrifying) properties of its own.
A voice-deeping gas, but so much more too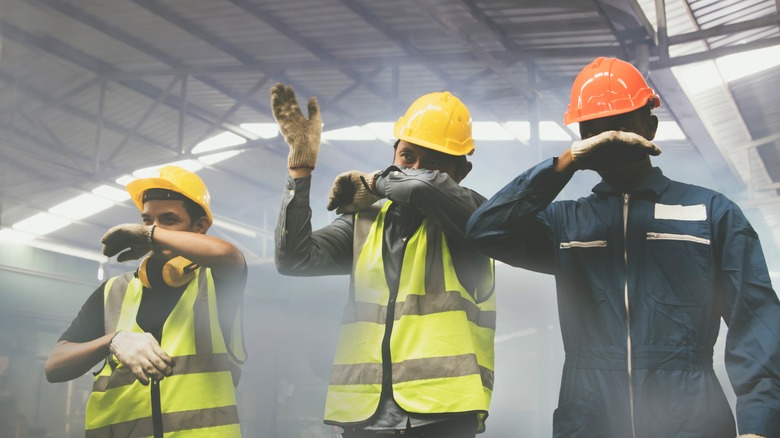 chalermphon_tiam/Shutterstock
What is sulfur hexafluoride? You may never have heard of it. If you have, you'll probably be aware that it's quite the crowd-pleaser at scientific demonstrations. In a January 2011 clip from SpanglerScienceTV (via YouTube), scientist Steve Spangler demonstrated the gas in a segment on 9News. Surrounded by the hosts of the show, he indicated a large, seemingly empty tank. He explained that it was full of a gas that is "super heavy ... boring ... it's inert ... odorless," not exactly selling the whole thing. Then, however, came the demonstration of exactly what sulfur hexafluoride can do.
Spangler produced a small boat of shaped foil. Placing it just inside the tank, the boat seemed to float in mid-air, supported by the unseen gas. Sulfur hexafluoride is "about six times heavier than the air that we breathe," Spangler explained. Moments later, he showed off another property of the gas: When breathed in, it has the exact opposite effect of helium by dramatically deepening the voice of those who breathe it in.
"Alright, I will talk to the audience ... Oh, wow!" Ellen DeGeneres remarked as her voice deepened on "The Ellen DeGeneres Show" in September 2007 (via Sick Science! on YouTube), having been convinced to inhale the gas by the mischievous Spangler. This is all very funny and entertaining, but much like helium, this gas has serious uses, too. It also has a horrifying effect on the environment.
Sulfur hexafluoride and the environment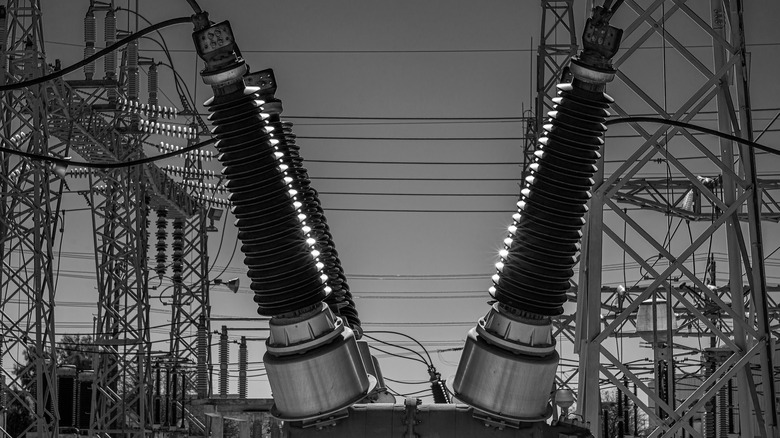 VG Foto/Shutterstock
In that same 9News Segment, via SpanglerScienceTV on YouTube, Spangler shared some of the practical applications of sodium hexafluoride. "... electrical engineers will flood a room or ... part of a semi-conductor or something with this material," he said, "... because ... it doesn't conduct electricity." A quick maneuver with a taser later, he had proven this.
A study published in Energies in August 2018 (via Multidisciplinary Digital Publishing Institute) explains that the gas is invaluable for this very purpose and has an enormous role in keeping electrical connections safer. Phillip Widger and Abderrahmane (Manu) Haddad, authors of "Evaluation of SF6 Leakage from Gas Insulated Equipment on Electricity Networks in Great Britain," note that the gas "exhibits extremely useful insulation characteristics that allow for its use in distribution and transmission equipment in the power network. It exhibits an insulation capability approximately three times that of air ... and ... allows for compact gas-insulated switchgear (GIS) and gas-insulated lines (GIL) to be adopted." Such equipment, the study goes on, operates well under the electrical stresses that other materials would have struggled to handle. So it is, in that way, safer.
What's so bad about this boat-floating, electrical-disaster-preventing gas, then? Well, it has yet another unique property: The United States Environmental Protection Agency deems it "the most potent greenhouse gas known to-date [sic.]." It lasts in the atmosphere, degrading very little, for around 3,200 years. Comparing this to carbon dioxide, it slow-bakes our atmosphere 22,800 times more efficiently, according to the organization.