The Origin Of Pinching If You Don't Wear Green On St. Patrick's Day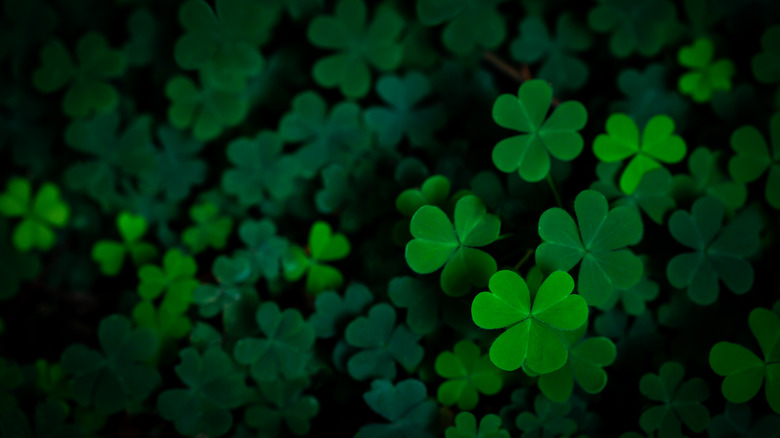 ArmadilloPhotograp/Shutterstock
St. Patrick's Day, or March 17, is everyone's favorite Irish-themed holiday. That's true both in Ireland and in the United States where there are reportedly more large-scale St. Patrick's Day celebrations than anywhere else in the world, according to the BBC. The ubiquity of St. Paddy's Day in North America is likely due to the influx of Irish immigrants beginning as early as the 18th century.
Shamrocks, green beer, parades, and Irish music are all familiar parts of the typical St. Patrick's Day festivity. So, too, is playful pinching should someone get caught wearing no shade of green in their clothing. For this very reason, 80% of all Americans — where the wear-green-or-be-pinched custom is most popular — plan to wear green each March 17 according to a recent survey, based on 2022 reporting from Irish Central.
Though non-consensual pinching is never advisable, where exactly did the St. Patrick's Day-pinching custom come from? Like the origins of St. Patrick's day itself, the pinching practice on St. Paddy's is based on another cultural tradition from Ireland: those mythical little creatures known as leprechauns.
Leprechauns are said to be tricksters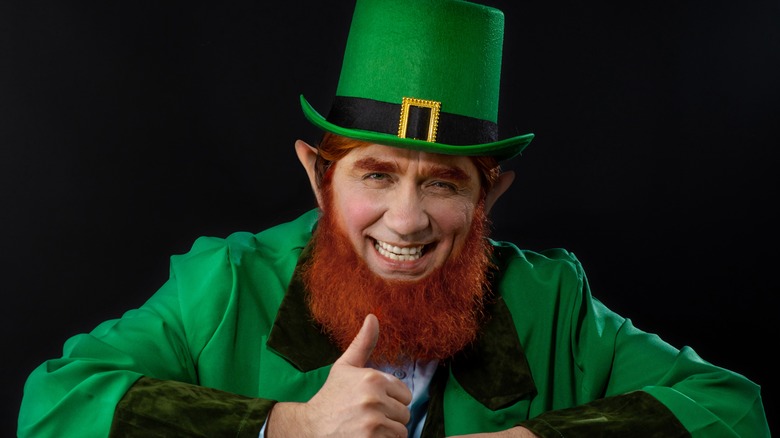 TSViPhoto/Shutterstock
Anymore, leprechauns or little Irish fairy-like men are recognizable icons of Irish culture. Live Science writes that as early as the 8th century, there was mention of leprechaun-type creatures in Irish folklore, who are most often described as mysterious little men who are cobblers, or shoemakers, and who have their own pot gold, famously stored safely away at the end of the nearest rainbow. Encounter a leprechaun and you may be able to get some of that gold for yourself — that is if the little rogue doesn't trick you first.
These days leprechauns are everywhere in popular culture, even when it's not St. Patrick's Day. And though they originate in Irish folklore, they're particularly well known in the U.S. where leprechauns represent everything from Lucky Charms breakfast cereal to sports teams in the logo of the NBA's Boston Celtics and in the sports mascot of the University of Notre Dame Fighting Irish. Anymore, in fact, leprechauns are as prevalent in the U.S. on St. Patrick's Day — if not more so — than they are in Ireland, Irish Central writes.
Wearing green supposedly means leprechauns can't see you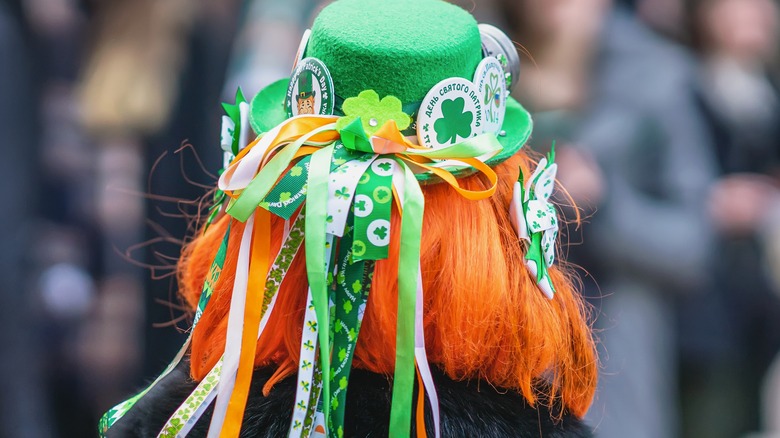 s8/Shutterstock
As mentioned, representations of leprechauns — especially the playful leprechauns of American popular culture — are part of St. Patrick's Day more so than even in Ireland, and the pinching tradition for people not wearing green is also an entirely American creation. Pinching on St. Patrick's Day dates to at least the early 18th century. As the story goes, pinching is just one part of a leprechaun's bag of tricks, according to The Christian Science Monitor. 
Wear green on St. Paddy's day — which is itself an American creation — and you'll be invisible to a leprechaun and therefore safe from their torment. Forget to wear green, and you might just get pinched as a reminder. Also notable, the color green itself only became linked to St. Patrick's Day in the U.S., drawn from the green on the Irish flag and in reference to the Emerald Isle, as Ireland is sometimes called. Early on, the color of St. Patrick's Day was blue. Americans switched it to green each March 17, and so, too, has the rest of the world.