Who Were The Brothers Grimm?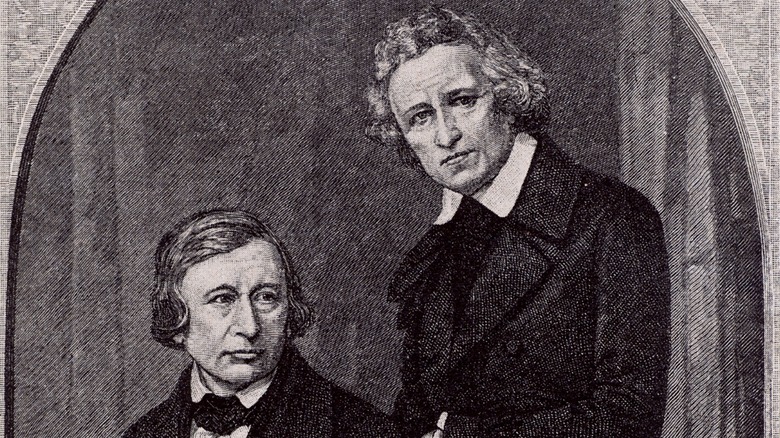 Photos.com/Getty Images
Cinderella, Hansel and Gretel, Little Red Riding Hood, and Snow White are but a few of the characters beloved by generations of children and adults alike. Whether through stories read to children or the various film and television adaptations — both live and animated — created over the years, these characters have become solidified in the world's imagination. The two brothers who put these and many other tales onto the page are much less known than the characters they helped popularize.
Jacob and Wilhelm Grimm not only gave the world some of its best-loved characters, but they were also groundbreaking German scholars who put their lives and reputations in danger to stand up against a tyrannical king. And if not for a British scholar who translated their book "Kinder und Hausmärchen" into English in 1823, their tales might not have reached the level of popularity they still enjoy more than 150 years after their deaths.
A tragic death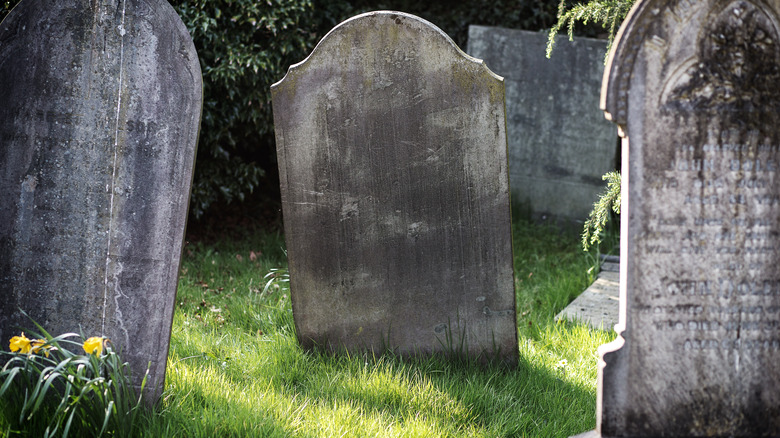 Vyasphoto/Getty Images
From an early age, the Brothers Grimm were inseparable and shared common interests and tastes. Jacob was born on January 4, 1785, and his brother, Wilhelm, a little over a year later on February 24, 1786. They grew up in Hanau, Germany. Their early life was one of privilege as the eldest sons of a lawyer and town clerk, Philipp Wilhelm, and his wife, Dorothea Wild. They received an excellent education, and their lives seemed on track for social success until the tragic death of their father from pneumonia in the winter of 1796, when Jacob was 11.
Their mother moved the family — which included six children — to Kassel, almost 200 miles north, to be closer to her family. The two eldest boys lived with their aunt, Henrietta Zimmer, whose ties to the royal court got them into a prestigious secondary school. Because of the diminished circumstances, the other students brutally bullied the brothers. Not only did they persevere in the face of these hardships, but they also excelled, graduating at the top of their classes.
The first book of tales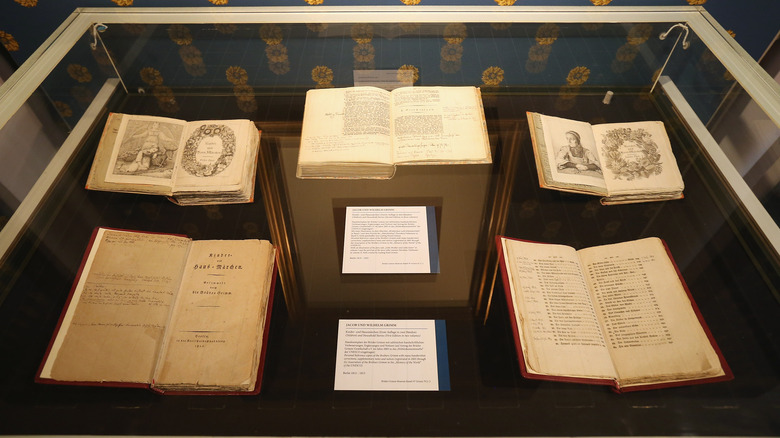 Sean Gallup/Getty Images
Both Jacob and Wilhelm Grimm attended the University of Marburg, and they looked to be following their father into law and jobs in the civil service. But by the dawn of the 19th century, they had turned their intellects toward new passions. They began collecting oral folk tales from Germany to preserve them before they disappeared forever, but also to try to discover the cultural commonalities among Germanic peoples.
Unlike the Romantic writers of the same period, who played fast and loose with these old tales, the brothers initially stayed as true as possible to their sources. While they worked on what would become their first volume of these stories — "Children's and Household Tales" — the two brothers were living in different cities and had to coordinate its production via letters as they collected tales and edited them. In 1812, the brothers published the book that they intended as a scholarly work rather than one aimed at children.
An English translation made them famous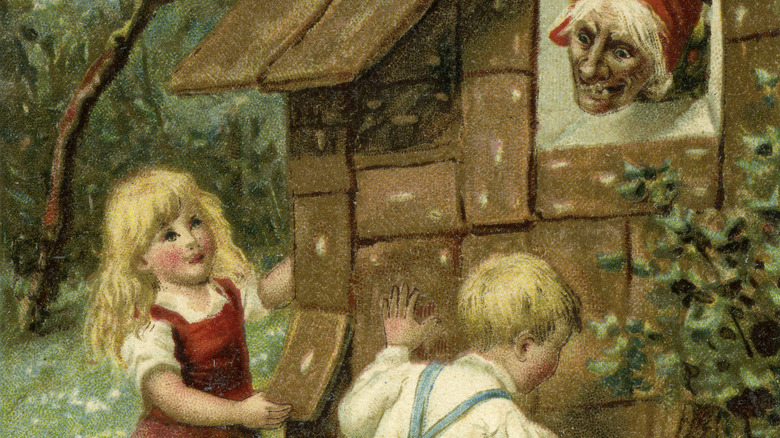 Culture Club/Getty Images
The Berlin-based publisher Reimer printed only 900 copies of the Grimm brothers' first volume of fairy tales, which sold well enough for the publisher to put out the second volume two years later. In 1823, the British lawyer and author Edgar Taylor translated the Grimm brother's book, with illustrations by George Cruikshank. Taylor called it "German Popular Stories," and it was the first of the Grimm's tales translated into English. Taylor softened the most violent aspects of the Grimm fairy tales and removed references to the devil, instead changing it to a giant. With its accompanying imagery, which was squarely aimed at children, it became hugely popular. Taylor's version influenced the Grimm brothers' later editions of their tales.
Besides collecting and editing their folktales, the brothers had other pursuits as well. Jacob Grimm was a major scholar who published books on mythology and helped lay the groundwork for Germanic philology, the study of the history of languages. Wilhelm, besides doing the heavy lifting with continuing to edit their fairy tales over the years, also edited medieval German poetry.
They were also political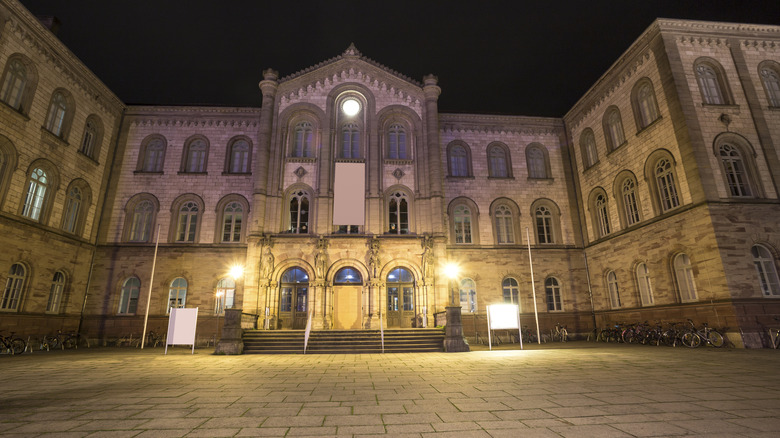 Teka77/Getty Images
In 1837, while the two brothers were librarians and professors at the University of Göttingen, they became embroiled in politics. When Ernest Augustus, the newly crowned monarch of the kingdom of Hanover, where the Grimms lived, ascended to the throne, he repealed the constitution for being too liberal. Jacob and Wilhelm Grimm, along with five other professors, signed a protest letter that the university's students disturbed throughout Germany. The seven men popularly became known as the Göttingen Seven. The king had the professors fired from their jobs and forced Jacob, along with two others, to leave the kingdom.
Both brothers left Göttingen and returned to Kassel for three years before moving to Berlin, then in the kingdom of Prussia. Despite their wrangling with the king of Hanover, the brothers' scholarly reputations were growing, and Frederick William IV, the king of Prussia, personally invited them to join the Royal Academy of Sciences. There, both Jacob and Wilhelm became university lecturers.
Their impact continues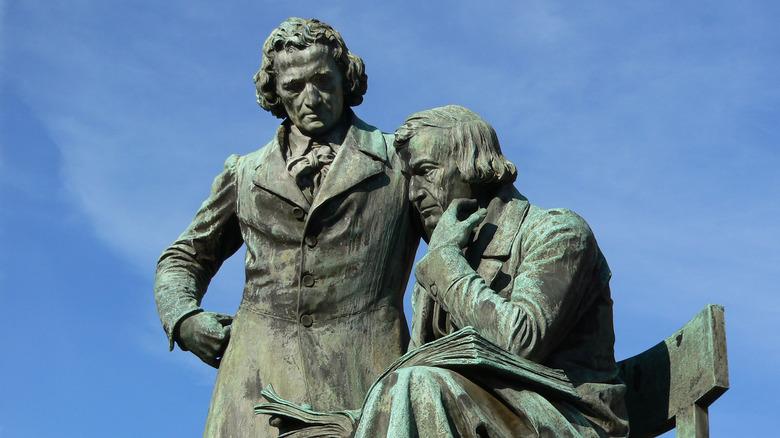 one AND only/Shutterstock
Jacob Grimm remained a bachelor his whole life, but Wilhelm married Dortchen Wild and raised four children. He also continued to edit their folktales, which had become wildly popular, just behind the Bible in German-speaking countries. Wilhelm died in 1859, and his brother Jacob in 1863. Their collected tales have been translated into every major language in the world — more than 160. And in no small part thanks to Walt Disney, characters like Cinderella and Snow White have become embedded in popular culture.
Even though the brothers initially didn't intend their tales for children, they embraced the result. "I did not write the story-book for children, although I rejoice that it is welcome to them; but I would not have worked over it with pleasure if I had not believed that it might appear and be important for poetry, mythology, and history to the most serious and elderly people as well as to myself," Jacob wrote, according to JSTOR Daily.