Alan Berg's Killers Were Put Away For Centuries, But Not For His Murder
Alan Berg, a caustic liberal talk radio host in Denver, Colorado, was just getting back from dinner with his ex-wife, Judith Lee Berg. He was in the driveway of his condo when a burst of automatic gunfire lit up the night. Thirteen bullets struck the 50-year-old, killing him. It was 9:30 p.m. on June 18, 1984, and a new era of rightwing terror had just begun. Berg, who was Jewish and had a law degree, had already received death threats for his views on the Christian Identity movement's anti-semitic beliefs and other subjects. "Hopefully, my legal training will prevent me from saying the one thing that will kill me," he once quipped (via The Denver Post). "I've come awfully close."
The Denver Police Department launched a 48-person special investigation unit to catch the killers and quickly surmised it was someone who likely held a grudge against the radio personality for his views. "We have a man who generated a lot of controversy," Det. Don Mulnix told the Associated Press at the time.
White Supremacists caught
After Alan Berg's testy on-air exchange with members of the Christian Identity movement, The Order, a neo-Nazi organization that had been robbing banks in the Northwest to finance its operations, put Berg on its hit list. The group had also targeted television producer Norman Lear, among others, for death. 
Anath White, who had been a producer on Berg's show, told The Denver Post it was the confrontation between Berg and callers from the Christian Identity movement "That got him on the list and got him moved up the list to be assassinated," but she added Berg (pictured) wouldn't have backed down even if knew how dangerous the group was, saying, "He was a person who took risks for his beliefs."
Following the murder, authorities caught up with The Order's founder, Bruce Pierce, in Georgia in March 1985 on federal warrants, per the Tyler Courier-Times. When arrested, police found a cache of weapons, including grenades and dynamite, in the van he was driving. The Spokane Chronicle reported that soon the FBI rounded up the rest of the hit squad, four other members of The Order, who federal prosecutors contended had been part of Berg's murder. But by the time they went to trial in 1987 none of them were facing a murder charge.
A criminal civil rights case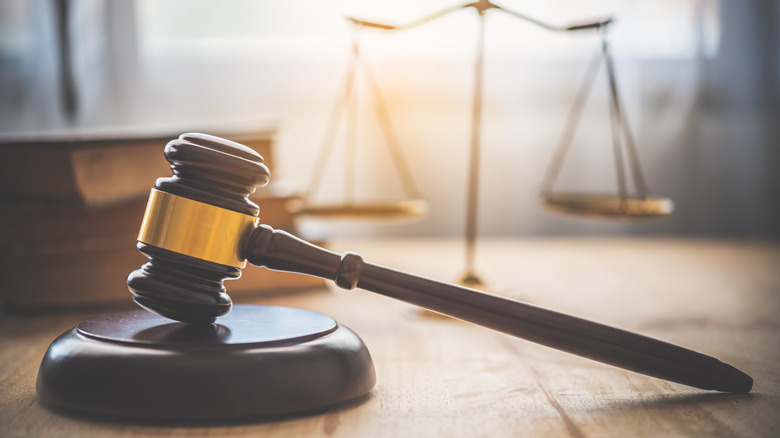 photobyphotoboy/Shutterstock
There were five men believed to have been involved in Berg's killing: Bruce Pierce, David Lane, who police said was a getaway driver in the murder plot to execute Alan Berg; Richard Scutari, an alleged lookout; and Jean Craig, who prosecutors said collected information on Berg beforehand. All went to trial on federal charges. Authorities believed Bob Mathews, who co-founded the neo-Nazi group, had also been involved in the murder, but he died in a house fire during a standoff with the FBI in December 1984.
Because there was neither direct evidence nor any eyewitnesses that tied the suspects to Berg's murder, federal prosecutors decided to bring a criminal civil rights case against them since the state prosecutor didn't believe he had enough evidence to bring murder charges. In the end, a jury convicted Pierce and Lane of violating Berg's civil rights and a judge gave them each 150 years in prison. The jury acquitted the other two defendants. But because of convictions for other crimes related to The Order's nefarious activities, they all went to federal prison for extended periods. Lane died in prison in 2007 while serving 190 years. Pierce died in 2010 serving out his 252-year sentence. Scutari received 60 years. But none of them were ever convicted of Berg's actual murder.