The Most Questionable Decisions In Music Industry History
Paul Bergen/Getty Images
It's no secret that the music industry is a mean old business. From its very early days, stories emerged of songwriters being exploited by record companies, of talented musicians going bust and winding up destitute, and of creative choices ultimately losing artists their following and leaving them without an audience.
But despite its cutthroat reputation, would-be pop stars continue to be drawn to the music industry as a way to express their artistic vision and work their way to fame and wealth. But while successful artists may retrospectively describe their careers in terms of dreams reached and destiny fulfilled, the truth is that glory or failure in the music industry often rests on a coin toss. One decision can make all the difference, and between individual artists, record companies, and even large industry-controlling corporations, there have been countless decisions that we today look back on as being truly unfortunate. 
It's time to take a whistlestop tour of the most questionable decisions in music industry history.
The label that turned down the Beatles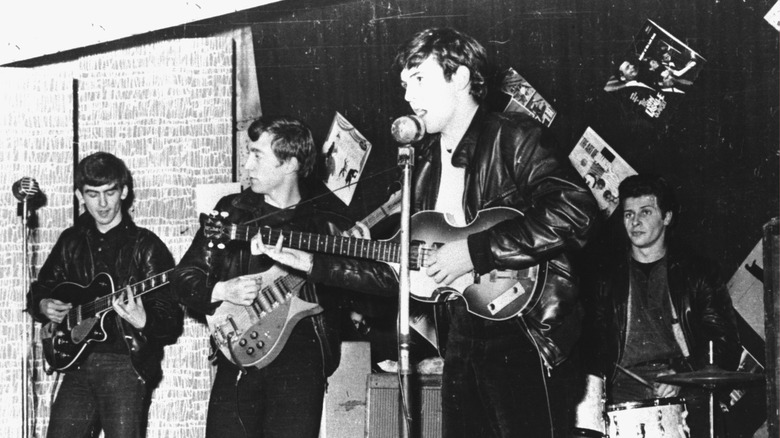 Hulton Archive/Getty Images
Pop titans The Beatles are so universally lauded today that it is almost impossible to believe that there was a time when they were struggling to get a record deal. But it really happened, with one of the biggest record labels of the day turning down the band that would go on to be the biggest name in pop music history.
On New Year's Day 1962, John Lennon, Paul McCartney, George Harrison, and Pete Best — who was soon to be replaced on the drum kit by Rory & The Hurricanes drummer Ringo Starr — entered the recording studio of the mighty Decca Records. Under the guidance of their ambitious manager Brian Epstein, they cut within the space of an hour 15 tracks, one take for each, which they believed best showed the breadth of their talents. Though they had built a sizeable fanbase on the live circuit in both the U.K. and Germany, it was their biggest shot at the big time to date.
Shockingly, executives at Decca Records rejected the Fab Four in favor of another group, Brian Poole & The Tremeloes. As incomprehensible as their decision might seem today in our Beatles-worshipping world, The Beatles' own long-serving producer, George Martin, later claimed that he too might have rejected the talented group on the basis of their performance, which has been described as sub-par, though these very recordings are what first piqued Martin's interest when Epstein brought The Beatles to his attention at EMI.
Jerry Lee Lewis' underage bride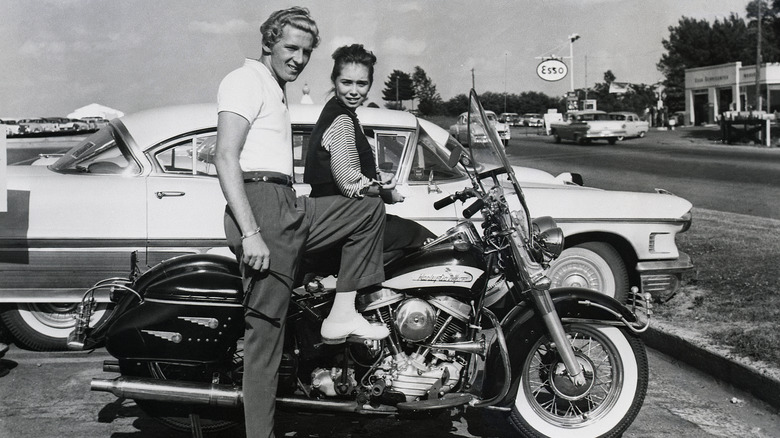 Bettmann/Getty Images
Jerry Lee Lewis's flurry of hits in the late 1950s such as "Whole Lotta Shakin' Goin' On" and "Great Balls of Fire" made the eccentric piano player a rockabilly sensation in the U.S. and abroad. He was especially popular in the U.K., where "Great Balls of Fire" topped the singles chart. But a fateful trip across the Atlantic to perform for his British fans would lead to Lewis' career unraveling for many years.
Upon his arrival on British shores in May 1958, Lewis had in his entourage a young girl, Myra, whom it transpired he had married in December of the previous year. The British press, disconcerted by her youthful appearance, asked who she was — to which she innocently replied that she was the wife of Jerry Lee Lewis, who then was in his mid-20s.
A scandal ensued which derailed the planned tour and made Lewis persona non grata, with stations boycotting his music and his record label, Sun Records, putting the brakes on his career by withdrawing their support. Meanwhile, the singer and his disturbingly young wife reportedly struggled to get their heads around why their relationship was such a big deal. In an interview with The L.A. Times in 2022, undertaken shortly after Lewis' death, Myra, who had a child with Lewis the year after their fateful trip to England, conceded that being a wife and mother at 14 was a heavy burden, but believes it made her a stronger person in the long run.
Warner Bros. doubles down on R.E.M.
Tim Roney/Getty Images
By the mid-1990s, there were few bigger bands on the planet than Georgia alternative rockers R.E.M., who with anthemic singles such as "Losing My Religion" and multi-platinum-selling albums such as "Out of Time" and "Automatic for the People" enjoyed worldwide mainstream success. It was off the back of such a gold streak that in 1996, Warner Bros. offered R.E.M., who at the time was out of contract, an incredible $80 million multi-album deal.
As a contemporaneous report in the LA Times pointed out, the deal was a record at the time, beating those of some of the era's most popular artists such as Michael Jackson, Janet Jackson, and Madonna.
However, the major record label's timing proved to be highly unfortunate, with several factors meaning that R.E.M.'s record-breaking contract was akin to Warner Bros. pouring money down the drain. Though R.E.M. had been one of the biggest and most critically acclaimed artists of the early 1990s, their star began to fall almost immediately after their new contract, with founding member Bill Berry leaving the band soon after and utterly changing the band's dynamic. None of their albums thereafter reached the heights of their early work. The industry itself was also about to be upended by the impact of illegal internet file sharing and the growth of streaming platforms, decimating the CD market through which R.E.M. had flourished earlier in their career. The band announced their split in 2011.
Badfinger were at the mercy of Stan Polley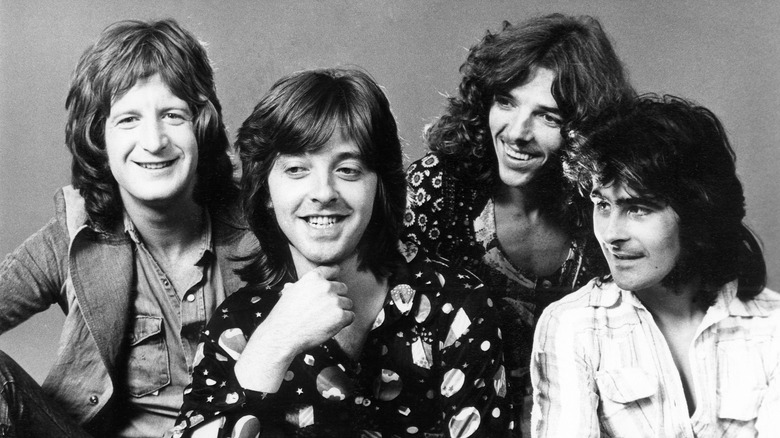 Gems/Getty Images
Yoko Ono, artist-musician and wife of the late John Lennon, has remained in the public consciousness primarily as a contributing factor toward the break-up of The Beatles. However, many fans now point to the appointment of unscrupulous manager Allen Klein in the final years of their career together as a more direct reason for their downfall. But it wasn't just The Beatles themselves who found themselves contending with difficult management: their proteges, Badfinger, fared even worse.
The Welsh pop-rockers, who were signed to The Beatles' Apple record label, enjoyed a string of hits in the late '60s and early '70s. However, in 1970 the band signed a deal with a man named Stan Polley, a man who claimed he would manage the band's money with the idea of growing their own music empire the way The Beatles had attempted to do with Apple. However, what the members of Badfinger didn't know was that Polley was a fraudster, who crippled the band's finances for his own enrichment.
Tragically, Pete Ham, Badfinger's lead vocalist and songwriter, was devastated by seeing the band he had poured his heart and soul into for so many years financially ruined. He died by suicide on April 24, 1975, and referred to Polley as a "soulless b******" in his suicide note. Ham's bandmate, bassist Tom Evans, died by suicide eight years later.
If you or anyone you know is having suicidal thoughts, please call the National Suicide Prevention Lifeline​ by dialing 988 or by calling 1-800-273-TALK (8255)​.
Britney's Umbrella brush-off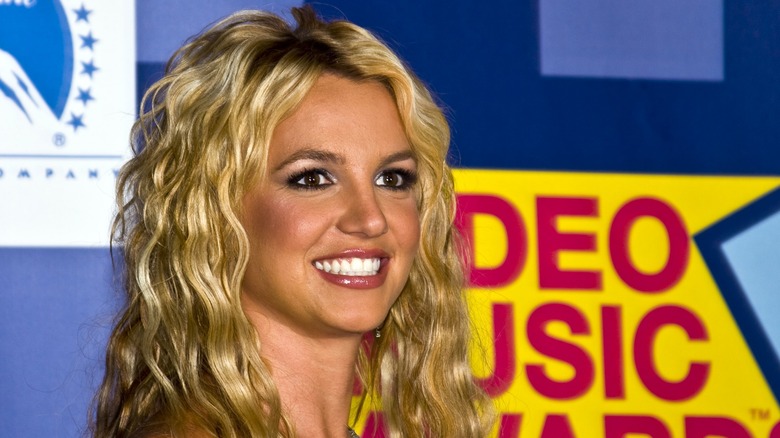 Dooley Productions/Shutterstock
Music fans like to imagine that the earth-shattering success of the world's biggest pop stars is entirely down to immense talent and dedication on the part of the artist. But the fact is that, in every successful career, there has been a moment when the artist was in the right place at the right time.
That was certainly the case with Rihanna, who at the start of 2007 was still attempting to make a name for herself. Little did she know by the summer that she would score one of the biggest hits of the decade with "Umbrella," which spent seven weeks atop the Billboard Hot 100 and made her third album "Good Girl Gone Bad" into a multi-platinum seller.
But the fact was that "Umbrella" wasn't originally written with RiRi in mind at all. The song's writers, Terius Nash and Christopher Stewart, originally intended the song to be sung by Britney Spears, who at the time was desperate for a comeback hit. However, her team declined to record the song, and "Umbrella" was similarly rejected by the next artist they approached: Mary J. Blige. Luckily for Rihanna neither of the more established artists' teams could see the earworm potential of what turned out to be 2007's biggest song.
Steve Van Zandt's catastrophic walk-out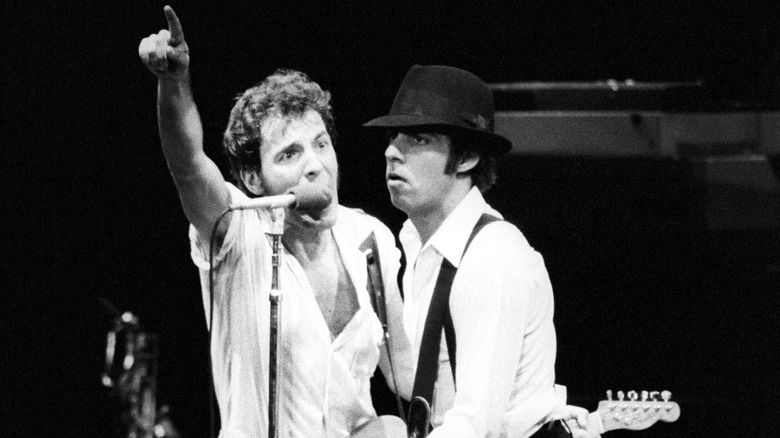 Ed Perlstein/Getty Images
When you picture Bruce Springsteen onstage at any point during his long and illustrious career, it is difficult to imagine him without the presence of Steve Van Zandt, his ever-present guitarist who is also famous in his own right as an actor, most notably for portraying Silvio Dante in "The Sopranos."
But Van Zandt hasn't always been so stalwart a member of Springsteen's E Street Band as collective memory might have us believe. In fact, in 1982, the guitarist walked out on Springsteen and the band he had always believed he was co-leader of, in light of Springsteen taking greater control and, from Van Zandt's point of view, freezing him out of decision-making. Little did he know that Springsteen was about to hit the big time with "Born in the USA," which turned The Boss and The E Street Band into one of the biggest and most lucrative acts on the planet.
Van Zandt eventually returned to the E Street Band after his acting career had been established. In his autobiography, "Unrequited Infatuations," the guitarist writes of his deep regret that he had not stayed with the band when it could have made him financially independent, but otherwise shows appreciation for how things panned out for everybody involved (via Rolling Stone).
The U2 album nobody wanted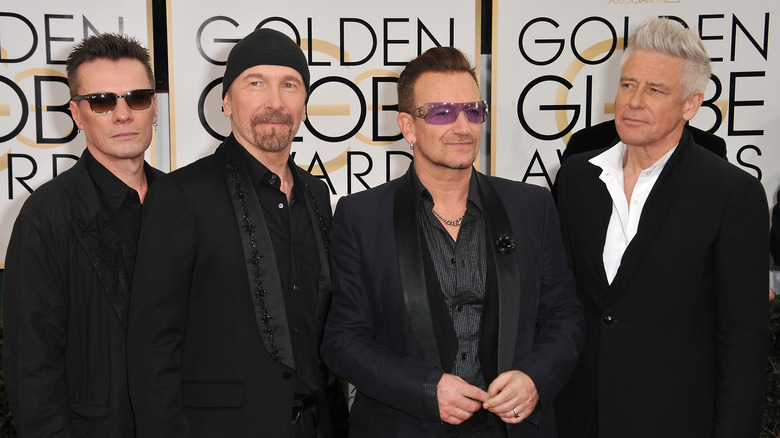 Featureflash Photo Agency/Shutterstock
With bona fide classic albums such as "Achtung Baby," "Joshua Tree," and "War," Irish rockers U2 established themselves as one of the leading bands of the '80s and '90s, and have remained a much-in-demand live draw. However, despite continuing to chart favorably in the 21st century with singles like "Beautiful Day" and "Elevation," their place in the pantheon of popular music has certainly changed in recent years. Put simply: they've become a bit of a meme. Why?
Some critics might argue that there has been a decline in the quality of the music itself, which, considering U2 has been a major act for more than four decades, is perhaps to be expected. But there was one particular incident that occurred in 2014 that has since been identified as perhaps the turning point in terms of the public perception of the band: that time U2 decided to release an album by preinstalling it on everyone's iPhones.
The iPhone 6 launched to great fanfare in September of that year, with 500,000 buyers finding that U2's thirteenth album "Songs of Innocence," was there in their iTunes app ready to be played — whether they wanted it or not. Though the deal between Apple and U2 to release the album in such a way was reportedly intended to be an industry-challenging gift to the fans, the move proved to be a PR disaster. While Apple scrambled to build a platform to let U2-skeptic users uninstall the album, U2 frontman Bono Vox issued a public apology.
Apple rejects the subscription streaming model
nikkimeel/Shutterstock
Forcing users to listen to Bono and The Edge wasn't the only blunder Apple surely regrets today. They also made some significant mistakes in the late 2000s and early 2010s at the dawn of music streaming that irreversibly altered the music industry landscape to their own detriment. Put simply: they were late to the game in offering a subscription service.
With iTunes, Apple had established itself as the go-to place to buy music online, allowing users to easily download whole albums or individual songs and transfer them to their iPods and iPhones. However, when Spotify launched in 2011, the way users consumed music changed forever, with the new streaming service growing a huge paying customer base thanks to its monthly subscription model.
Apple, however, persevered with its iTunes model for several years before realizing that subscriptions were the way to go. They eventually launched Apple Music in 2015, but by then, Spotify had established itself as the market leader. In the years since, Apple has tried numerous tactics to take a greater market share, including the deployment of exclusive album releases from major artists, but they are still playing catch-up.
The Rolling Stones bring hate to Altamont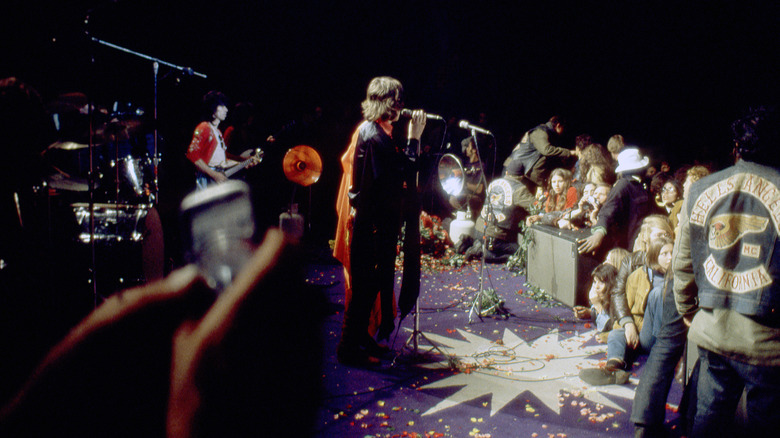 Icon And Image/Getty Images
The Rolling Stones were always one of the more caustic rock bands associated with the counterculture movement of the 1960s. Whereas The Beatles had "Sgt. Pepper's Lonely Hearts Club Band," The Stones had "His Satanic Majesty's Request." Where Jefferson Airplane sang that they wanted "Somebody To Love," Stones frontman Mick Jagger intoned that he wanted to "Paint It Black." And in their fateful Altamont Speedway Free Festival gig in California in 1969, it might be argued that the band decisively popped the era's peace and love bubble for good.
The band's cynicism was evident in an unusual and knowingly provocative decision: to allow 300 members of the Hells Angels, an outlaw biker gang known for violence and other criminal behavior, to act as security for the concert. With local sheriffs outnumbered by the gang, they were powerless to stop savage fights breaking out between the supposed security and the bad-tempered Altamont crowd. The tragic result was that one young man, Meredith Hunter, was stabbed to death by Hells Angels member Alan Passaro. And amid the chaos and countless casualties, two more people lost their lives in a hit and run, while another drowned in a ditch. The '60s were over.
Garth Brooks becomes Chris Gaines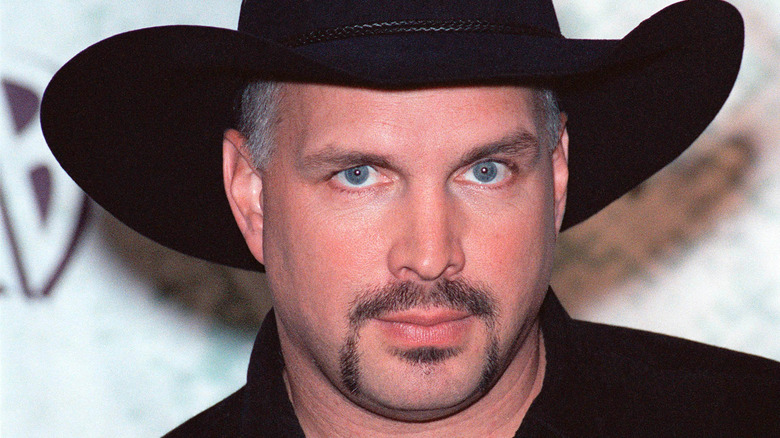 Featureflash Photo Agency/Shutterstock
Some of the greatest musicians of all time have exploited alter egos as a way towards finding more creative freedom. Hank Williams had Luke the Drifter. Eminem had Slim Shady. And David Bowie had countless personas, including Ziggy Stardust and The Thin White Duke.
So why shouldn't Garth Brooks, the much-loved country star who by the late 1990s had taken the industry by storm with two diamond-selling studio albums, also have one? That was seemingly the question he asked in 1999, when, instead of his usual chart-topping country fare, he released a rock record under the guise of a black-haired Australian named Chris Gaines, whom the liner notes claimed had rejected his family's Olympian background to become a musical superstar. The project deeply confused Brooks' core country audience, with a spoof "Behind the Music" documentary on the character of Gaines as well as a "Saturday Night Live" appearance failing to fire the joke home. Though the album reached No. 2 on the Billboard chart, it did so with the help of low unit pricing and was considered a monumental flop for Brooks.
In an interview with Yahoo! Entertainment Brooks admitted: "A lot of people misunderstood it, and my ribs are still sore from getting the s*** kicked out of me for it." Nevertheless, the same source argues that the Chris Gaines project has slowly begun to find an audience in recent years, with Brooks' music from the period having recently been covered by Childish Gambino, and as a duet between Stevie Nicks and Don Henley.
Disney fails to honor its contract with Peggy Lee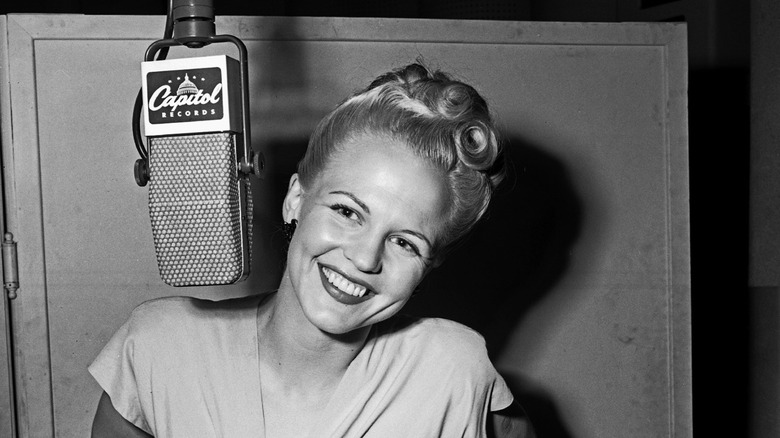 Michael Ochs Archives/Getty Images
Few people would have the stomach to go head-to-head with a major corporation over lost earnings from an obscure contract written half a lifetime ago. But that's exactly what Peggy Lee, the acclaimed jazz singer, songwriter, and screen actress, did when she took the Walt Disney Co. to court in 1991 over an alleged breach of contract.
Lee had collaborated with her songwriting partner Sonny Burke to provide Disney with six songs for their 1955 animated feature "Lady and the Tramp," for a fee of $1,000 (over $11,000 today), and performed several of the roles in the film for which she earned $3,500 (almost $40,000 today). "Lady and the Tramp" was a huge hit at the time and is now considered a Disney classic. In the contract Lee had signed with Disney back in 1952, it was assured that she and Burke retained full rights to the "phonograph recordings and transcriptions" of their songs, according to the LA Times.
Four decades on, when Disney was making a fortune from video sales of their classic movies, including "Lady and the Tramp," Lee argued that she was due a share of the profits, though Disney argued that the wording of the contract didn't include sales of video cassettes, which hadn't yet been invented. The jury awarded 70-year-old Lee a multi-million dollar payout including damages, proving that even giant corporations should always honor their contracts.
Dynamic pricing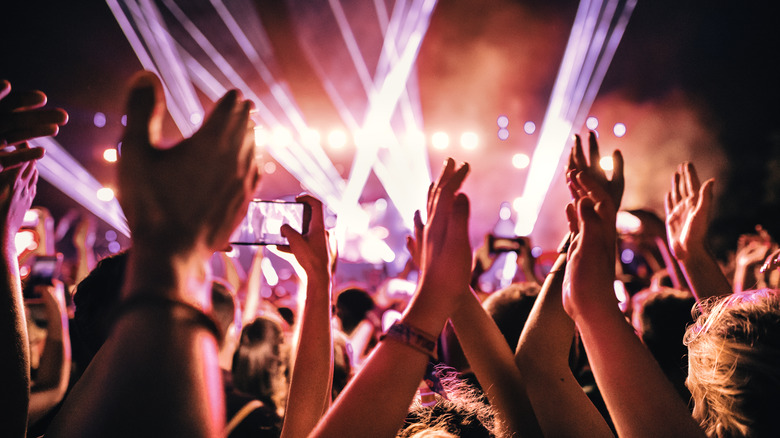 Gilaxia/Getty Images
Musicians today are dealing with the fallout of the Covid-19 pandemic, soaring touring coasts, and slim album sales margins due to the prevalence of online music streaming and low rates per stream from the world's biggest streaming platforms. But while the likes of Spotify and YouTube seemingly make listening to music easier and cheaper than ever, fans have their own problems when it comes to seeing their favorite artists perform live. Most notably when it comes to the high price of concert tickets, the result in many cases of what is known as "dynamic pricing."
Dynamic pricing is when the prices of tickets are altered — usually raised — using customer data to match ticket prices to demand and maximize profits. Many major artists instruct platforms such as Ticketmaster to implement dynamic pricing to maximize earnings from live shows, leading to some tickets, such as those for Bruce Springsteen, changing hands for up to $4,000.
But while it has been argued that dynamic pricing allows artists to receive revenue that would otherwise be lost to ticket-reselling scalpers, its use alongside rising ticket prices across the board has been criticized for distancing everyday music fans from the artists they love. While industry experts are grappling with the issue, it seems as though the end of dynamic pricing is not yet in sight.