The Truth About Eddie Vedder And Chris Cornell's Friendship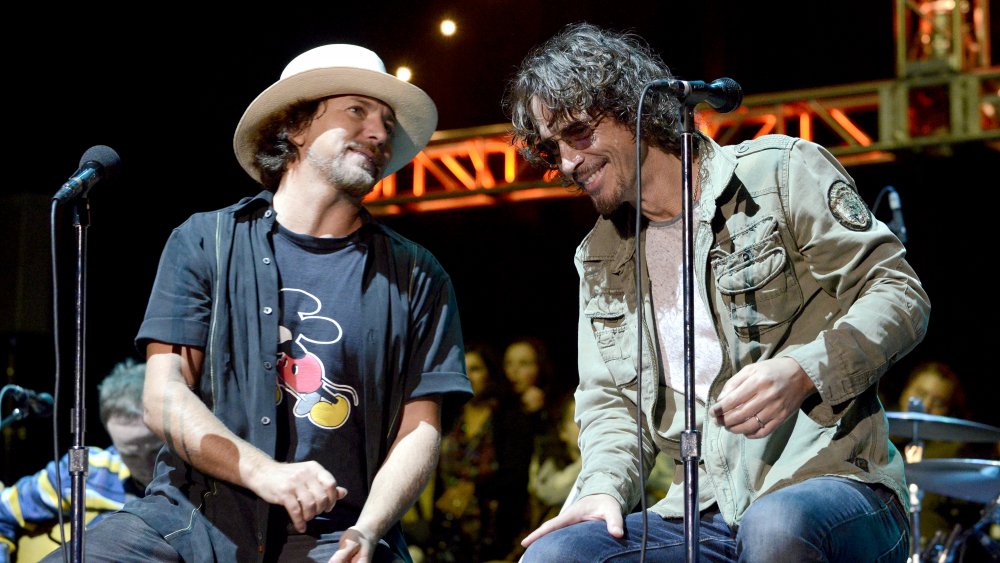 Tim Mosenfelder/Getty Images
When watching Eddie Vedder and Chris Cornell's final performance of "Hunger Strike," a duet, it's clear what love and admiration these musical legends held for each other. The song, recorded for Temple of the Dog's eponymous 1990 album, was a touchstone moment for not only the Seattle grunge scene, and the lives of its two lead singers — but for rock, in general.  
Vedder, as stated on Ultimate Pearl Jam, was up from San Diego to convene with his new bandmates from Pearl Jam, who were in the recording studio with Chris Cornell working on Temple of the Dog's album. The album itself was written to honor Mother Love Bone frontman Andrew Wood, a friend of Cornell's, who died from a heroine overdose. Amidst this newness, heartache, and friendship, Vedder spontaneously walked up to the mic and started harmonizing with Cornell. Cornell was mesmerized, and the following year, not only had Temple of the Dog released its only album, with credits to both Vedder and Cornell, but their bands Pearl Jam and Soundgarden had blown up, with albums released less than a month apart.
Such was the relationship of these two men, fatefully bound, and locked into each other's orbits. The two were even neighbors for a brief time, in Seattle, and part of the same circles. Vedder was heartbroken by Cornell's death in 2017, and not only couldn't bring himself to attend Cornell's tribute show, as MetalAddicts states, but has rarely spoken up about Cornell publicly.
And dreams have never made my bed
The first time Vedder spoke up about Cornell's passing was in June 2017, as recorded by Loudwire. He made an unplanned, raw, and heartfelt speech to the crowd, where he talked about growing up as one of four brothers, and watching one of them pass away a couple years prior. He referred to Cornell as his older brother, and talked about their shared memories: "How fortunate was I? And I didn't want to be sad, I wanted to be grateful, not sad. I'm still thinking about those memories, and I will live with those memories in my heart and I will love him forever."
This relationship has passed down to their families. Cornell's daughter, the singer-songwriter Lily Cornell Silver, portrayed in 2019, through Instagram, the deep love and connection between both families, as Alternative Nation cites. Vedder's wife, Jill, wrote Lily, and Lily wrote back, saying, "I love you so much mama. My family forever. Oli and Harp [Eddie and Jill's children] were my first callers at midnight Amsterdam time." During a later concert, Vedder also explained these feelings to the crowd, asking them to keep things private because he wanted to share a personal matter, as transcribed by Alternative Nation. He said how Cornell was the first among their group of Seattle friends to have a daughter, and how their families have stayed close over the years, as well as reiterating the need to always celebrate life and family.