The Tragic Death Of Hunter S. Thompson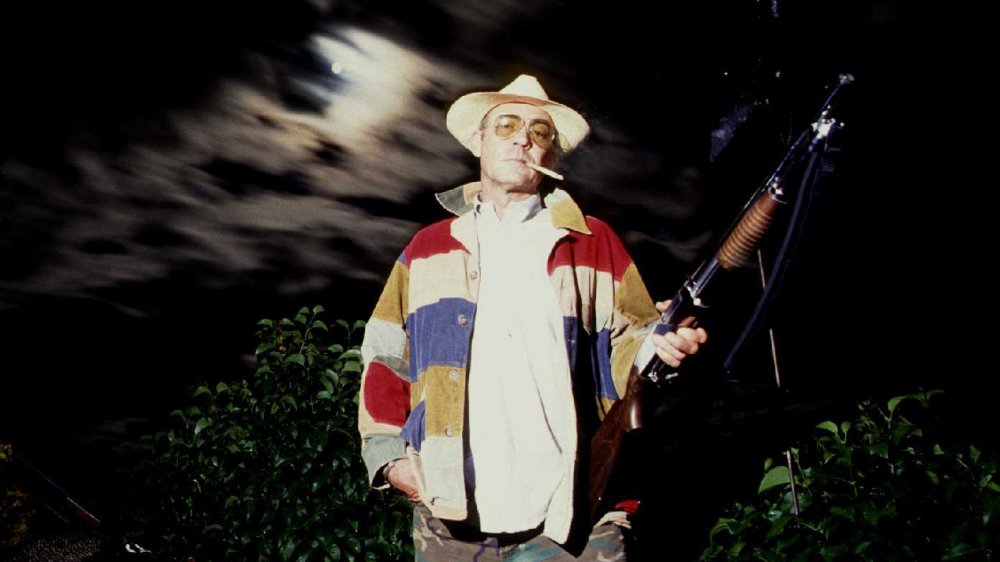 Paul Harris/Getty Images
No More Games. No More Bombs. No More Walking. No More Fun. No More Swimming. 67. That is 17 years past 50. 17 more than I needed or wanted. Boring. I am always bitchy. No Fun — for anybody. 67. You are getting Greedy. Act your old age. Relax — This won't hurt.
So read the final note Hunter S. Thompson wrote for himself, which his wife Anita found in a drawer, and Rolling Stone later transcribed into their obituary for their longtime reporter "Dr. Johnson." As Douglas Brinkley goes on to explain, the respected writer was on the receiving end of a lot of depressing factors. Following a recent hip replacement surgery, the gonzo journalist's body was failing him, and in February, the NFL season was nonexistent, adding a further bleakness to the avid fan's life.  Upon hearing the news, Ralph Steadman, the illustrator who accompanied Thompson for his groundbreaking piece "The Kentucky Derby is Depraved and Decadent" (which marked the beginnings of gonzo journalism), could only say that that while he didn't expect to hear the news then, the news itself failed to surprise him: "He told me 25 years ago that he would feel real trapped if he didn't know that he could commit suicide at any moment. I don't know if that is brave or stupid or what, but it was inevitable." 
As the police report states, Thompson's son, Juan, found the body, and at about 6.pm. on February 20, 2005, fired a shotgun in homage.
The inevitable conspiracy theories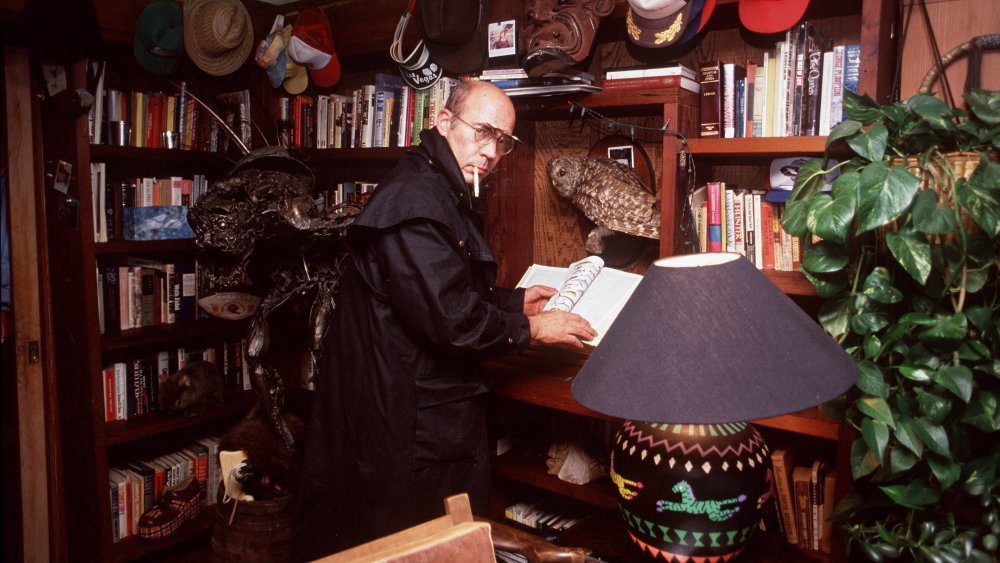 Paul Harris/Getty Images
Like almost every other celebrity's death, Hunter S. Thompson's has spawned rumors that he was murdered. Neither Thompson's wife (with whom he was on the phone) nor his son (who was in the next room) heard a gunshot — instead, his wife recalls a click (via Deseret News), and his son registered a thud (via Huck). Despite the lack of evidence for a conspiracy, some sites hatched the story that Thompson's death was a hit job carried out by the FBI. These conspiracy sites claim that Thompson knew about 9/11 being an inside job, so the government hushed him up. Now, as an interview with Freeze Box shows, Thompson did have his suspicions, because he distrusted the government as far as it could launch a nuclear missile, but admitted he couldn't prove — more accurately, "prove" — it: "I can't sit here and jerk up documents like Joe McCarthy, there's no proof of that. But I'm sure there is." From there, however, the story that conspiracy theorists peddle is that Thompson discovered something that spooked him.
The need to make Thompson the victim of a murder denies his agency, though, a sentiment summarized by his wife to CBS: "He lived a beautiful life and he lived it on his own terms, all the way from the very beginning to the very end." Whatever one feels about that aside, it seems perfectly in keeping with Thompson's character.
If you or anyone you know is having suicidal thoughts, please call the National Suicide Prevention Lifeline​ at​ 1-800-273-TALK (8255)​.