The Truth About Prince Philip's Relationship With JFK Jr.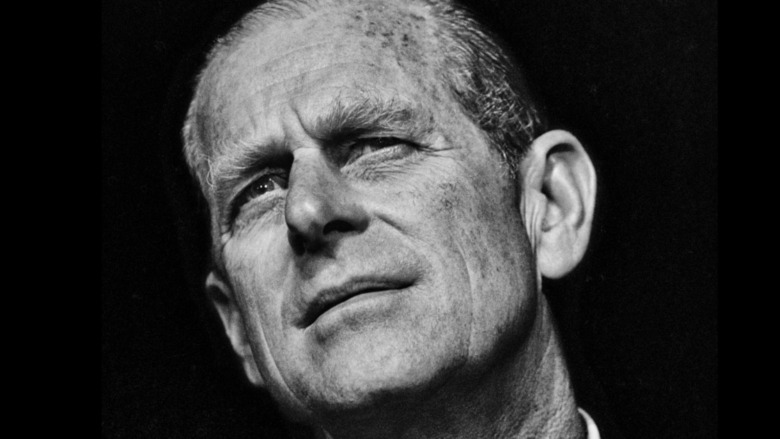 Derek Hudson/Getty Images
Like the Kennedy family, Prince Philip was no stranger to tragedy. His mother was institutionalized and one of his sisters died in a plane crash. So when John F. Kennedy was assassinated on November 22, 1963, you can imagine he felt empathy for what the family was experiencing. Prince Philip traveled to Washington, D.C. for the funeral, which was held on Monday, November 25. The queen, who was pregnant at the time, was unable to attend (via Biography). Afterwards, a small private reception was held in the White House Oval Room attended by a few select people, including Prince Philip, writes Town & Country.
However, the day before the funeral, Jackie Kennedy couldn't find her young son, code named Lark by the Secret Service (via The Fourteenth Day), who was turning 3 years old the next day, the day of his father's funeral. Author Paul Brandus shared the story on Twitter. "At the White House on Sunday, Nov. 24, 1963, Jacqueline Kennedy was looking for John Jr. and opened the door to his playroom. There she found the Prince sprawled on the floor, playing and laughing with the murdered president's son. Days from his 3d birthday, John had said earlier that he 'didn't have anybody to play with' (also: 'where's Daddy?') and her Majesty's husband decided that he would entertain the boy."
It's easy to imagine that entertaining a child was familiar territory for Prince Philip, as his own young son, Prince Andrew was almost the same age — he was born on February 19, 1960 (via Twitter), nine months before "John John."
Prince Philip and John Junior would meet again
A year and a half later, a plot of land an acre in size in Runnymede, England was given to the United States to build a memorial for the slain president. Approximately 20 miles west of London, writes Atlas Obscura, Runnymede was also the location of the signing of the Magna Carta 750 years earlier. Granite steps lead up a hill to a Portland stone slab, engraved with a quote from JFK's 1961 inaugural address (via The Kennedy Memorial Trust).
A ceremony to dedicate the memorial was held on May 14, 1965. Queen Elizabeth and Prince Philip attended, along with Jackie Kennedy, Caroline and the now four-and-a-half-year-old John Junior. He climbed the stairs holding the hands of his mother and Prince Philip (via YouTube), and stood between both of them during the ceremony, still with a solid grip on the prince. Brandus also tweeted a sweet photo of that day, with the little boy standing between the two adults holding both of their hands.
By then, Prince Philip now had another young boy of his own, as Prince Edward was born on March 10, 1964 (via Royal UK). While neither Prince Edward or Prince Andrew attended the service, holding the hand of a small child must have seemed second nature to the now father of four.
We'll never know what JFK Jr. remembered of those events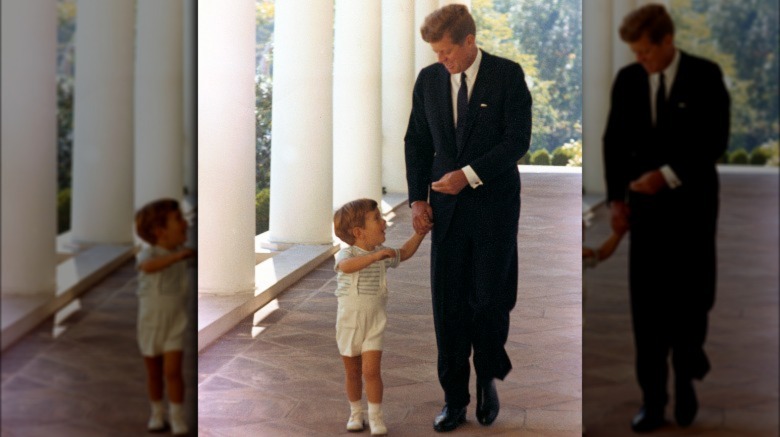 John F. Kennedy Presidential
It is unclear if Prince Philip and John Junior ever met again, or whether John had any memory of the events later, as he was so young. Arthur Schlesinger, a family friend, interviewed the 3-year-old John briefly, asking what he remembered of his father's death, reports ABC News, but John claimed, "I don't remember any-thing."
But you can imagine that a bored little boy, surrounded by sad and serious adults, was thrilled that Prince Philip took the time to play with him. And then later to find a similar sense of comfort at the dedication ceremony with his new friend by his side, potentially reminding him of the many times he had walked the halls of the West Wing holding the hand of his own father.
John Junior also died tragically far too young at the age of 38 when his plane crashed into the ocean off the coast of Massachusetts on July 16, 1999, killing him, his wife Caroline Bessette Kennedy, and her sister, Lauren Bessette. Had he lived, John Junior would have turned 60 years old November 25, 2020 (via The New York Post).