The Real-Life Person The Oscar Statue Is Modeled After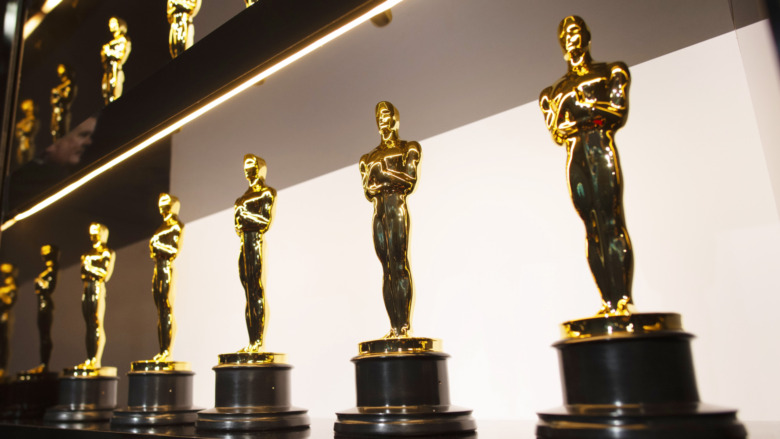 Handout/Getty Images
Much discussion has been made in recent years about the diversity portrayed not just in Hollywood movies, but in awards shows such as the Oscars. Some articles, such as this one on the New York Times, talk about a love of the Oscars, but frustration with their ostensibly niche set of predominantly white directors, writers, producers, actors, etc. Regardless of whether skewed representation is deliberate (as the academy has sometimes been accused) or the result of unconscious bias on the part of decision makers, such public debates have nonetheless caught the attention of the Academy of Motion Picture Arts and Sciences. And so, the Academy has established "diversity standards" to take effect by 2024, per the New York Times. This comes at a time, it should be noted, when ratings have plummeted 44 percent since 2014, also per the New York Times. 
So what does it truly symbolize that the Oscar — the little gold statue guy — was modeled after a potentially illegal Mexican immigrant who landed in Hollywood in 1925? Some would say that this constitutes poetic justice for decades of discriminatory attitudes and recent historical events like former President Trump's border wall, even beyond Hollywood whitewashing. Others might call it a trifle. But to the greater Latin community — particularly in L.A. — this revelation denotes a shift away from the academy's mere 2 percent Latin-American voters, as Colorlines cites, and at bare minimum, a rightful recognition of the role Mexicans have played in film history. 
Exile turned extra turned award-winning filmmaker
Emilio "El Indio" Fernandez fled Mexico in the 1920's after supporting a failed revolutionary uprising led by Adolfo de la Huerta, as Yahoo! News tells us, and fell into work, initially, as an extra in Hollywood. As NPR says, his nickname "El Indio" ("The Indian") comes from his Kickapoo, an indigenous Mexican tribe, heritage. Indeed, Fernandez would go on to write and produce movies featuring indigenous people, including 1943's Maria Candelaria (Xochimilco), which features a young woman discriminated against for being the daughter of a sex worker. It won for Best Cinematography at the 1946 Cannes Film Festival, as the Museum of Modern Art (MOMA) website says, and placed Mexican cinema on the world stage.
L.A.-based reporter Solvej Schou recites the story of the Oscar thusly: "Fernandez befriended Mexican actress Dolores del Rio, then wife of studio Metro-Goldwyn-Mayer's art director and Academy of Motion Pictures Arts and Sciences member Cedric Gibbons. Del Rio introduced Fernandez to Gibbons, who was in charge of supervising the statuette's design. Gibbons asked Fernandez to pose in the buff for a sketch to create the basis for the 8.5-pound trophy." The statue has remained unchanged since the first Oscars in 1929.
The story, i.e., "Oscar is actually Emilio," remains word-of-mouth, though widely believed. Charles Ramirez Berg, professor of film studies at the University of Texas at Austin, confirmed the tale. The Academy Awards library in L.A., though, has refused to comment, and the librarian "seemed annoyed" at any questions.