Visiting Dracula's Castle? You Can Get A Weird Freebie
Shutterstock
Fans of Bram Stoker's 1897 novel "Dracula" will now have a chance to get a super weird freebie when they visit Bran Castle, the 14th-century fortress in central Romania upon which many feel that Dracula's home is based, per Smithsonian Magazine. 
While the story of Dracula is rooted in fiction, the castle nonetheless still draws visitors hoping to enjoy an eerie atmosphere. The castle administrators, to their credit, makes sure to inform visitors that "Dracula exists in the imagination," and that they should know of the "distinction between the historic reality of Bran and the character of the Count in Bram Stoker's novel." Dracula is said to be inspired by the 15th-century ruler Vlad III Dracula, or, Vlad the Impaler, who had tens of thousands of people tortured and killed under his rule.
The freebie that you can get on weekends through the month of May is definitely a sign of the times — a COVID-19 vaccination — and the castle is going all out to encourage people to get a shot. Medics wearing fang stickers will administer the Pfizer vaccine to anyone who visits the castle on the weekend and wants to be vaccinated. "All beneficiaries will receive a 'vaccination diploma at Bran Castle' and, if they choose to visit the Castle, will have free access to the Exhibition of Medieval Instruments of Torture," reads a Facebook post from Bran Castle, per CNN.
Bran Castle hopes the vaccination drive will boost its visitor numbers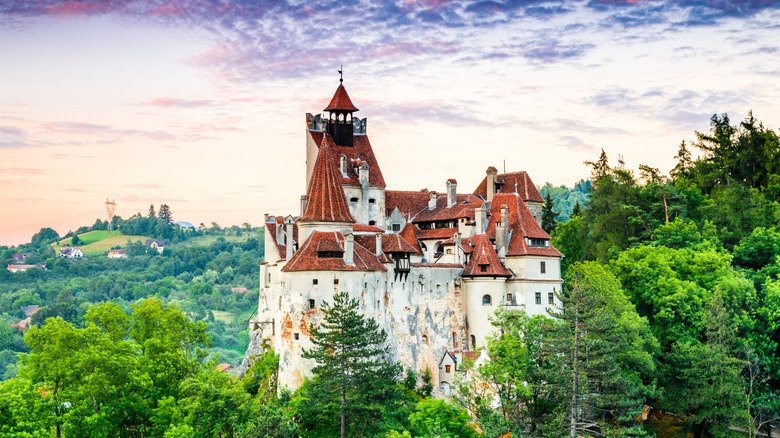 Shutterstock
According to Smithsonian Magazine, the Johns Hopkins Coronavirus Resource Center reports that Romania's population of 19 million has had more than 1 million coronavirus cases and 29,300 deaths. However, despite the high infection rate, a recent Central and Eastern European survey by Globesec found that 49 percent of Romanians are leaning away from getting vaccinated, per BBC. Romanian officials hope to get the vaccination numbers up by 10 million people, which is one of the reasons for the vaccination drive at Bran castle.
The castle also hopes to bring up its number of visitors. During the pandemic, the number of tourists to the castle dropped. However, the decision to associate the castle with vaccinations seems to be working. Alexandru Priscu, the castle's marketing manager has said that nearly 400 people have gotten vaccinated since the beginning of its campaign. One visitor told Reuters: "I was already planning to come to the castle and I just thought it was the two-for-one special."