The Truth About Shirley Temple's Life After Acting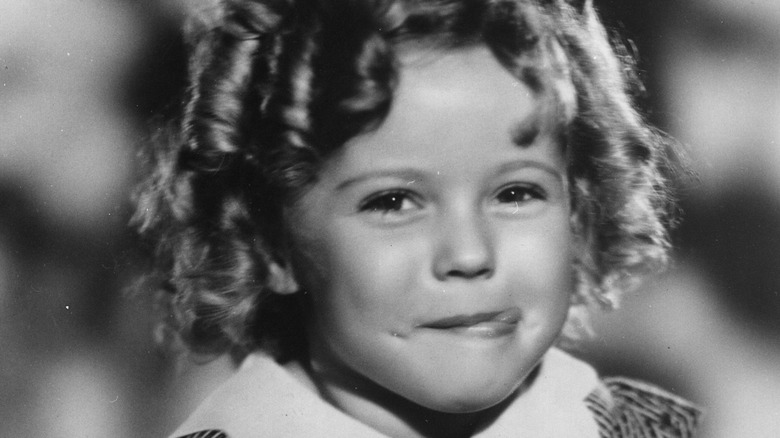 Hulton Archive/Getty Images
Shirley Temple, born on April 28, 1928, was the most famous star during the Great Depression. The girl made her debut in the movie industry when she was three years old in "Baby Burlesks," low-budget movies that satirized successful productions featuring all-kid casts. Those movies didn't age well. As Time reports, the child actors in those films would often have inappropriate lines for their age.
When Temple was a child, she believed all other children used to work as well. "I was allowed to be a baby for about two years. So I had a couple of years as a lazy baby. I thought every child worked because I was born into it," Temple once said (via Vanity Fair).
The actress signed a contract with Fox Film Corporation and starred in "Carolina," her first major movie in Hollywood, when she was six years old. Temple soon captivated the world with her charisma, blond curls and talent. She starred in over 40 films, including "Bright Eyes," "The Little Princess," and "Heidi."
In 1935, Temple received a special Academy Award for "Bright Eyes," and she is still the youngest person to receive an Oscar (though it was honorary, not competitive). Her movies helped American morale throughout the Great Depression and saved Fox from bankruptcy, thanks to her successful movies. Even President Franklin D. Roosevelt recognized her value and said that "as long as our country has Shirley Temple, we will be all right" (via Independent).
Shirley Temple had demanding parents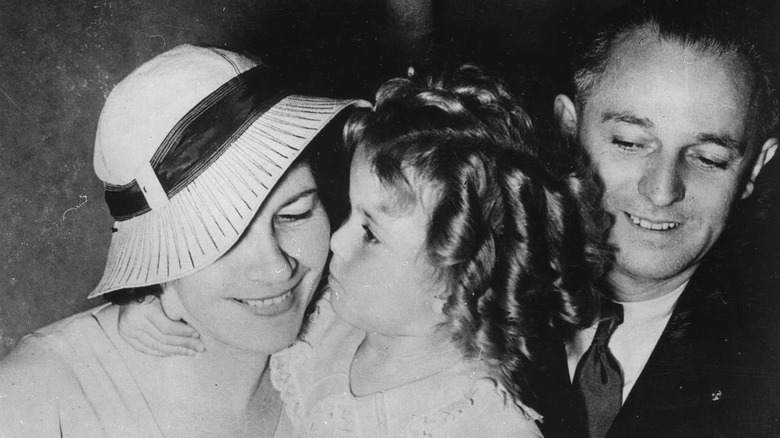 Imagno/Getty Images
Shirley Temple's parents were crucial for her career. Her father, George Francis Temple, was a banker struggling with the Great Depression and became her manager. Her mother, Gertrude Temple, was a housewife who became her acting coach and followed each step of her daughter.
"When Shirley was in bed, Gertrude would read any lines she had to say the next day. Shirley would repeat them 'word for word five or six times,'" Anne Edwards wrote in "Shirley Temple: American Princess." "She might say, 'You're supposed to feel very happy when you say this line, Presh'...or 'You're supposed to be eating a thick sandwich while you're saying these lines,' and Shirley would practice this bit of action" (via Vanity Fair).
Gertrude also spent hours on her precious daughter's hair, making sure each curl was perfect. Before the cameras were on, her mother would call out, "sparkle, Shirley, sparkle." Her parents were also cautious about other child stars. When they noticed another child could eclipse her daughter, they would make sure that child had fewer lines. Unsurprisingly, her parents were not as popular in Hollywood as their daughter.
She represented the United States as a diplomat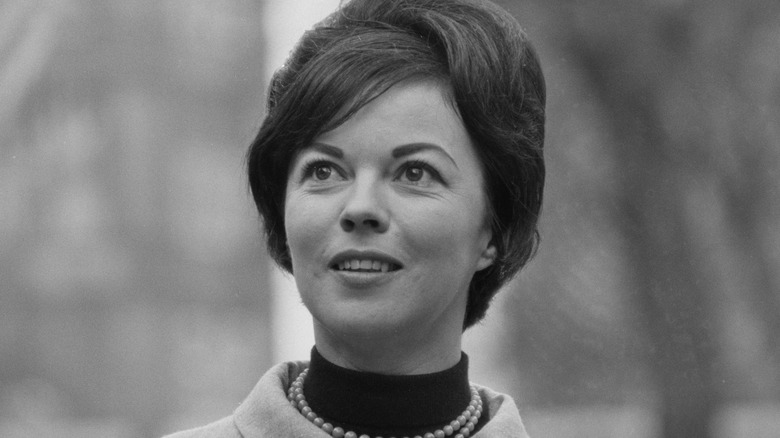 Victor Blackman/Getty Images
When Temple became a teenager she faced a string of movie flops. The star struggled to find new roles, and also had to deal with sexual harassment. In her memoir "Child Star," Temple wrote that an MGM produced exposed her penis to her when she was 12 years old (via Newsweek).
On December 16, 1950, Temple announced her retirement from Hollywood. She was 22 years old. On the same day, she married her second husband, Charles Alden Black, a Navy officer (via PopSugar). They had three children and remained married until he died in 2005. Before, she was briefly married to actor John Agar when she was 17 years old.
Her retirement from Hollywood was the beginning of her long-lasting career in politics. Temple became active in the Republican Party, supporting Ronald Reagan in his campaign for governor of California in 1967. The former actress also ran for California's 11th congressional district in the same year, but she didn't win. In 1969, President Nixon named Temple a representative to the 24th United Nations General Assembly. Later, she became a U.S. Ambassador in Ghana and Czechoslovakia. Beyond politics and diplomacy, Temple became one of the first celebrities to talk about cancer. According to PopSugar, she was diagnosed with breast cancer in 1972 and used her visibility to motivate women to take care of their health.
Temple retired from politics in 1992. The actress died of chronic obstructive pulmonary disease in 2014 at age 85.