The Tragic Death Of General Douglas MacArthur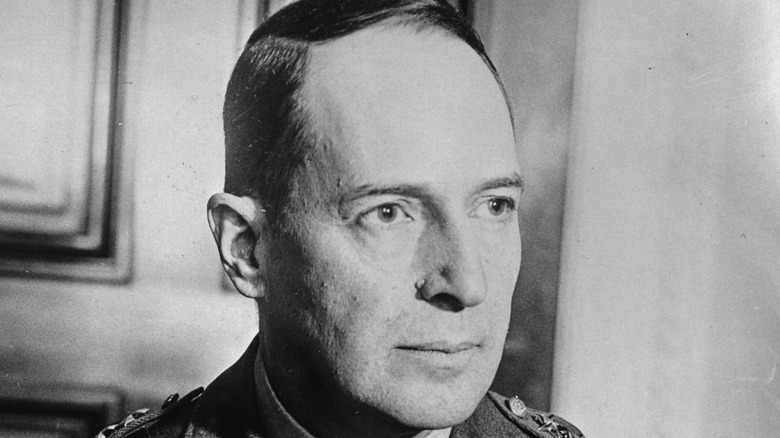 Imagno/Getty Images
Famed World War II general, Douglas MacArthur, is a major figure in American military history. He is notably remembered for commanding armed forces in several key wars. Today, he is known for being one of the most highly lauded American generals, even though over the years that tune has seemingly changed with split opinions, according to Time magazine.
MacArthur was born just a few years after the end of the Reconstruction era. He was born on January 26, 1880, in Little Rock, Arkansas, and one of three sons his parents had, per Britannica. His father, Arthur MacArthur Jr., was in the Army and also a general (via History Net). For that reason, MacArthur spent a lot of his early childhood surrounded by his father and wherever he was stationed. Being exposed to military life as a young boy, it was only natural that MacArthur chose to follow in his father's footsteps. When the time came, he decided to enroll at West Point and graduated in 1903. He was sent to the Philippines shortly after being stationed in Mexico, and then onto World War I.
He climbed up the ranks in the Army, and even served as a superintendent at his alma mater (via West Point). In that role, he reformed a lot of West Point's curriculum.
General MacArthur rises up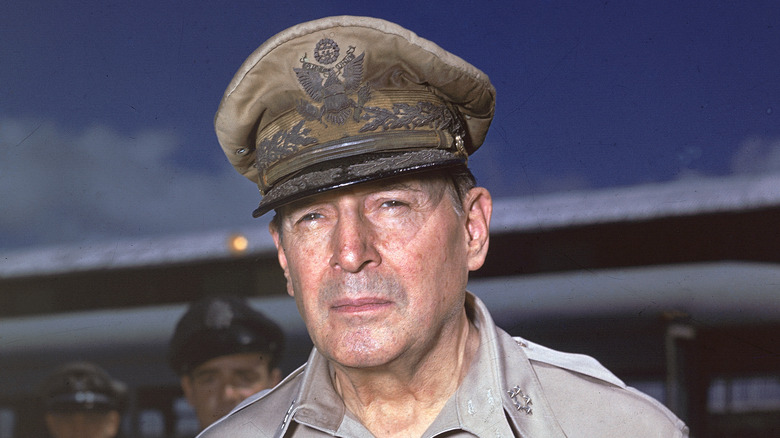 Hulton Archive/Getty Images
Afterward, Douglas MacArthur earned the highest officer rank one can get in the Army when President Hoover appointed him as chief of staff of the Army in 1930. He served in that role until 1935, per U.S. Army. During that time, however, he became a controversial figure. In 1932, MacArthur sent troops to remove protesters of the Bonus Army — a historic march on Washington, D.C., consisting of WWI veterans demanding early compensation of promised bonuses (via National Park Service). It was a bad look on his leadership, and many remembered him for his response to the veterans. Perhaps that is why, shortly after serving as chief of staff, he retired from the Army in 1937.
Yet, General MacArthur returned in 1941. He led American armed forces in Southeast Asia to defend the Philippines against Japan. It was an uphill battle, but he succeeded, further cementing his notability. He was later named general of the Army and commander of U.S. Army forces in the Pacific (via Britannica). When the Korean War came along, MacArthur commanded the United Nations forces against North Korea. MacArthur had launched a risky attack against the enemy, and he and President Truman both had a different take on how China — a close ally of North Korea — would react. They had a famous war of words, which resulted in Truman removing MacArthur from duty. He returned to the U.S. shortly after and gained a lot of Republican support. MacArthur ended his military career by continuing his war with Truman during an address to Congress. Per American Rhetoric, he famously said that "old soldiers never die; they just fade away," before disappearing from public limelight.
General MacArthur's tragic end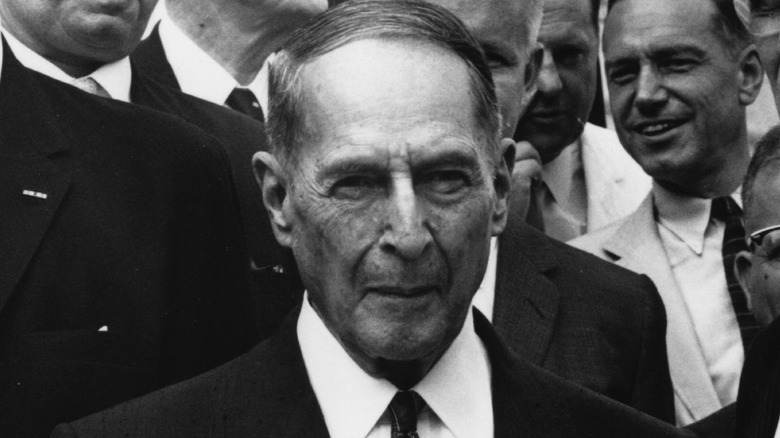 Central Press/Getty Images
On March 2, 1964, General Douglas MacArthur was admitted to the Walter Reed Army Medical Center, reported The New York Times. He had sought care for abdominal pain. But a few days later, he underwent an hours-long gallbladder removal surgery. Soon after, doctors discovered the gallstones he had led to inflammation of his liver.
Several weeks later, MacArthur was back on the surgery table to undergo an operation due to hemorrhaging in his esophagus. Subsequently, surgeons had to perform an operation to remove his spleen. His health issues only got worse; he also had lung inflammation and had to have surgery performed again, this time on his small intestine due to a hernia. Then his kidneys started to fail, and his esophageal bleeding came back. As a result, he had to receive a massive blood transfusion. Sadly, nothing subsided for the former general. MacArthur fell into a coma when his liver and kidney failed later that month. He died at 84 years old on April 5, 1964 (via Biography). He was survived by his wife Jean, and his son, Arthur.
MacArthur was a celebrated general during and after his spat with President Truman. It made him even more of a favorite among Truman's opponents — the Republican Party. Prior to Truman, the party backed MacArthur when he famously ran against Truman's predecessor, President Roosevelt. He didn't get the nomination in 1944, nor did he in his second attempt in 1952 (via History Net). And with that, his presidential ambitions ended. Still, many remember him as a hero, but remains a controversial figure to others.