What You Didn't Know About Walt Disney's Propaganda Films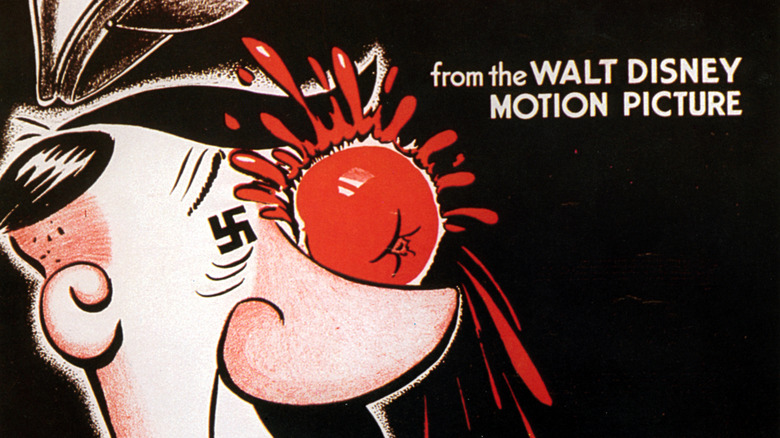 Galerie Bilderwelt/Getty Images
Walt Disney is arguably the most well-known and influential name in the history of animation and American film. The animator, who was never far from controversy, is responsible for developing characters such as Mickey Mouse, Goofy, and Donald Duck — icons of American culture known who have been loved around the world for generations. Interestingly, during World War II, Disney was responsible for creating propaganda films to aid the Allied war effort, sometimes using his beloved characters to help stick it to Adolf Hitler and the Axis armies.
The animated propaganda began in 1942 when the U.S. Treasury Department commissioned a film from the studio called "The New Spirit" (via History). The end result is a cartoon featuring Donald Duck encouraging the American populace to pay their taxes to support the war effort. And was a huge hit, playing in thousands of theaters across the country and even netting an Academy Award nomination. Despite the animator's infamous anti-Semitism, Disney was an avowed patriot against Hitler and continued to aid the American military by creating training films and designing company insignias with his iconic characters — the latter completely free of charge. Although Disney wanted to keep his cartoons apolitical, the struggling studio couldn't turn down the money offered by the U.S. government.
Propaganda helped keep the studio afloat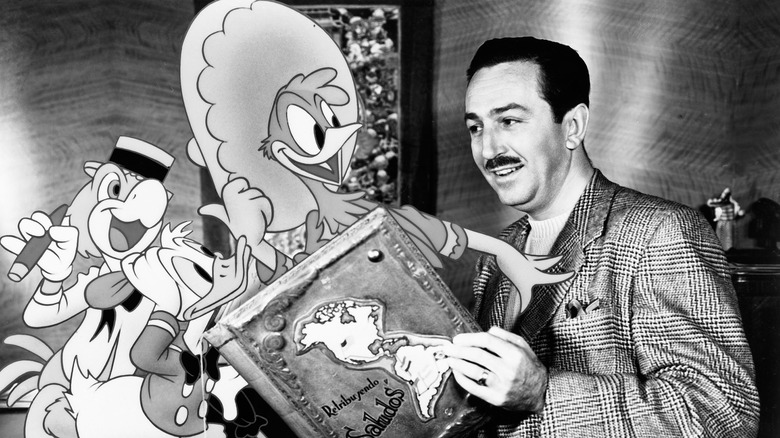 United Archives/Getty Images
At the start of the war, Walt Disney's finances were in a sorry state. "Fantasia", one of Disney's passion projects, flopped at the box office due to the outbreak of the war, and "Pinocchio" lost the company money as well (via Quartz). The U.S. government stepped in and ended up commissioning over 30 cartoons that expanded beyond simple educational films into outright propaganda. In 1943, Donald Duck messed with Hitler in "Der Fuerher's Face", while also convincing the American public to purchase war bonds. Not all were filled with cartoon hijinks, either. In "Education for Death", a young boy is portrayed falling for Nazi ideology. 
Walt Disney was also a futurist, and the government was eager to provide his studio with funding to depict what life in America might be like in the decades to come after the war. While his contemporaries like Tex Avery were lampooning speculation on the future, Disney was very interested in what life could look like decades before "The Jetsons" hit the air. Disney made a film called "Victory Through Air Power" which explored the possibilities of long-range bombing that were reportedly seen by Winston Churchill and Franklin D. Roosevelt. In many ways, the war kept Disney afloat, and the company had its fair share of influence on the conflict.