The Truth About The Deadly Formosa Fun Coast Disaster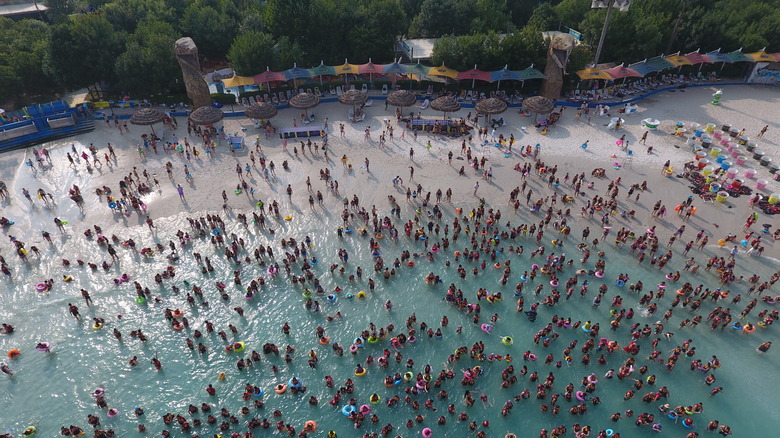 Vcg/Getty Images
The 2017 Turkish water park disaster was a heartbreaking incident, but it was not the worst water park tragedy the world has seen. In June 2015, attendees at a music festival held at a water park in Taipei, Taiwan, suffered a horrible accident that put hundreds of people in the hospital. Video of the incident published by Tomo News shows concertgoers struggling to get free of the flames whipped up by a gigantic fireball that exploded into the crowd.
The incident, which took place at Taipei's Formosa Fun Coast water park left almost 500 people with terrible burns and one victim dead from her injuries. Inquisitr reports that as many 43 hospitals in the area were needed in order to treat the large number of victims, 202 of whom suffered severe injuries. The woman who died from her injuries, 20-year-old Li Pei-yun, received burns on 90 percent of her body. Skin banks across the country were ransacked in order to treat the burn victims. But what caused the terrible explosion in the first place? Let's take a look into the tragedy and see what happened.
The Formosa Fun Coast disaster was caused by a dust explosion
The victims were at the Formosa Fun Coast water park to attend a music festival called "Color Play Asia." According to CNN, part of the show included clouds of colored dust shot into the crowd. Festivalgoers were also given bags of the dust to throw on each other during the concerts. There was just one problem: the colored powder, made of cornstarch and dyes, is flammable. When subjected to high temperatures — say, heat from stage lighting or a spark from a cigarette lighter — the powder can burst into flames. The phenomenon is called a dust explosion.
So when the colored powder that was shot out into the crowd ignited, it also ignited the colored powder on the attendees' skin and clothes, and in their pockets. The mother of a 17-year-old victim described the horrible scene to the Central News Agency of Taiwan: "All of her skin was gone. Her hands were shaking ... and she kept calling for me."
Event organizer Lu Chung-chi and the employee in charge of the stage lighting were arrested after the incident, and later released on bail. Lu made a public apology on his knees, telling reporters, "We shoulder ultimate responsibility [for the disaster]."