What The R. Kelly Guilty Verdict Really Means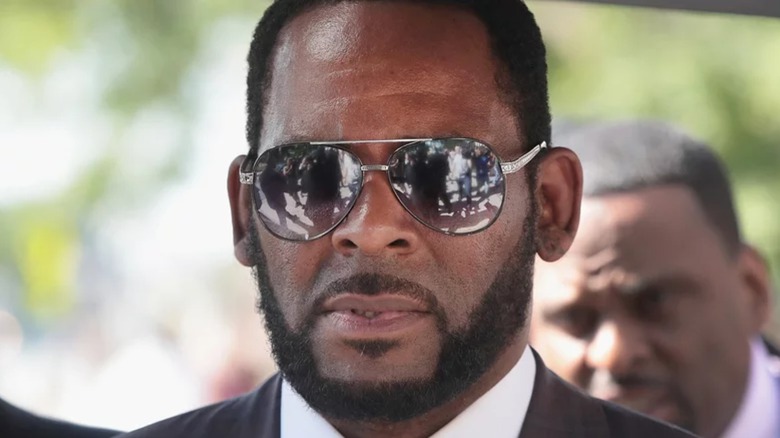 Scott Olson/Getty Images
On September 27, 2021, R&B singer R. Kelly was found guilty of sex trafficking and racketeering after decades of denying such allegations. According to the BBC, the long-awaited trial took place over the preceding six weeks, during which the jury heard the testimonies of 11 witnesses — nine women and two men — who described harrowing scenes of sexual abuse and humiliation. Robert Sylvester Kelly, as he's known in the legal system, reportedly enticed his victims — many of whom were underage at the time of the abuse — with tall tales of fame and fortune, promising to use his clout to help them find success in the music business. 
"Of all the predators that I have pursued ... Mr. Kelly is the worst. For many reasons," claimed veteran attorney Gloria Allred, who has previously represented accusers of Harvey Weinstein, speaking after the singer's guilty verdict had been announced (per Mail+).
One of a number of hated musicians everyone used to love, Kelly now faces a seven-month wait for his sentencing trial, which will take place on May 4, 2022. But what does the guilty verdict mean for the "I Believe I Can Fly" singer? How will his decades of violence and exploitation translate into punishment? Let's take a look into the charges and see what they will mean for the singer, as well as for the music industry and its listeners.
What will happen to R. Kelly now he's been found guilty?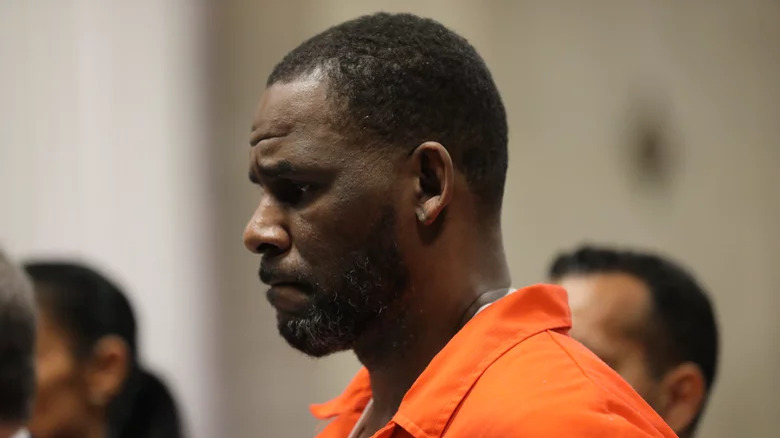 Pool/Getty Images
"I've always said if any of his victims were blonde and blue-eyed it wouldn't have taken this long," said R. Kelly's ex-wife, Drea Kelly, per The Guardian. The allegations against Kelly go back to 1994, when his secret marriage to the R&B singer Aaliyah — who was just 15 years old at the time — first leaked, and 1996 when he was first sued for "personal injuries and emotional distress" by his ex-partner Tiffany Hawkins, per the BBC. Hawkins settled the case in 1998, in which she was claiming $10 million in damages, for just $250,000. Kelly went on to have a successful recording career that would last another two decades, during which time we now know he operated a sex trafficking and racketeering ring that made victims of scores of women and children (per The Guardian). 
Now exposed as a calculating and violent predator, Kelly's reckoning has been a long time coming. According to The New York Times, the "Ignition" singer operated under the protection of a network of "enablers" who manipulated and threatened accusers to ensure that Kelly's crimes never came to light. He even forced victims to pen statements exonerating him of any historic wrongdoing, per the same source — though now that he has had his day in court, such details serve to add to the disgraced entertainer's potential sentence: the scope of his punishment is believed to range from 10 years to life in prison.
The R. Kelly guilty verdict could have profound effects on the music industry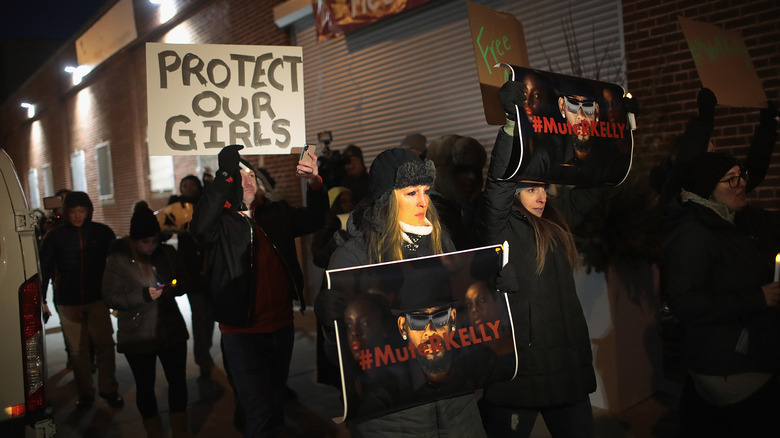 Scott Olson/Getty Images
Another report by The New York Times says that although Kelly is by far not the only musician to face sexual abuse charges over the years, his high-profile case could be the #MeToo moment for the music industry. Long plagued with sexual abuse (Per Louder, just ask Cherie Currie and Jackie Fox why they left the Runaways back in 1977), the music industry has enjoyed insulation from the social movement, protected by a strong tradition of idolized male musicians and their young, often underage female fans.
Journalists at The New York Times are also talking about what might become of the music R. Kelly has made, some of which has strong roots in American pop culture, such as everyone's favorite song from the "Space Jam" soundtrack. Music industry reporter Ben Sisario wrote that "the big question for the music industry is whether his music will now be removed from major digital platforms like Spotify and Apple Music." He noted that some platforms have received criticism for not policing Kelly's music. Of course, if they start down that slippery slope, they'll also have to take off songs of singers like Ted Nugent, who blatantly admits to taking advantage of underage girls in his lyrics, and every other badly behaved musician out there. A judge will decide the singer's fate, but only time will tell what becomes of R. Kelly's music, though The New York Times has noted that even before Kelly received his guilty verdict, years of rolling accusations had seen his radio play dwindle to almost nothing.