Why Russell Vitale Can't Stand Post Malone
Matt Winkelmeyer/Getty Images
Post Malone is an American musician and rapper best known for 2019 hits like "Circles" (via Billboard). But just because a musician writes a string of chart-toppers like Malone has done, it doesn't mean that everyone likes him. Many people in the music industry can't stand Post Malone, in fact, and one of the most notable examples is the rapper, musician, and producer Russell Vitale, performing as Russ (via Famous People).
In addition to blending rock and emo in his music, Malone is maybe even better known for his distinctive face tattoos and one-of-a-kind sartorial sensibilities. More than anything, though, Malone built his name as a rapper, a style closely linked to Black American culture. This is nothing new. Threaded through the history of popular music are Black and African influences, sometimes repackaged for a white artist to appeal to broader audiences. Even artists like Elvis Presley took some heat for cultural appropriation and imitating Black artists early on in his career (via The Daily Beast).
But when any musician is as successful as Post Malone, it's inevitable that critiques will follow: some justified, and others not so much. Could Post Malone escape accusations of cultural appropriation, like the white rapper Eminem has somehow managed to do (via The Guardian)? Not according to Vitale, who says when it comes to the hot-button accusation of cultural appropriation in music, among other issues, Post Malone is guilty as charged.
It's a bait and switch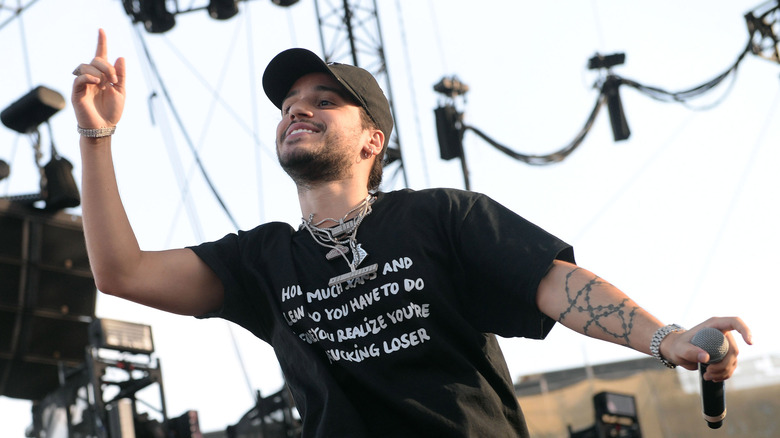 Scott Dudelson/Getty Images
The rift between Vitale and Malone first showed up in an interview between Vitale and the podcaster and radio personality Charlamagne Tha God, who has also been critical of Malone, referring to him as a "Great White Hype" and a "Fake Future" (via NME).
In the 2020 interview, Vitale revealed that his issue with Malone was less about cultural appropriation — although that's certainly part of it — but also the bait and switch he feels Malone pulled off once he became successful.
According to Vitale, Post Malone doesn't just steal Black American musical style, he fails to contribute much of anything original to the genre, and the subtle shift in his aesthetic — from braids and gold chains to cowboy hats and Bud Light — meant that early in Post Malone's career, he wanted some to believe he's mixed race. But that as time has gone on, his look and style cleave much closer to white culture.
Although Vitale generally likes Malone's musical output, it's this perceived bait and switch in the "caricature"-esque image and persona of Post Malone that Vitale really has an issue with, and Vitale is certainly not alone. Other artists that have expressed issues with Malone include Earl Sweatshirt and Yelawolf, among many others. But with a string of hits and bestselling records it is highly unlikely that Post Malone loses much sleep over any of these beefs (via Billboard).