How Meredith Kercher's Family Really Feels About Amanda Knox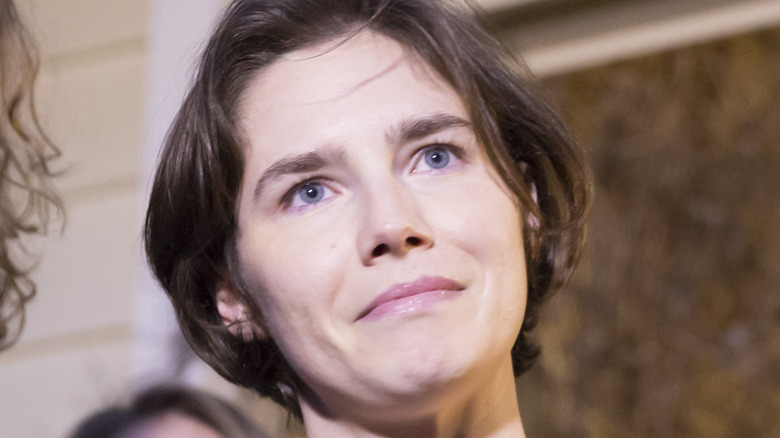 Stephen Brashear/Getty Images
The November 2007 murder of Meredith Kercher, a British exchange student, horrified people around the world. The 21-year-old's body was discovered with several stab wounds in the apartment she and her roommate, Amanda Knox, rented in Perugia, Italy. The trial to uncover Kercher's murderers ended in 2009 with the convictions of Knox and her boyfriend at the time, Raffaele Sollecito, along with Rudy Guede, who had friends in the building, according to CNN. Prosecutors purported that Kercher's death happened after she declined to join a sex game with them. The lurid details and brutality of Kercher's death turned the trial into a media frenzy. The sentencing offered drama as well, with Knox and Sollecito sentenced to 26 and 25 years, respectively, in jail.
In October 2011, both received acquittals and were released, according to Biography. Then, Knox faced another trial for her roommate's murder in March 2013, and Italy's highest appeals court overturned the previous decision. Knox and Sollecito got new sentences in February 2014 (28.5 years and 25 years). Finally, Italy's Supreme Court dismissed the convictions in 2015. At the time, Kercher's family expressed their disappointment in the verdict through a lawyer, Francesco Maresca. "This is not so much a defeat for the prosecution as a defeat for Italy's justice system. The judges said there is a lack of proof and whoever acted with Guede has not been found," he told The Guardian.
A silent family still mourns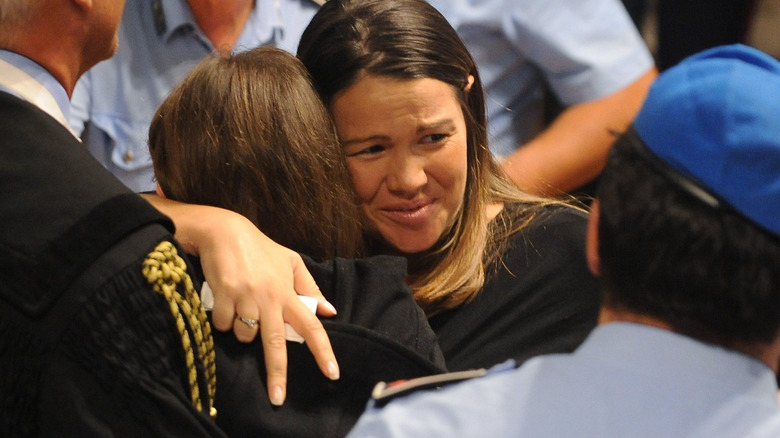 Pool/Getty Images
The Kercher family has generally remained silent about the aftermath of the case. When Netflix released "Amanda Knox," a true-crime documentary in 2016, none of Kercher's relatives took part in it, according to Bustle. They also reportedly never acknowledged receiving a copy of the film from the directors, Rod Blackhurst and Brian McGinn.
When Knox (pictured above hugging her lawyer) returned to Italy for the first time after her 2011 prison release to speak at a conference panel, Trial by Media, about wrongful convictions, the Kercher family was displeased. Still, they only expressed themselves through their lawyer, who said that seeing Knox publically pained the family, reported The Guardian. "All these insistences and appearances are only ever done to keep the attention on herself," Maresca told the media outlet. "The murder is a tragic memory for the Kercher family, they lost their daughter and sister in such a terrible way. It's also an injustice for them as they still don't know the full truth."
Amanda Knox tried to contact the family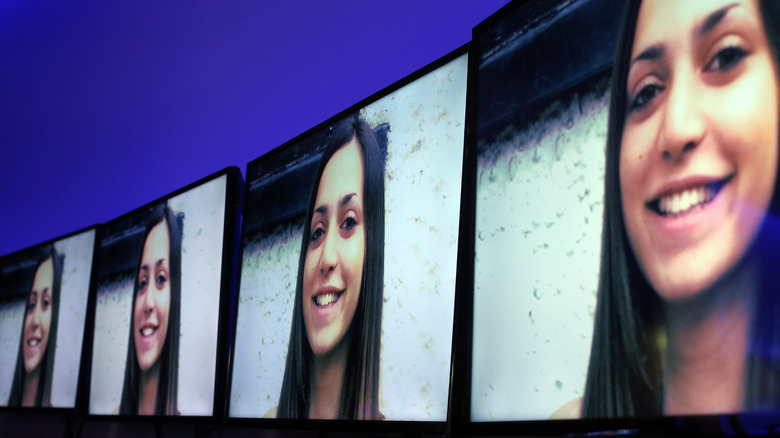 Franco Origlia/Getty Images
On a podcast, "Call Her Daddy," in November 2021, Knox said that she had attempted contacting Meredith Kercher's family through a third party. "I want to have a relationship with you," she said, according to the New York Post. "I want to talk to you," adding that she was "waiting to see if that's something that they want too."
Knox is unsure how the Kerchers will react to the request. "I know that at least in the past, like, it's unclear to me at this point how they feel about me. And I don't want to like force a relationship on them if it's traumatic for them," she told podcast host Alexander Cooper.
Knox said she often thinks about her former roommate. "I want the same thing that they (Kercher's family) want," she said on the podcast. "I want to know the truth. I want to know what happened to Meredith. I want her to be recognized for who she was, and I want their suffering to be recognized for what it is. And I want them to get the closure that they deserve. I want that, too."
Rudy Guede, who received 30 years at the original trial, was freed early in November 2021 (per CNN).