LuLaRoe Is Accused Of Cult-Like Behavior. Here's Why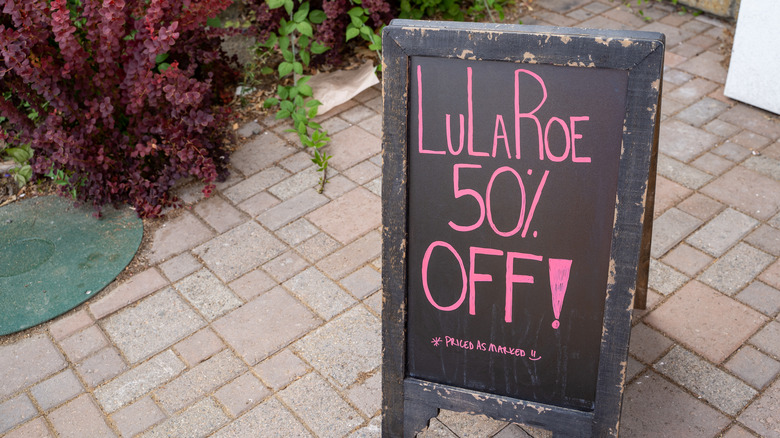 melissamn/Shutterstock
LuLaRoe is a multi-level marketing company (MLM) that recruits independent sellers to sell its women's athleisure wear. Luring these sellers to the agreement are promises of financial independence and the ability to make money on their own terms without a boss. While this may sound appealing to many, LuLaRoe, among other MLMs, now stand accused of cult-like behavior once interested sellers are part of the program. A four-part docu-series from Jenner Furst and Julia Willoughby — "LuLaRich" — explores these accusations on Amazon Prime.
According to The New York Times, LuLaRose was launched in 2013 by DeAnne and Mark Stidham. Their products are described as "buttery soft" women's leggings in bold prints (pictured below). Retail sales for the company grew quickly, reaching more than $2 billion in only four years. Contributing to this success was the constantly expanding team of independent retailers, all working from their own homes. Once part of the system, however, many retailers found that the LuLaRoe experience was not what they expected.
They expect complete control
Anita Warren-Hampson/Shutterstock
Instead of easy money and financial freedom, many LuLaRoe retailers discovered the company expected absolute control over their life once they agreed to the company's terms. According to VICE, examples of cult-like behavior from the business include the expectation that sellers take on personal debt in order to be a part of the company; requiring otherwise employed domestic partners to quit working and invest their entire life savings in LuLaRoe; and the encouragement of weight-loss surgery for some women.
What's worse, sellers faced retaliation when they complained about these policies or expressed any kind of unease about the agreement. When women wanted to leave LuLaRoe, they often endured thousands of dollars in losses, and anyone who was still a part of the company was not allowed to be in contact with them. On the topic of whether or not LuLaRose and other similar MLM companies are actually cults, cult expert Rick Alan Ross stops short of labeling these businesses as such. However, he does agree they display many cult-like behaviors, especially in how they handle people who choose to leave the organization.