What The Last Months Of Oliver Hardy's Life Were Really Like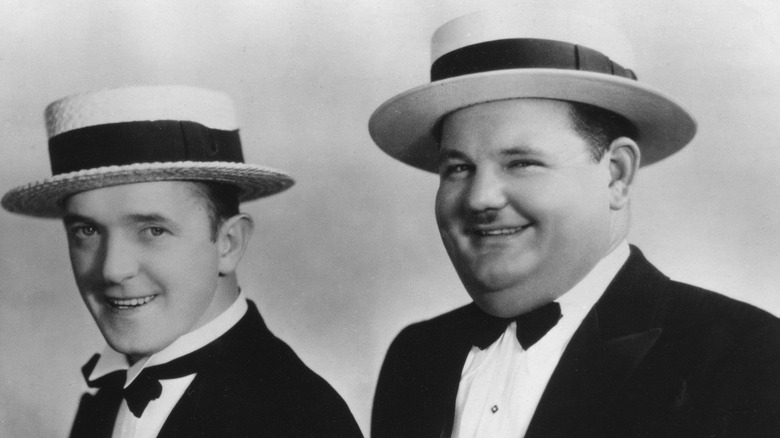 Print Collector/Getty Images
We listen to musicians, watch actors and online personalities, and sometimes lose sight of the fact that what we see and hear is only a fraction of their lives. They are not just a singer, performer, or anything else. Away from their work, they experience the highs and lows of day-to-day life just as fans do. Iconic duo Laurel and Hardy were beloved for their comedic timing, silly skits, and dramatic pratfalls, but life for the two men was certainly not funny at times.
For Stan Laurel, it was the concept of marriage that got him into all manner of messes. According to the Los Angeles Times, he and third wife Vera Shuvalova had such a tempestuous relationship that Laurel, facing a DUI charge, claimed that Shuvalova drove him to the act, as she had "a terrific temper." Oliver Hardy, meanwhile, may have played the bumbling, accident-prone funster, but his health deteriorated rather quickly in the last months of his life and the tragedy was no laughing matter.
The New York Times (per Letters From Stan) reported that Hardy died on August 8, 1957. The previous September, according to the newspaper, he had a stroke, and His widow Lucille said, "Mr. Hardy never regained the power of speech... and required constant nursing care."
Oliver Hardy's health declined quickly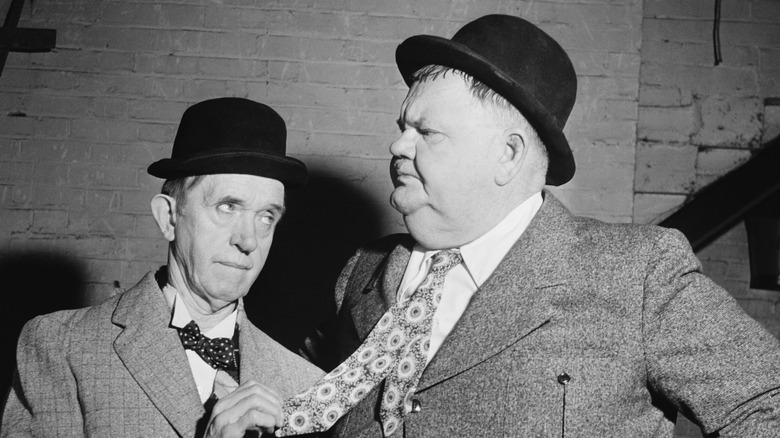 John Pratt/Getty Images
According to Eddie Deezen (via Neatorama), the Oliver Hardy would never leave the bed in which Lucille began to nurse him, though he would receive visits from long-standing professional partner Stan Laurel. The pair reportedly communicated through mimes.
Deezen writes that Hardy reached 350 pounds before embarking on an intense diet, but that the sudden loss of weight seemed to have been detrimental to his health. Both Laurel and Hardy were also heavy smokers. According to the Leicester Mercury, the pair stopped at the Bull Inn, a pub in Leicestershire, England, during a tour of the country in the early 1950s. "Ollie and Stan pulled pints behind the bar... both smoking like chimneys," the newspaper reported. This habit, too, contributed to Hardy's declining health.
According to Danny Lawrence, author of "The Making of Stan Laurel: Echoes of a British Boyhood," Laurel confided in a letter to a friend that "his illness cost over thirty thousand Dollars in 11 months, even lost his home." Ultimately, though, Hardy's tragic, protracted death bought him peace. As Laurel wrote to Bob and Marie Hatfield in August of 1957 (per Letters From Stan), "he has been suffering very much these last few weeks and in terrible pain (Cancer condition)," stating that he was sure his dear friend would be glad to finally be at rest.