Pam And Tommy: Is Uncle Miltie A Real Person?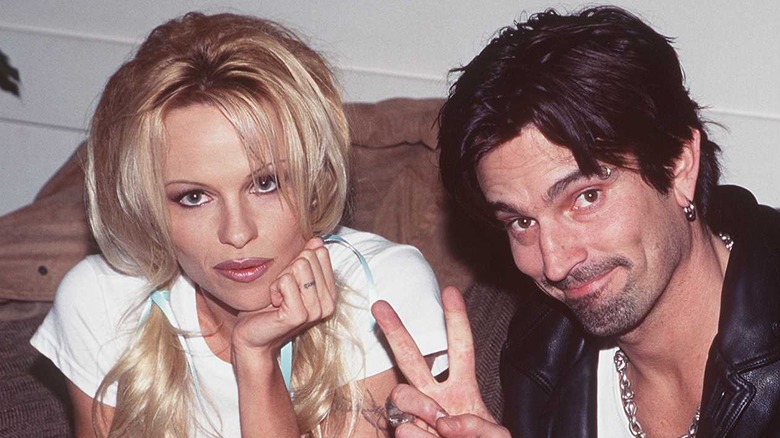 Ron Wolfson/Getty Images
Stealing the show on several occasions in the Hulu series "Pam & Tommy" is the character Uncle Miltie played by Nick Offerman. The show is a fictionalized account of the mid-'90s sex tape scandal that embroiled model and actress Pamela Anderson and her then-husband, Mötley Crüe drummer Tommy Lee. Along with Anderson and Lee, most of the characters that appear in the show are real people. Can the same be said, though, for the flamboyant Uncle Miltie?
Via Cinemaholic, the Uncle Miltie character, who's an adult film producer, first shows up in the show when the spurned electrician and contractor named Rand Gauthier (played by Seth Rogen) brings him the sex tape he recently purloined from the couple. Gauthier hopes to leverage for money his accidental discovery, but also release it as a means of revenge. Sensing a goldmine, Uncle Miltie helps Gauthier make copies of the tape which spread like wildfire before the footage even makes it online. Is this, though, what actually happened?
He's a real person and his name is Milton Ingley
According to Screen Rant, the sequence of events depicted in "Pam & Tommy" is pretty much how it went, and the real Uncle Miltie, who performed as Milton Own Ingley, very much played a part. A Vietnam vet, the real Milton Ingley, born Michael Morrison, per Ultimate Classic Rock (pictured above) — entered the adult film business in the late-'70s and would go on to appear in more than a hundred adult films in his career. Following that, Ingley made his way to behind-the-scenes work to direct and produce his own movies with his company called Chandler Studios.
Just like how "Pam and Tommy" tells it, after the real-life Ingley was approached by Gauthier with the tape, he worked closely with Gauthier to make copies and arrange for distribution, selling the tape through what was then a brand-new marketplace — a website. The orders came rolling in. By 1997, Ingley relocated to Amsterdam with all the money he made, and he remains a big name in the porn business. He's even included in both the X-Rated Critics Organization (XRCO) and the AVN Halls of Fame, per Cinemaholic. Sadly, the real Milton Ingley died in 2006.