Dave Grohl Reveals The Rule Foo Fighters Has For Recording Music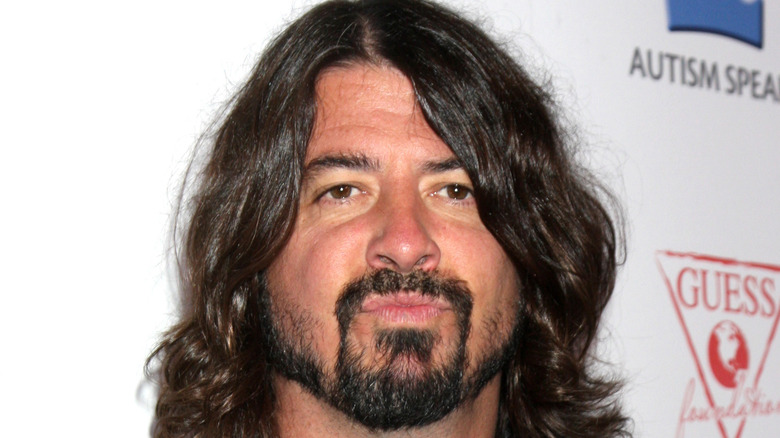 s_bukley/Shutterstock
As the founder, singer, primary songwriter, guitarist, and (occasionally everything else) of Foo Fighters, Dave Grohl has practically done everything a man can do as a rock musician. Of course, we also remember him as the drummer of Nirvana whose arrival coincided with their rise to superstardom, but over the span of more than two and half decades, he's transformed the Foos from "that band featuring Nirvana's drummer playing all the instruments on record" to Rock and Roll Hall of Fame inductees in their first year of eligibility. Oh, and he's also done a bit of acting, making a memorable cameo as Satan in 2006's "Tenacious D in The Pick of Destiny" and most recently, joining his bandmates in the main cast of the horror-comedy film "Studio 666."
With all that in mind, it seemed only a matter of time before Grohl would become the next celebrity to go through that gauntlet of increasingly hot wings and increasingly random questions known as "Hot Ones." On February 24, 2022, the ever-popular musician finally appeared on the show, discussing a wide range of topics from barbecue preferences to "Studio 666" to, just as anyone would expect, Foo Fighters. This included a few comments regarding a certain rule he has when recording music with his band, and if you're the type of listener who likes your music as polished and perfect as possible, you may be surprised by what Grohl had to say about the matter.
Grohl doesn't mind mistakes -- the 'human element' of making music
Midway through Dave Grohl's appearance on "Hot Ones," host Sean Evans revealed that he read about a Foo Fighters album that, after being recorded on analog tape, could not be manipulated after the fact. (Evans was referring to 2011's "Wasting Light.") He then asked the frontman if he agrees with the opinion that the overproduction of songs could defeat the purpose of making music. After thinking it over for a bit, Grohl said that he doesn't necessarily feel that way about other artists and their songs, but agrees with the statement when it comes to his band's own music. "I like imperfection," he explained. "I like to hear albums where you can hear a hand going up and down the strings ... that's the human element of music. I dig that."
After taking a few more seconds to, well, collect his thoughts, Grohl expounded on his belief that the human element is important when he and his bandmates are recording music. While he admitted liking bands that are "really rigid" and "mechanical," he said that as far as Foo Fighters are concerned, the band is at its best when its music "sounds like us" and is "raw."
Sounding raw may be well and good for one of the biggest rock bands of the past 25 years, but what do the fans think of this rather informal recording rule?
Fans have noticed the mistakes, and have mixed reactions to them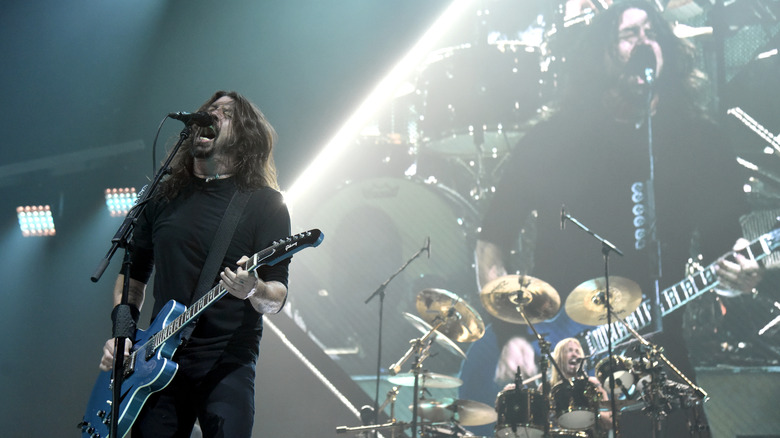 Tim Mosenfelder/Getty Images
Granted, not everybody enjoys the raw approach that Dave Grohl favors in Foo Fighters recording sessions. In one Reddit thread, original poster u/adammmblake wrote that after listening to the Foos' 2017 album "Concrete and Gold," they were able to "hear mistakes, bad mixing, [and] dodgy edits," which combined to make the record sound "weird." They also pointed out an "obvious mistake" in Taylor Hawkins' drum fills on the song "Run," where it seemed as if the fills were haphazardly edited toward the end of the tune. Several users agreed with the OP's observation, with u/thesdo writing that there was "something very off" with how "Concrete and Gold" was recorded.
Then again, there were others who maintained that they didn't notice the supposed botches and/or edits on that particular release. Redditor u/JustinGitelmanMusic acknowledged that the album sounded "sloppy," but hypothesized that the Foo Fighters "were like, f*** it, we'll keep the mistakes" — this, indeed, sounds consistent with the above-mentioned comments from Grohl during his "Hot Ones" appearance. They concluded their post by calling "Concrete and Gold" a "very authentic and human album."
In another thread, it seemed that Redditors were more complimentary toward "Wasting Light," as multiple users remarked that they didn't hear any noticeable flaws. "I think it's one of the most perfect albums, mainly in that it sounds imperfect," wrote one user. "What I love about 'Wasting Light' is that it has this sort of grit and rawness to it, one that comes from them recording it onto tape in a garage."