How A Diamond Helped Solve A Murder Case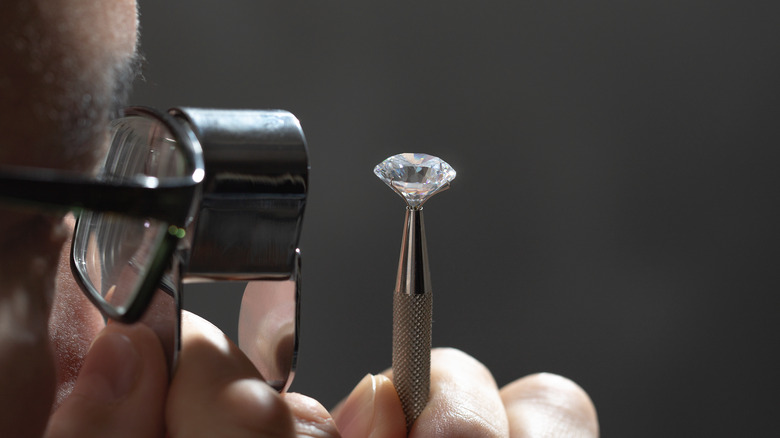 EgolenaHK/Shutterstock
Robert Wykel was a happy, healthy, and socially active 66-year-old retiree from Burien, Washington, who liked nothing more than spending time with his family, traveling, and restoring classic cars, according to KingCountyTV (via YouTube). In the early months of 1996, the former sheet metal worker was due to begin work on a new project with his grandson, and was always on the lookout for more unloved vintage cars so that he could indulge his passion and make a little extra retirement money. Per Westside Seattle, Wykel told friends on February 21 of that year that he was soon going to view a vintage Ford Thunderbird.
However, that was the last that Wykel's family or friends ever heard from him. After he was reported missing, his car was discovered abandoned at a local park-and-ride. Investigators discovered that Wykel had recently withdrawn $5,200, most likely so that he would be able to pay for the car he was supposedly viewing, according to The Seattle Times.
The last person Wykel had been seen with was a man named Myron Holdredge Jr., a Texan who went by the name Myron Wynn, a local "drifter" whom investigators soon believed had a hand in Wykel's death. According to KingCountyTV, Wynn was known for running a scam in which he acted as a fake deal-maker, taking money from targets with the promise of goods, but never delivering. But little did Wykel's family know it would take 15 years to bring Holdredge to justice.
A diamond brings delayed justice
According to The Seattle Times, Wynn was identified as the last person Robert Wykel (pictured) had been seen with alive, but while Wynn remained investigators' prime suspect, building a case against him was a slow and frustrating process.
Per Westside Seattle, Washington police were told by Myron Wynn's sister that her brother had visited her with a man fitting Wykel's description, saying that they were on the way to view a Thunderbird. The police confronted Wynn with this information and invited him to undergo a polygraph test, but he repeatedly failed to show, and eventually went into hiding. The investigation halted for three years, until it was assigned to a fresh investigator, who decided to explore a different angle.
According to the same source, Wykel was known to wear a large and unusual diamond ring, an item that adorned his hand even as he performed mechanical work on his vintage cars. Investigators then interviewed a number of women close to Wynn, including an ex-girlfriend who said that he had given her a large diamond as a gift before eventually taking it back during an argument. Investigators also spoke with Wynn's aunt, who eventually revealed that she had bought the diamond from Wynn for $2,000. The aunt gave the ring up to police, and it became a vital piece of evidence against Wynn, who claimed he had found the ring in the very same parking lot where Wykel's car was found abandoned.
In 2011, Wynn was sentenced to 20 years in prison for the 1996 murder of Robert Wykel. Wykel's body has never been found.