John Stamos' Relationship With Taylor Hawkins Explained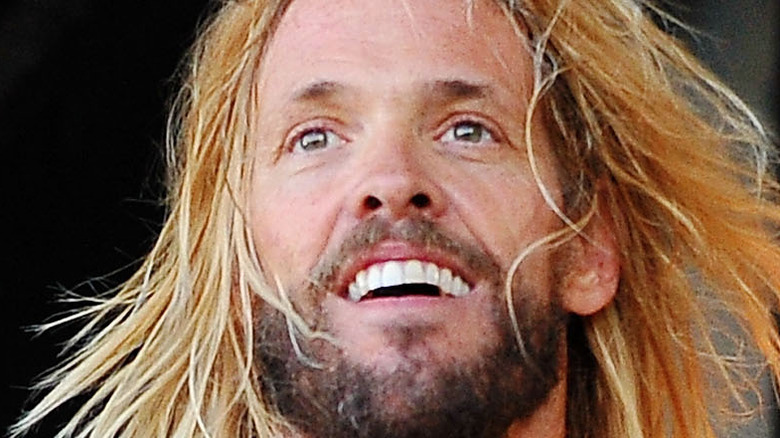 Jerod Harris/Getty Images
Foo Fighters drummer Taylor Hawkins' death on March 25 created an outpouring of tributes to the musician who was well-liked and respected by fans, friends, and other musicians for not just his drumming acumen, but also his charismatic personality. Figures from all around the music community posted pictures and statements about their experiences with Hawkins on social media. Black Sabbath's Ozzy Osbourne tweeted his condolences and called the Foo Fighters drummer "truly a great person and an amazing musician." Guns N' Roses guitarist Slash tweeted his sympathies, writing, "Devastated by the loss of our friend #TaylorHawkins I've no words to express all the feelings I have about his passing. But my heart goes out to his family. & his band & friends. RIP Taylor."
According to Billboard, Miley Cyrus, who replaced Foo Fighters in the headlining slot at Lollapalooza Brazil following Hawkins' death, dedicated her song "Angels Like You" to the drummer. "I would've done anything to hang out with him one more time," she told the crowd as she fought back tears. Yet another performer grieving the death of Hawkins was actor John Stamos, who shared some messages he had received from Hawkins.
John Stamos is a drummer himself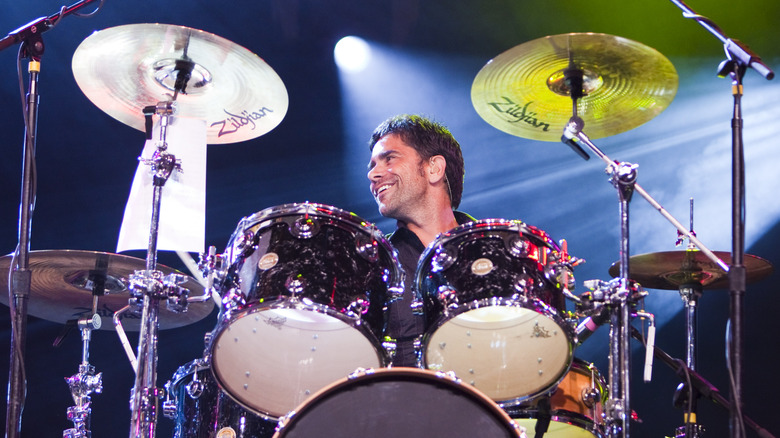 Matt Stroshane/Getty Images
John Stamos is best known as an actor, having starred in the beloved late-'80s/early-'90s sitcom "Full House," but he's also a drummer, a talent and passion he would have shared with Taylor Hawkins (via Biography). Stamos has even played drums and guitar alongside The Beach Boys on "Full House" and has done so many other times over the years, a gig he fell into by chance.
"I never even dreamed of meeting the Beach Boys, let alone playing with them," Stamos said in an interview on "The Kelly Clarkson Show" (posted on YouTube). Stamos told Clarkson that he had gone to a Beach Boys show in the '80s while he was appearing on the soap opera "General Hospital." Some of his adoring fans ended up chasing him backstage, and Beach Boy's co-founder Mike Love asked who he was. When Love learned how popular Stamos seemed to be he invited Stamos on stage with the band.
Hawkins and Stamos' friendship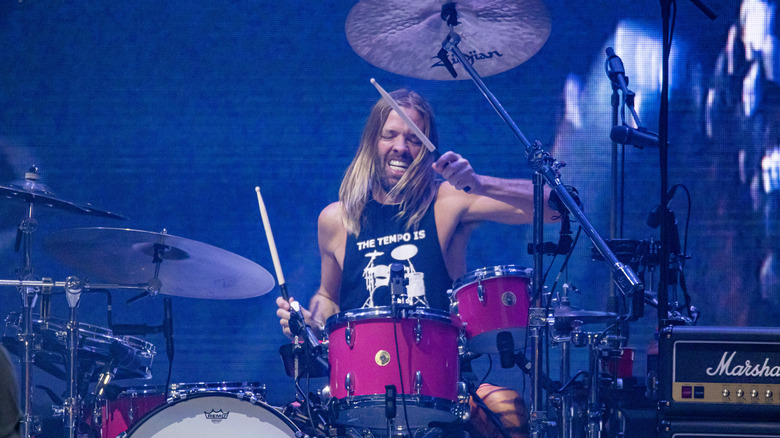 Scott Legato/Getty Images
Following Hawkins' death, Stamos shared the final text he received from the Foo Fighters drummer. "This was Taylor Hawkins' last text to me: 'Ya We've yet to fully have a hang -Got a put that s*** together before we die' Wise words from my friend- put that s*** together! I'm so f****** sad. Another one gone too soon," Stamos tweeted. A few days later, Stamos shared a clip of Hawkins on his Instagram page. In it, Hawkins was jokingly responding to a GEICO commercial Stamos was a part of.
"Stamos is a good buddy of mine. He's a good guy. I really like him a lot. He's a great drummer and he's just a great dude, all that stuff," Hawkins said. "But I'm a little upset with him actually, I gotta be honest with you, because I was supposed to do that Geico commercial. ... Originally that was mine but they decided to go with Stamos 'cause he's better looking. But I'm the best stick flipper around. Sorry, Stamos. ... It goes me, Tommy Lee, Stamos." Stamos' caption along with the clip simply said, "Yes, Taylor you are the best stick flipper and I miss you pal!"