Jazz Legend John Coltrane's 1967 Death Explained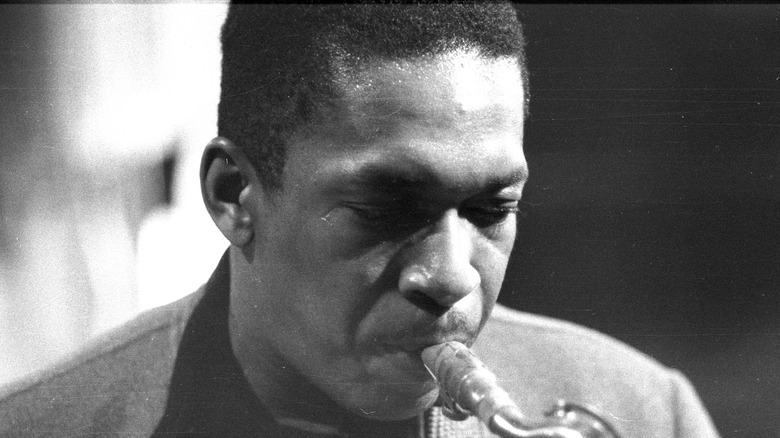 Michael Ochs Archives/Getty Images
The pioneering jazz saxophonist John Coltrane — whose 1965 masterpiece "A Love Supreme" was the first jazz album of that era to go platinum –- achieved an incredible amount in his short life before dying tragically young on July 17, 1967. He was just 40, and news of his death made international headlines that rocked the jazz community around the world.
According to Miles Davis, whose comments were recorded in the 1997 biography "John Coltrane: His Life and Music" by Lewis Porter, the news "f***** up everyone. Coltrane's death shocked everyone, took everyone by surprise. I knew he hadn't looked too good and had gained a lot of weight the last time I saw him ... But I didn't know he was that sick — or even sick at all."
The official cause of death was liver cancer. But, according to Coltrane's son Ravi, no autopsy was performed before Coltrane's funeral just four days later. As such, the full circumstances of Coltrane's tragic death have been the cause of much conjecture, while accounts of his final days — when he appeared bloated and in pain, according to various sources — have been pieced together using information from those who knew him.
John Coltrane and addiction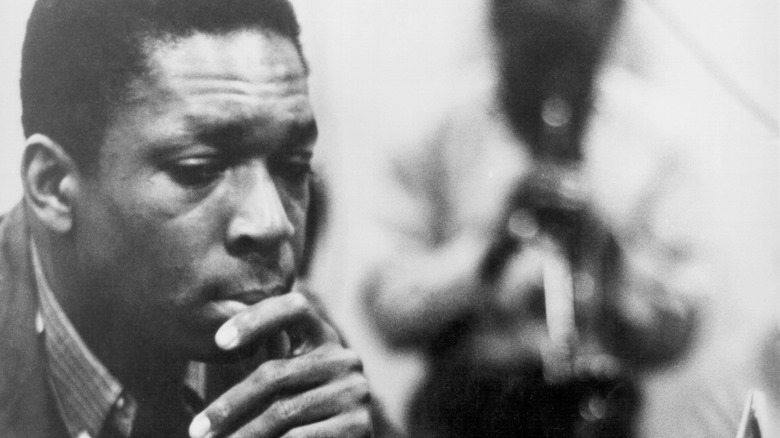 Michael Ochs Archives/Getty Images
The prevalence of heroin use and alcoholism in the jazz culture of the 1950s and the effect it has had on the lives of jazz artists have been well documented. In the Canadian Journal of Gastroenterology, Paul Adams MD reports that a 2009 study of 80 leading jazz musicians reveals that addiction, in general, had significantly contributed to many of their early deaths. Adams suggests such musicians often turned to drug use as aids to creativity or socialization, or to relieve the stress and boredom of extensive touring and playing. Alcohol and drugs also provided a crutch for many musicians facing the harsh realities of a discriminatory music industry, which saw exceptional Black jazz talents face poor pay and job insecurity, as well as limited medical services to help treat illnesses resulting from addiction.
John Coltrane was not immune to the addictions that plagued the jazz scene of the day. According to Biography, Coltrane started using heroin in the early 1950s. And, after being hired to the Miles Davis Quartet around the middle of that decade Davis eventually kicked him out of the band in 1957 as Coltrane continued to battle his seven-year addiction to the drug.
Humiliated and ostracised, Coltrane eventually managed to kick the drug and regain Davis' approval. But, as noted by Lewis Porter in his biography "John Coltrane: His Life and Music," many believe that it was during these years that the saxophonist caused the damage to his body that would result in his tragically early death.
If you or anyone you know is struggling with addiction issues, help is available. Visit the Substance Abuse and Mental Health Services Administration website or contact SAMHSA's National Helpline at 1-800-662-HELP (4357).
What really killed Coltrane?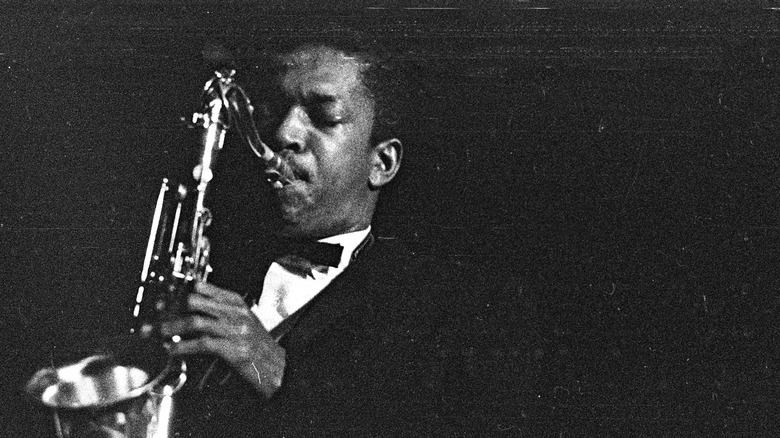 Michael Ochs Archives/Getty Images
Speculations abound regarding John Coltrane's terminal illness, and whether his cancer was in any way exacerbated by his drug and alcohol use. Lewis Porter claims that many of Coltrane's fellow musicians — such as those who knew him in the years of his heroin addiction — typically postulate that, even though the saxophonist had been clear of the drug for about a decade by the time of his death, he had caused enough damage to himself during those years that the seeds of his illness had already been planted.
However, Porter points out that it is very rare for cirrhosis — which is typically suggested to have been the precursor to Coltrane's cancer — to develop among people who have abstained for long periods. It was also rumored that Coltrane — who, with his band of the 1960s, had taken his music into an even more far-out free-jazz direction in the years before his death — had towards the end of his life been experimenting with the mind-altering effects of the new psychedelic drug LSD. However, as Porter notes, there has been little to suggest that the drug in question causes liver damage.
Porter suggests instead that it may have been hepatitis, which Coltrane could have contracted as a result of intravenous drug use while addicted to heroin, which ultimately killed him. The disease is a known cause of liver cancer, and is known to be symptomless and difficult to detect among carriers.