Elvis' Relationship With His Backing Band's Guitarist Was Anything But Smooth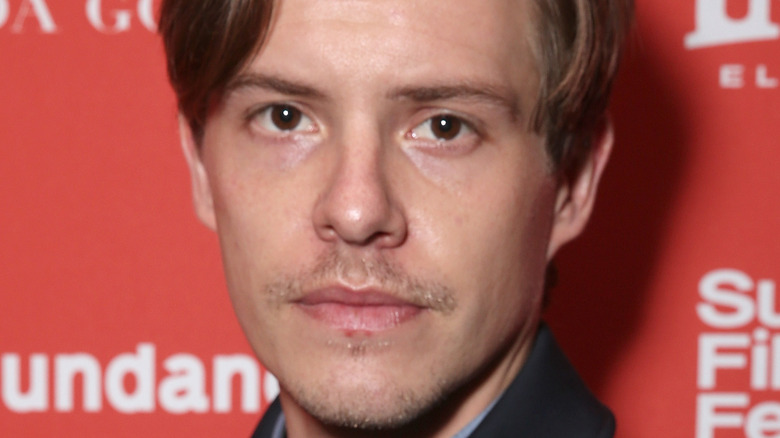 Todd Williamson/Getty Images
Elvis Presley's 1950s-era output, recorded for the Memphis label Sun Records, blended early rock 'n' roll with country music to help produce a whole new style of pop called rockabilly, as Rockabilly Legends, a website devoted to the genre, explains. These days, Elvis, who died in 1977 at the age of 42, is known mostly for his velvety singing voice, and for having some of the most devoted fans in all the world (via History). The truth of the matter is, though, Elvis had a backing band early on called the Blue Moon Boys. Playing guitar in that band was Scotty Moore. Without Moore, Elvis' signature sound may never have developed in the way that it did. And as it turned out, Moore and Presley had some personal issues.
Director Baz Luhrmann's 2022 biopic "Elvis," starring Austin Butler as Elvis, covers this early period in Elvis' career as well as other points in the rock star's life. In the movie, Scotty Moore is played by Xavier Samuel (pictured), according to the cast list published on IMDb. It's unclear at the time of this writing how Elvis' relationship will be presented by Luhrmann, or whether "Elvis" will cover both the good and the bad between the two musicians. Here's a look, though, at Scotty Moore's real-life relationship with Elvis, including how and why it went off the tracks, and the bittersweet reunion the musicians had only a decade or so before the end of Presley's life. (The trailer for Baz Luhrmann's film is available to watch now on YouTube.)
Moore played on almost all of Elvis' recording in the 1950s and '60s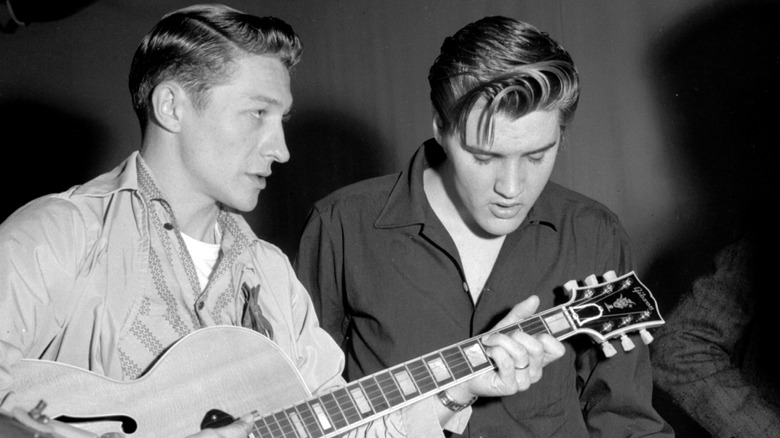 Michael Ochs Archives/Getty Images
Scotty Moore, who died in 2016 at the age of 84, was born in Tennessee in 1931, as Rolling Stone reports. Moore, now a member of the Rock & Roll Hall of Fame, was first introduced to Elvis in 1954 by Sun Records founder Sam Phillips. His playing style synthesized country and hillbilly music, as it was called into the time, with the still emerging sound of rock 'n' roll. The melding created a style of music all Moore's own and which was well suited for Presley's exuberant and sensual performance style, per the guitarist's own website. Recalling his listening habits at that point, Moore later said, "I was listening to everything. Being on a farm, I probably heard more country than anything. Then I went into the Navy and I started loving jazz ... I heard lots of blues too."
Once it was clear that Moore and Presley would hit it off, the Blue Moon Boys were formed. Moore helped write songs and played lead guitar on almost everything Presley did throughout the '50s. By 1954, Presley tapped Moore as his bandleader, per Moore's page on AllMusic. Only a few short years after that, though, Elvis' star began to rise to the meteoric levels it would one day reach and Moore was more or less demoted to Presley's employee. That's when fault lines between the two musicians emerged. And even though Moore would continue to play with Elvis on occasion, those tensions came to a head by the mid-1960s.
Scotty Moore did not make enough money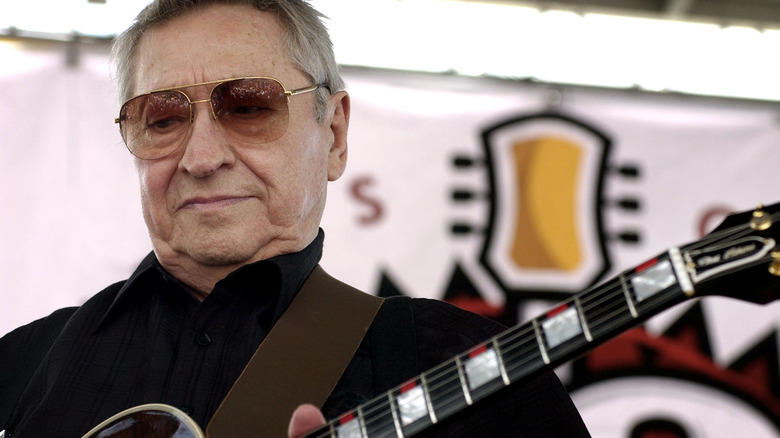 Mike Brown/Getty Images
As is often the case in entertainment, stars like Elvis Presley make all the money while backing musicians — regardless of how integral they are to the success of their singer — earn much less. This proved to be true between Moore and Elvis, when in the mid-1950s Moore was making only $100 a week when the band was at home, and $200 a week while they were touring (via Scotty Moore). Adjusted for inflation, that's anywhere from around $1,000 to $2,000 in today's money, per Dollar Times. In total, with recording and movie appearances as well as a number of other income opportunities, Elvis was making much more than that. Unable to come to terms on a financial agreement, Moore and bassist Bill Black quit the band in 1957, although both would rejoin not too long after.
When Presley was drafted into the Army, Moore and the rest of the Blue Moon Boys found themselves out of work. Around this point, Moore began to earn money as a recording engineer, among other music side projects. None of these were ever quite as successful as Moore's time with Elvis had been. By 1968, Elvis and Moore had fallen out of touch, according to The Washington Post. Touchingly, when Elvis planned his so-called "'68 Comeback" TV special, he asked Moore to perform, which Moore did. Moore never saw Elvis again. Clips of Scotty Moore performing with Presley one last time are available to watch now on YouTube.