What Did The Guard Of Honour Do During Queen Elizabeth II's Journey To London?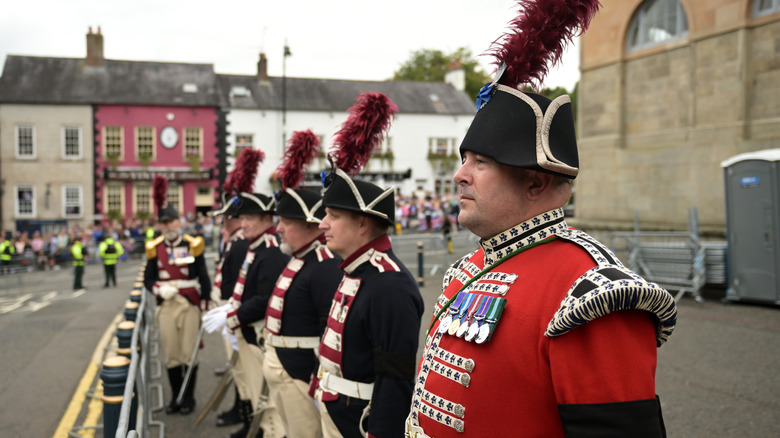 Charles Mcquillan/Getty Images
According to CNN, Queen Elizabeth II's state funeral will be held on September 19 at Westminster Abbey. NPR reports that the queen, 96, died "peacefully" at her Scottish residence, Balmoral Castle. Now, as funeral preparations are underway, the queen's body is making the long journey home to London. CNN states that her body was moved from Balmoral Castle to the Palace of Holyroodhouse, where it was then transported by a procession to St. Giles Cathedral. She laid in state for 24 hours, and a prayer service was also held. From there, British Heritage Travel writes that her body is leaving Edinburgh for Buckingham Palace by air on September 13.
That said, The British Army writes that the Royal Regiment of Scotland played an important role in transporting the queen's body to the Palace of Holyroodhouse, as they provided her with the Guard of Honor. Dictionary explains that Guards of Honour hold the task of welcoming or accompanying the coffin of a prominent individual that is usually associated with the military. In this case, the Royal Regiment of Scotland gave this distinction to Queen Elizabeth II. As the National WWII Museum notes, the queen joined the Auxiliary Territorial Service in the British Army in 1944 when she was just 18.
They gave the queen a royal salute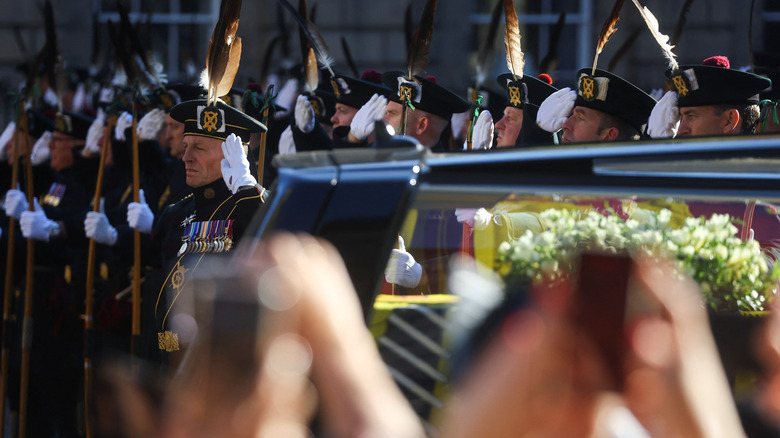 Wpa Pool/Getty Images
Per The British Army, the Guard of Honour welcomed Queen Elizabeth II's body when it arrived at the Palace of Holyroodhouse from Balmoral Castle. As the hearse made its way into the Palace of Holyroodhouse, the Guard of Honour gave her coffin a royal salute. They also accompanied the body to St. Giles Cathedral. British Heritage notes that as her body left Scotland, the Guard of Honour gave her a farewell salute while a band played the national anthem. Yahoo News! UK writes that Lieutenant General Nick Borton said that his regiment was "hugely proud" to provide the queen with a Guard of Honor.
He stated (per Yahoo News! UK), "It's been a tremendous honour. It's been very hard work. The soldiers have been working tremendously hard since Friday to gather together all the right uniform, and then relentlessly practise their drill to the high standards required in order to provide the ceremonial surroundings for the events that are going on." Borton added, "For us, it's not just a military task, we're saying goodbye to our Commander in Chief and our Colonel." 
CNN reports that the queen's daughter, Princess Anne flew with her mother's body back to Buckingham Palace. On September 14, the queen will be moved to Westminster Hall, where she will remain until her funeral.