Inside Queen Elizabeth II's Relationship With Camilla Parker Bowles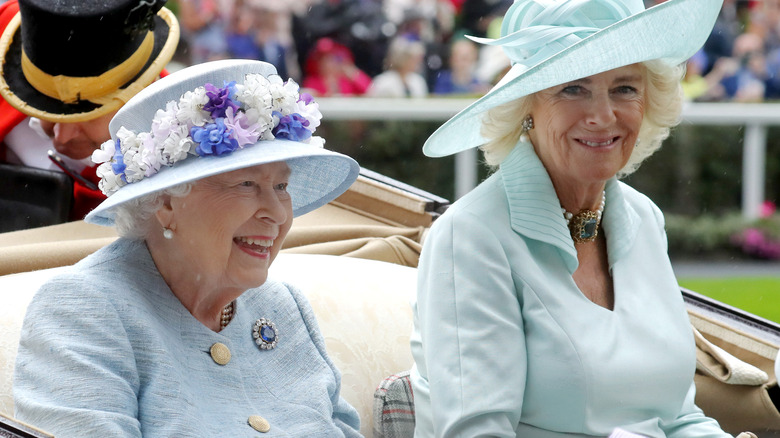 Chris Jackson/Getty Images
The death of a queen has its way of stirring sentiments good and bad, far and wide. Queen Elizabeth II, the longest royal to ever reign over the United Kingdom and Commonwealth Realms and the second-longest ruling monarch in the history of the world, was no exception (per NPR). Her death on September 8, 2022, has caused a raucous, inciting everything from tears and tribute, as reported by The Washington Post, to choruses of cheers, jeers, and even boos, according to Indy100.
Perhaps most revealing of all, however, is what the people comprising her inner circle – members of the queen's immediate and extended family and friends — truly thought of her. Among them is none other than Camilla Parker Bowles, internationally known today as the UK's queen consort (via Britannica). When asked about her real-life relationship with the late Queen Elizabeth II, the former Duchess of Cornwall had a lot to say.
A friendship steeped in controversy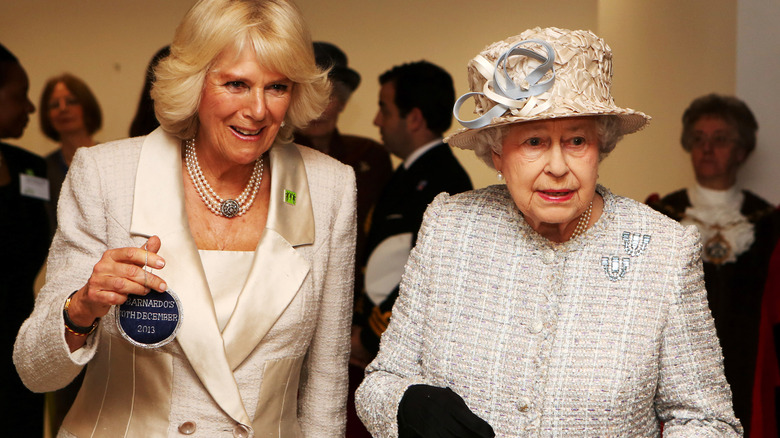 Wpa Pool/Getty Images
It's hard to imagine it now, but Vanity Fair reports that the recent ruling queen consort once held a very different title – that of the "most hated woman in Britain." Rumor has it that the animosity dates back further than you might suspect, all the way to the 1970s. According to Biography, the spark between then-Prince Charles and one Camilla Shand was common knowledge. Unfortunately, some members of the public and the royal family viewed Camilla as a "commoner" and they were less than enthusiastic about their love affair.
Per Marie Claire, things took an even worse turn for Camilla in 1989 when tapes of phone conversations between her and Prince Charles were leaked, with many blaming Camilla for the turmoil in Prince Charles and Princess Diana's marriage. When Princess Diana's life came to a startling halt in 1997, that judgment gave way to flat-out hatred for Camilla Parker Bowles, and some of that heat was said to have been coming from the queen herself (via The Cut).
While their friendship certainly got off to a rocky start, it was actually uphill from there, and after years of tension, Queen Elizabeth II and former "commoner" Camilla Parker Bowles began to see each other favorably. Today, the late queen's smile is a source of inspiration for the newly crowned queen consort, whose title was partly Queen Elizabeth's doing, according to BBC News.
Camilla Parker Bowles remembers Queen Elizabeth's smile fondly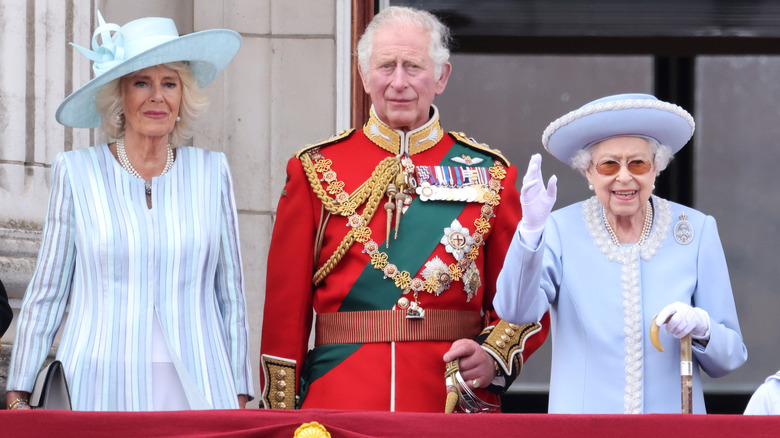 Chris Jackson/Getty Images
In a quote published by Reuters, Queen Consort and former Duchess of Cornwall Camilla Parker Bowles spoke warmly of the late queen, stating, "I will always remember her smile. That smile is unforgettable."
Her message was plain but elegant as she addressed the public, reflecting on her former foe-turned-lifelong friend. She pointed largely to Queen Elizabeth II's pioneering spirit as a woman in a primarily male space. Near the end of her life, Queen Elizabeth had grown to love Camilla to the extent that she bestowed on her the very title that once belonged to her mother, that of queen consort, which she announced at her Platinum Jubilee (via BBC News).
Today, it would seem that something even more special than jewelry was buried with the queen — the hatchet that once separated two similar, powerful women. They parted on the very best of terms.