What Does It Mean To Be A Queen Consort?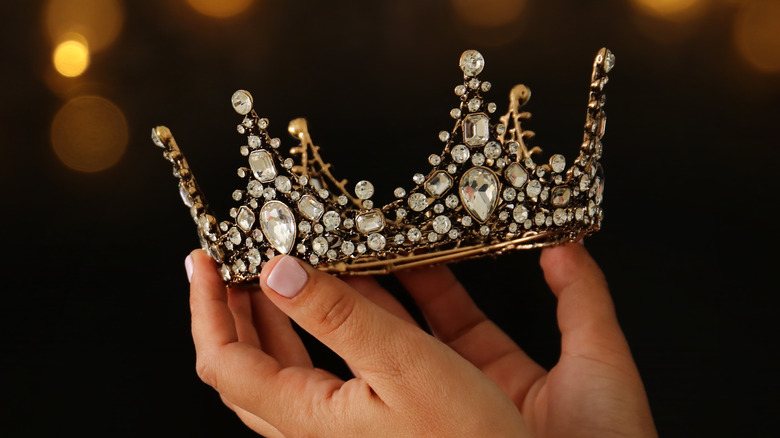 tomertu/Shutterstock
Royalty is oversimplified in modern understanding. As it turns out, there's a lot more to becoming a queen than meets the eye. A very recent example of this complexity exists today in Prince Charles and his wife Camilla, who is currently the Duchess of Cornwall (via The Guardian). Due in large part to the scandalous nature of Prince Charles' first marriage to Princess Diana and their subsequent divorce, the title of queen has always seemed out of grasp for Duchess Camilla. Indeed, there was a time not long ago when it was almost certain she'd carry the title of HRH The Princess Consort should Charles be named king. 
Most queens rule over the monarchy as queen regnant, a prestigious title that carries with it a great deal of power separate from the king's (via The Guardian). The queen consort is essentially the same in title as a traditional queen but it does hold a slightly different social status because the queen consort lacks the sovereign right of power that traditionally gets passed down with the throne.
Now in the face of actual kingship, it appears Camilla — born Camilla Rosemary Shand, but better known to the public as Camilla Parker Bowles before her marriage to Prince Charles — will be called queen after all, according to Queen Elizabeth II's wishes. However, her title, like her romance with Charles, is complicated. There are several key differences between the traditional title of queen and the slightly adjusted moniker she's being offered of queen consort, both in power and ceremonial demonstration.
Queen consort holds the same title but lacks the sovereign power of a traditional queen
Chris Jackson/Getty Images
Essentially, royal consorts are the spouses of ruling monarchs. Despite not having formal positions within the monarchy, they can still have an influence on royal operations. Notedly, the queen consort's crowning ceremony is usually "simpler" than the king's in the event that she is crowned separately from her husband (via Royal). Artemisia's Royal Den reports that in most situations where the king and queen are already married, the crownings take place simultaneously. In fact, there hasn't been a separate queen consort coronation since 1553, when Queen Consort Anne Boleyn indulged in an over-the-top coronation, only to be executed a few years after the ceremony (per Biography).
Power for this position is somewhat limited, but the crown is still heavy. Forever Mark reports that the queen consort's crown typically features the famous Koh-i-Noor diamond, which holds 105.6 karats worth of bling. Noteworthy queen consorts of the past include Queen Caroline of Ansbach (via English Monarchs), as well as Queen Elizabeth II's mother, who was known as Queen Elizabeth the Queen Mother.
Following Camilla's marriage to Prince Charles in 2005, royal aides had said that her title upon her husband's ascension to the throne would be princess consort. English common law dictates that spouses of kings are to be called queen consorts while husbands of queens are given the title of prince consort, meaning that the originally proposed "princess consort" moniker would have required a change to the legislation (via Sky News).
Royal consorts are not only seen in the English monarchy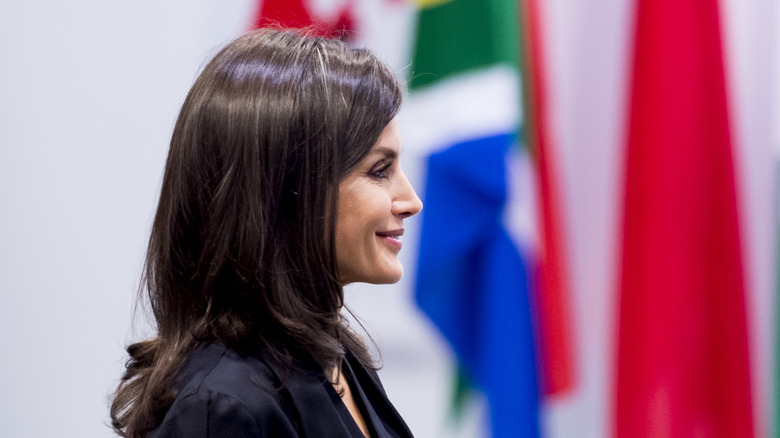 Juan Naharro Gimenez/Getty Images
The use of royal consorts isn't confined strictly to the United Kingdom and its monarchy. There are fairly recent examples of them elsewhere in the world. According to Sky News, Letizia of Spain was on course to gain the title after marrying Spain's Prince Felipe in 2004. It became official in 2014, after Prince Felipe's father, Spanish King Juan Carlos, announced his plan to abdicate the throne, per People. A former television news presenter, Letizia has a unique place in Spain's history — she is the first commoner to ever be named queen (via Britannica).
Just across the English Channel from the United Kingdom, another nation has a queen consort on the throne. Mathilde of Belgium married King Philippe of Belgium in 1999 and became queen consort upon his coronation in 2013. Mathilde is an example of how royal consorts can still carry a lot of influence both publicly and within the monarchy despite not having traditional positions. According to Britannica, she was born Mathilde Marie Christine Ghislaine d'Udekem d'Acoz and worked as a speech therapist before her marriage to Philippe. Belgium is a nation that has often been divided by the cultural and political differences between its Wallonia and Flanders regions. Wallonia is primarily French-speaking, while Flanders is primarily Flemish-speaking. Mathilde of Belgium became a popular queen as she is fluent in both languages in addition to English and Italian. Interestingly enough, she is also Belgium's first Belgian-born queen.