What We Know About Prince Edward, Duke Of Kent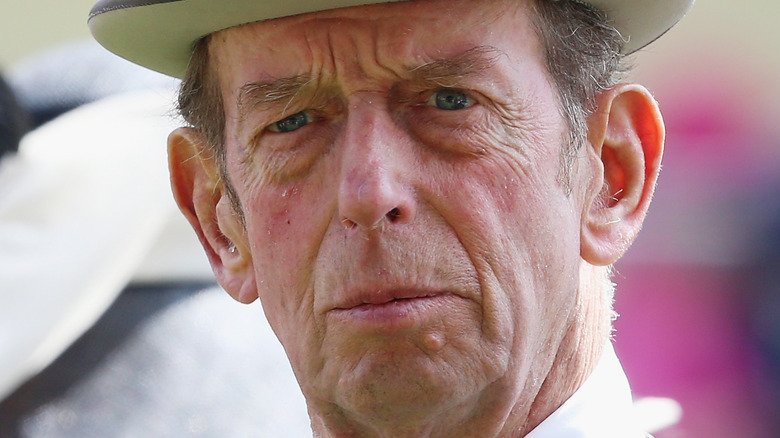 Chris Jackson/Getty Images
Among the many members of the royal family who participated in Queen Elizabeth II's funeral, only one had played a similar role in the funeral of King George VI in 1952. That was Prince Edward, Duke of Kent, 86, who walked behind the coffin in both funeral processions.
Edward was Elizabeth's first cousin via their fathers, Prince Albert (who became King George VI) and Prince George, sons of King George V (via People). The London Gazette reported that he was born in the early hours of October 9, 1935, in his parents' home on Belgrave Square. His mother was Princess Marina of Greece and Denmark, daughter of Prince Nicholas of Greece and Grand Duchess Elena Vladimirovna of Russia (a granddaughter of Emperor Alexander II of Russia). Elena was present at the birth, which was acknowledged by guns firing at the Tower of London. Seventh in line to the throne at birth, Prince Edward is now 40th (via People).
He inherited his title, Duke of Kent when his father died in a plane crash during World War II. Edward later joined the military and served for more than 20 years, according to People. Over the years, he performed many different royal duties and attended engagements on the queen's behalf. This year, he was with her as she took the official salute during the Trooping the Colour ceremony, part of her Platinum Jubilee celebrations.
Royal engagements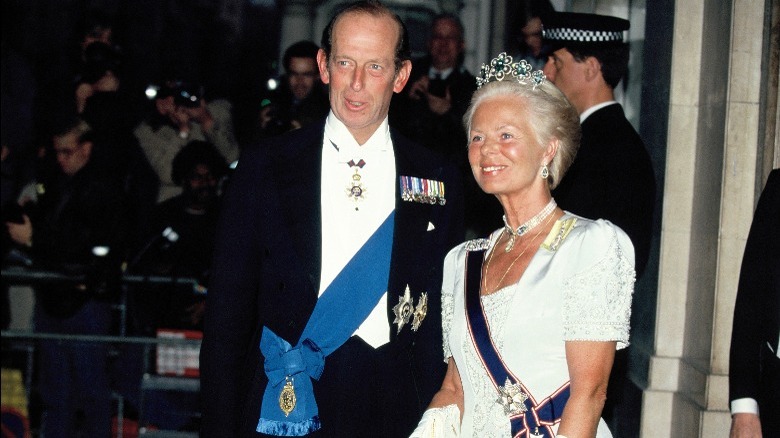 Georges De Keerle/Getty & undefined
The Royal Household says Prince Edward is involved with more than 140 charities, organizations, and professional bodies. This is part of his duties as a royal. In his charitable work, he's especially interested in the remembrance and honoring of victims of war. He's the president of the Commonwealth War Graves Commission, which both commemorates the war dead and maintains their memorials — more than 23,000 in 140 countries. He's dedicated to making sure future generations remember the sacrifices made by veterans, particularly of the world wars.
Among the other charities that Edward works with are the Royal National Lifeboat Institution, which provides lifesaving services in the U.K. and Ireland; the Stroke Association, which educates people about the risks of strokes; St. Mungo's Broadway, a homelessness charity and housing association; and Endeavor, a small charity helping disadvantaged young people.
Edward is interested in sports, so he also patronizes clubs dedicated to tennis, skiing, cricket, golf, and car racing. At the annual Wimbledon Championships, he presents trophies to the winners. He wants to promote technology and industry in the U.K., as well as trade and good relations with other countries. He's worked with several organizations dedicated to these things and has taken more than 60 overseas trips to encourage trade (via The Royal Household).
Attempted kidnapping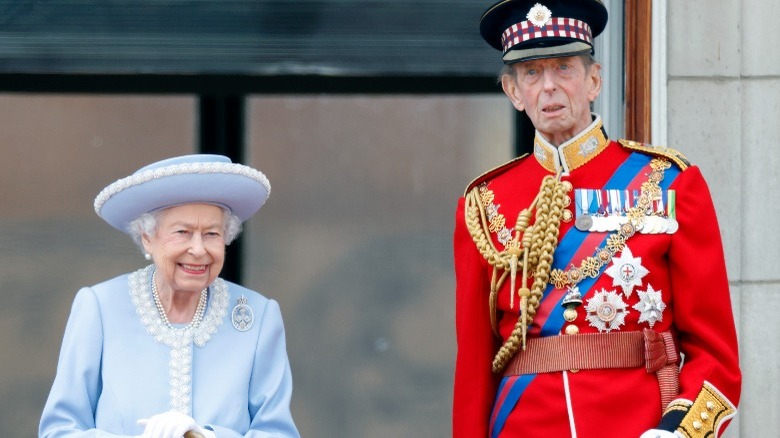 Max Mumby/indigo/Getty
Not every part of Prince Edward's life has been rosy. While serving in the military, he was the target of a kidnapping attempt by the Irish Republican Army (IRA). He was serving in Northern Ireland with his unit when Lord Terence O'Neill, prime minister of Ireland, caught wind of the plot. O'Neill informed the queen via her private secretary; she then relayed this to Prime Minister Edward Heath. Word came back to the army that Edward was not to be sent to Belfast except on special orders. He was sent back to serve on the mainland not long afterward (via Scottish Daily Express).
Eight years later, in 1979, the IRA killed another member of the royal family, Lord Louis Mountbatten. Mountbatten was a second cousin of the queen and great-uncle of King Charles III. Prince Louis of Wales is named for him, according to The Washington Post. The IRA planned to assassinate the queen as well during her trips to Ireland in 1977 and 1981 (via Scottish Daily Express). Instead, she lived a long life, and her cousin is still going strong at age 86.