Country Music Runs In The Family For Loretta Lynn's Sisters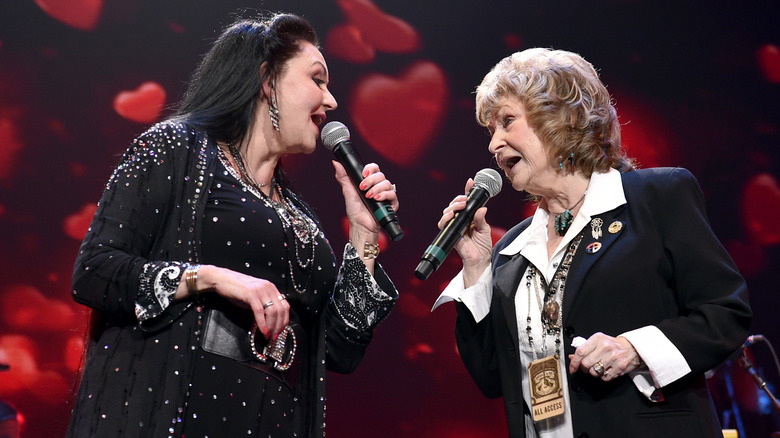 John Shearer/Getty Images
Loretta Lynn was one of the all-time greats in country music. Performing was a family affair for the legendary singer-songwriter. In 1972 Lynn was the first woman to be named Entertainer of the Year by the Country Music Association, per NPR. Not only did she go on to be inducted into the Country Music Hall of Fame and the Songwriters Hall of Fame, she paved the way for two of her younger sisters, Peggy Sue (above right) and Crystal Gayle (above left), both of whom had their own successful country careers. Peggy Sue, full name Peggy Sue Wright, was born Peggy Sue Webb on March 25, 1943, the sixth of the eight Webb children, per Wide Open Country. She, like Loretta, was born in Butcher Hollow, Kentucky, where her father worked as a coal miner, as recounted in Loretta's song "Coal Miner's Daughter." 
Peggy co-wrote another one of her older sister's signature songs, "Don't Come Home A-Drinkin' (With Lovin' On Your Mind)." In an interview with Country Stars Central, Peggy noted that the song was a favorite of the many she's penned over the years and joked "[m]y bank account loves that song as much as I do." According to AllMusic, Peggy debuted in 1969 with the single "I'm Dynamite," which was written by Lynn and went on to be a Top 30 hit. She released another successful song, "I'm Getting Tired of Babyin' You," a year later, followed by her most successful tune, "All American Husband." 
Crystal Gayle enjoyed pop and country success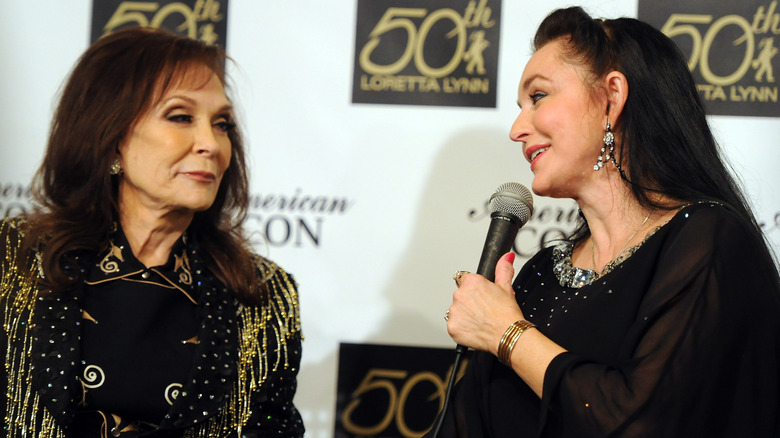 Rick Diamond/Getty Images
Crystal Gayle (above right, shown with Loretta Lynn in 2010) was born Brenda Gail Webb on September 9, 1951 and is the youngest of the Webb children. In her interview with Country Stars Central, Peggy Sue noted that Crystal was born in Paintsville, Kentucky, but said of Crystal's childhood outside of Butcher Hollow, "I always say that's why she's different! ... You know and they get prettier with more practice that they've had!" Per Biography, the Webbs relocated to Wabash, Indiana when Crystal was 4 years old. Known for her striking good looks and nearly floor-length hair as well as her singing, Crystal started performing when she was young, singing backup for her brother's band and joining Loretta on tour. In 1970, she released the Loretta Lynn-penned song ""I've Cried (The Blues Right Out of My Eyes)," which was a Top 40 country hit. 
Gayle released several more songs on the Decca label before leaving for United Artists and releasing her first, self-titled album. The move was a positive one, with the song "Wrong Road Again" reaching the Top 10 on the country charts. Her follow-up album, "We Must Believe In Magic," contained her signature hit "Don't It Make My Brown Eyes Blue," which was a crossover smash, reaching No. 1 on the country charts and No. 2 on the pop charts. Gayle won the Grammy for best female country vocal performance and became the very first female country performer to earn a platinum record. 
Peggy Sue joined Crystal Gayle on the road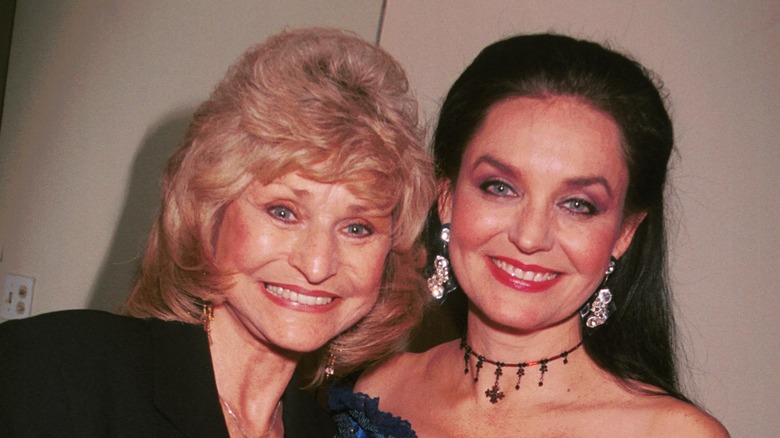 Denny Keeler/Getty Images
Crystal Gayle released several more songs that went to the top of the country charts and found pop crossover success again with her song "Talking In Your Sleep" as well as her duet with Eddie Rabbitt, "You and I" (via Biography.) In 2016, she was asked to join the Grand Ole Opry during a surprise appearance by Carrie Underwood at one of Gayle's concerts. The two performed a duet of "Don't It Make My Brown Eyes Blue," and Underwood told Gayle, "You are an inspiration to so many of us. You are important to country music, and you are important to the Opry, which is why I was asked tonight to ask you if you would like to join our Opry family officially," per The Boot. 
Peggy Sue has been touring with her sister Crystal for many years, performing as a backup singer. In the County Stars Central interview, Peggy said of the gig, "It's good. It doesn't put a lot of stress on me like it does on her. You know I do the backup vocals, so I can just chill out while she's out there stressing and a' singing. (Laughs) I like that part!" The three sisters would reportedly sing together in concerts at Lynn's ranch in Hurricane Mills, Tennessee, and Peggy and Loretta joined Crystal in covering the Dolly Parton song "Put It Off Until Tomorrow" on Gayle's 2019 album "You Don't Know Me," per Billboard.