What Evidence Gave Law Enforcement A Possible Clue About The Stockton Serial Killer?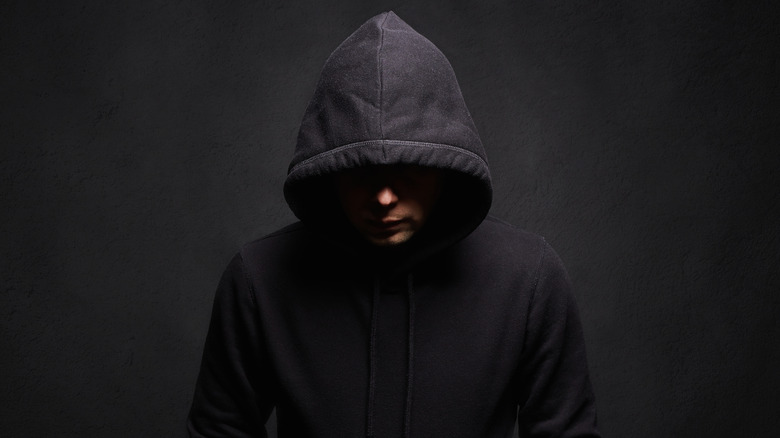 Eugene Partyzan/Shutterstock
Located 80 miles away from San Francisco, Stockton is an unassuming agricultural city (via The New York Times). Since April 2021, NPR writes that Stockton and nearby Oakland have been plagued by numerous shootings that police say are the work of a serial killer. Six out of the seven shootings were fatal. With the culprit on the loose, the city's residents have been unable to rest easy. According to ABC News, each victim was alone and shot at night. Although they could have easily been robbed, the serial killer did not take anything off their person. Stanley McFadden, the chief of the Stockton Police Department, explained (per The New York Times), "Well, to be honest, I would say everyone is at risk."
The Independent adds that the victims were between the ages of 21 and 52. Out of the seven victims, only one was a woman. In fact, she is the killer's lone survivor. The unnamed woman told investigators that the man who shot her was "between 5'10" and six foot, wearing all dark clothing, wearing a dark covid-style mask that was concealing his face." Although the victims have been of different races — including white, Black, and Hispanic — ABC News notes that each of them has a "similar complexion." Per The Guardian, ballistics and surveillance video have confirmed that this is likely the work of one male individual, and as McFadden put it (per ABC7), he's on a "mission to kill."
The Stockton serial killer has a distinct walk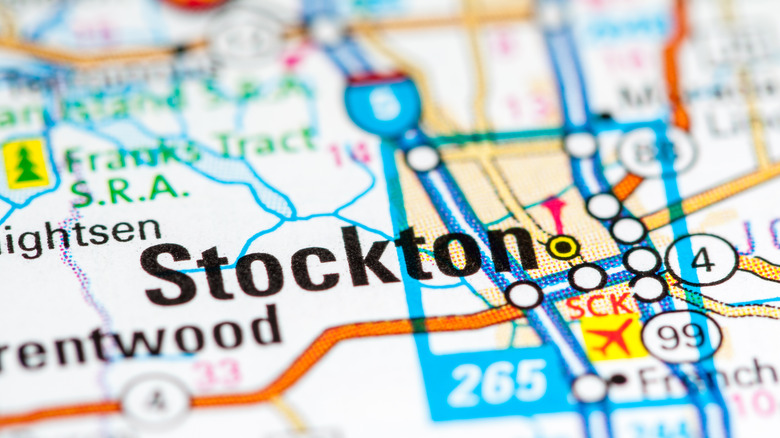 SevenMaps/Shutterstock
According to NPR, investigators have little to go on when it comes to identifying Stockton's serial killer. The Guardian adds that there does not seem to be an apparent motive for these crimes. Moreover, the authorities note that they also can't rule out the possibility that there is more than one shooter. That said, the only description they have comes from the woman who survived. Although surveillance video has captured images of the alleged gunman, his face is obscured from view. Nevertheless, The Independent states that the police have recently released this surveillance footage in an effort to locate this "person of interest."
Per CBS News, the grainy video shows one man dressed in all black. His face is covered, and he has his hands in his pocket. He also has a peculiar gait that ABC7 refers to as a "duck walk." AP News explains that the same figure has been captured in surveillance video near each of the crime scenes. As of now, The Guardian reports that this is all the information the police are providing to the general public.
Joe Silva from the Stockton Police department told The Independent that Stockton residents need to be aware of danger. He said, "We're just asking for our community to remain vigilant and have really good situational awareness." However, KCRA notes that there is now a new lead from Chicago regarding the Stockton killer.
Is the Stockton serial killer connected to unsolved Chicago murders?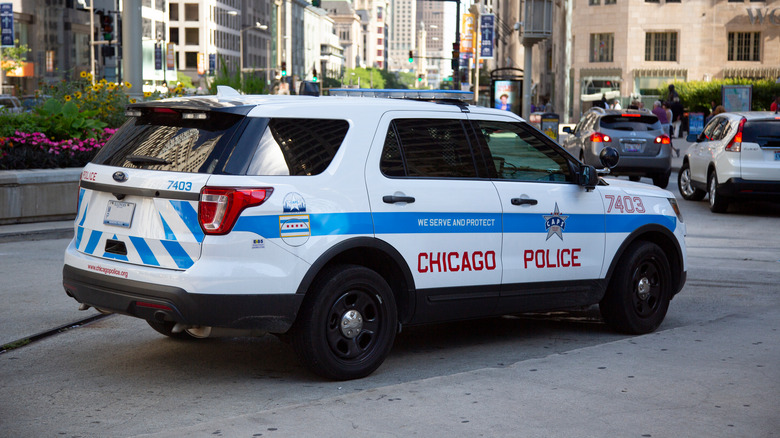 ImagineerInc/Shutterstock
In 2018, CBS News explains that two men, Eliyahu Moscowitz and Douglass Watts, were shot and killed in Chicago's Rogers Park neighborhood. Both victims were shot in the head within hours of each other. According to ABC7, it's believed that Moscowitz and Watts were murdered by the same individual. Ballistics later proved that the same gun was used to kill both men. Though the murderer in these cases have never been caught, he was captured by surveillance video. Eerily, this suspect in the footage has various similarities to Stockton's serial killer — both are dressed head to toe in black and have their face covered.
KCRA adds that both have their hands in their pockets. Notably, each suspect in the video appears to have the "duck walk" (via CBS News). Stockton Police Chief Stanley McFadden has previously described this as an "uneven stride." Joe Silva from the Stockton Police later confirmed that Stockton and Chicago were in talks with each other regarding the Stockton serial killer and the Rogers Park shooter, who has been dubbed the "duck walk killer." However, Stockton police later claimed that the shooters don't appear to be the same. As the Stockton serial killer remains at large, there is currently a $125,000 award for leads and information leading to their arrest, per NPR.