Pope John Paul II's Life Was Saved Thanks To The Bravery Of An Old Friend And Soviet Soldier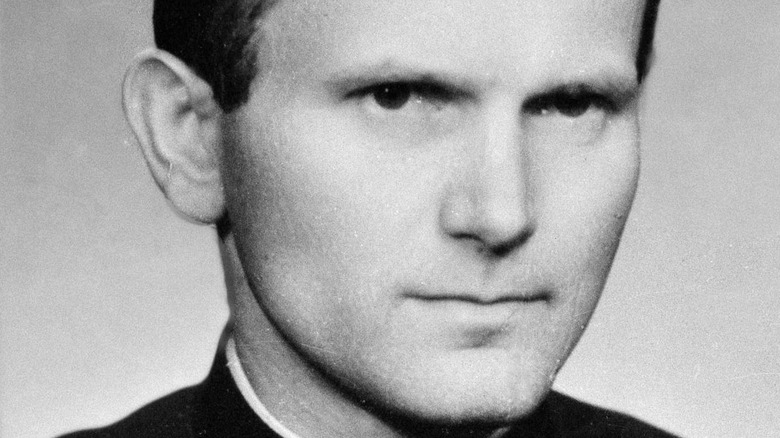 Laski Diffusion/Getty Images
There are some moments in history that may seem insignificant at the time, but would then end up being crucial in the future. One of those moments happened during the close of World War II and involved one person who would later become one of the most influential figures in the world.
The end of the war was a chaotic time for the whole world, but especially in Europe. In 1945, Poland was liberated by the Soviet military, including the capital city of Krakow (per History of Yesterday). Visily Sirotenko was a major in the 59th Army of the Soviet Union, and one day he crossed paths with a Polish citizen named Karol Wojtyla (above, in 1946). The two formed a somewhat unexpected bond and became friends. Unfortunately, their friendship would be put to the test when Major Sirotenko was instructed to execute his new friend. The decision that he would make would later influence the futures of millions of people across the world.
Who were Visily Sirotenko and Karol Wojtyla?
Roman_slavik/Getty
According to History of Yesterday, Visily Sirotenko was not just a major in the Soviet military. He was actually an historian and teacher by profession. Despite serving in combat, Sirotenko's professional curiosity came with him. During the war, he came across many books regarding some of his favorite subjects, but unfortunately could not read them due to them being printed in Latin and Italian. In response to this, he began looking for a translator, and that is when he met Karol Wojtyla.
Karol Wojtyla was born May 18, 1920 in Wadowice, Poland (per History). Following completion of his high school years he pursued his higher education at Jagiellonian University, studying theater and poetry (per Biography). When World War II broke out his education came to a halt and he began working in a quarry instead. In 1942 he began his seminary training in secret, concealed from the Nazi occupation forces, and pursued that while continuing to work in the stone quarry as well. Wojtyla was known to speak multiple languages, including Latin, Italian, Russian, French, and Spanish (per History of Yesterday). It was his fluency in these languages that caused him to be brought before Major Sirotenko to serve as a translator.
Orders defied and a life saved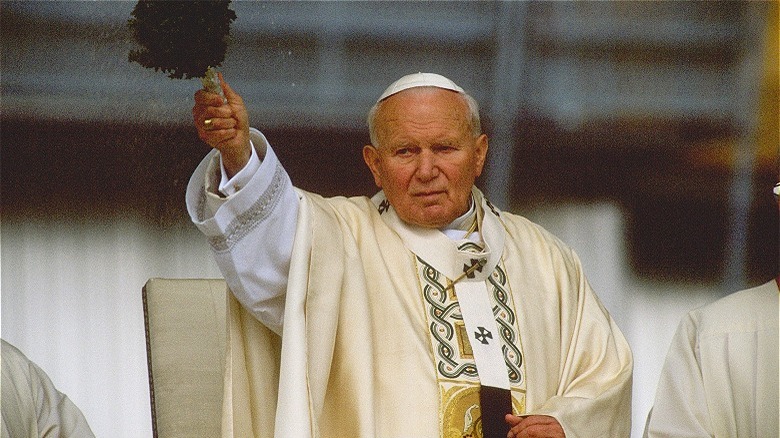 Franco Origlia/Getty
As the two spent more time together, a friendship began to form, despite coming from vastly different backgrounds. Unfortunately, orders soon arrived from Soviet leader Joseph Stalin to either execute or exile all seminarians to Siberia for life. This would include Major Sirotenko's friend and translator, Wojtyla (per History of Yesterday). Sirotenko was then faced with the choice to follow orders and either kill or banish his friend, or defy the orders of his government. He chose the latter, even petitioning to keep Wojtyla as his personal translator. When that didn't work, he reportedly went as far as to lie to his superiors and eventually helped Wojtyla escape, despite the scrutiny that he was under.
Following his service, Sirotenko returned to life as a history teacher. One day he heard on the radio that the Catholic Church had announced a new pontiff. He was surprised to learn that the new pope, John Paul II, was his old translator and friend, Karol Wojtyla. Sirotenko's bravery decades before in saving the life of his friend now had an impact on the faith of millions across the globe. Pope John Paul II became one of the most beloved and influential pontiffs in the modern era, and in 2014, he was declared a saint by Pope Francis (per Biography).