What Was Found At Aaron Hernandez's Death Scene?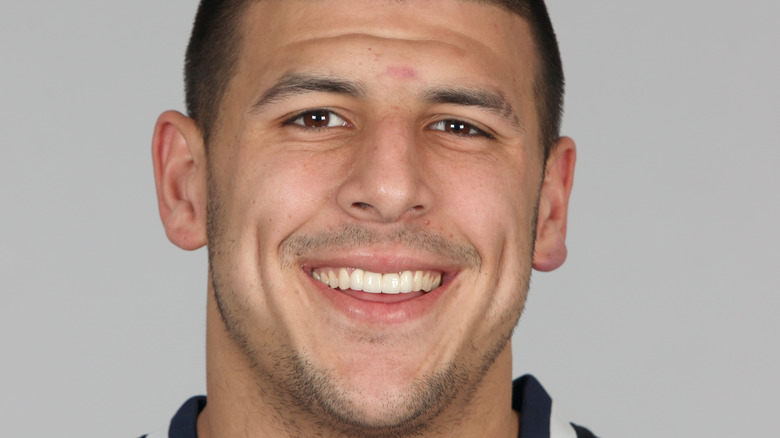 Handout/Getty Images
The details surrounding Aaron Hernandez's tragic life and death continue to fascinate many — a man who threw away a promising football career by committing murder, then died by suicide in prison on April 19, 2017, while serving a life sentence for murder (via The Independent). He had been acquitted of two additional murders just a few days before.
Much has been said about Hernandez's traumatic health issues and abusive childhood, tragedies that are believed to have contributed to his loss of self-control. According to The Guardian, Hernandez was suffering from a severe case of CTE — brain damage that is usually caused by repeated blows to the head. Hernandez experienced serious damage to his frontal lobe, a part of the brain that is essential for good judgment and impulse control. Additionally, the player is rumored to have grappled with his sexuality and memories of his abusive father (via NBC News).
A detailed investigation of Hernandez's cell after his suicide also revealed evidence of his mental health issues (via CNN). In addition to drugs and a Bible, officers found strange graffiti drawn in blood on the walls of the jail.
If you or someone you know needs help with mental health, please contact the Crisis Text Line by texting HOME to 741741, call the National Alliance on Mental Illness helpline at 1-800-950-NAMI (6264), or visit the National Institute of Mental Health website.
If you or anyone you know is having suicidal thoughts, please call the National Suicide Prevention Lifeline​ by dialing 988 or by calling 1-800-273-TALK (8255)​.
The Cell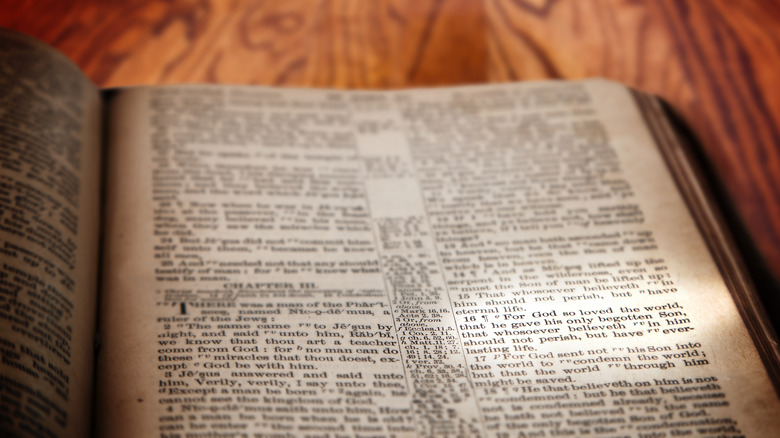 Ronniechua/Getty Images
Prison officers first found Aaron Hernandez's body around 3 a.m. on April 17, after a passing guard noticed a hanging bedsheet blocking his view into the player's cell (via The Independent). Hernandez had made it as difficult as possible for prison staff to enter his room, stuffing cardboard into the tracks of the cell door and covering the floor in shampoo to make it slippery.
An inspection of Hernandez's body revealed bloody circular marks on both his feet, as well as a small incision to the middle finger of his right hand. According to the Daily Mail, officers found "John 3:16" daubed in blood on the walls, as well as the word "ILLUMINATI" and a shaky half-finished drawing of the Illuminati sign. The symbol, a triangle with an eye at the center, symbolizes the all-seeing eye of God and later became associated with the conspiratorial group (via the BBC).
A copy of the Bible was left open at the scene, with verse John 3:16 marked out in blood. Finally, Hernandez had written 3:16 again in ink on his forehead. The passage in question is a popular and well-known one (per The Independent): "For God so loved the world, that he gave his only begotten Son, that whosoever believeth in him should not perish, but have everlasting life." The graffiti found in Hernandez's cell seems to confirm previous reports that the NFL star had become increasingly religious while in prison (via The Boston Globe).
Drugs and suicide notes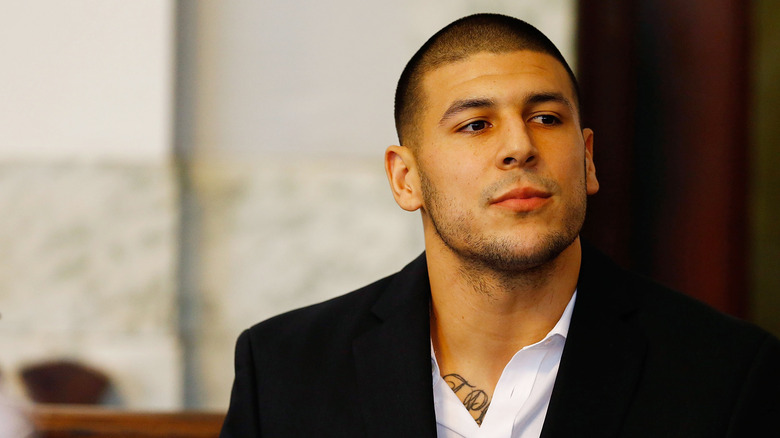 Jared Wickerham/Getty Images
Three suicide notes found at the scene — written to Hernandez's daughter, his fiance, and his lawyer — also show that Hernandez was in a deeply religious frame of mind leading up to his death. In one of his notes, he wrote (via CNN): "NOT MUCH TIME I AM BEING CALLED," and in another, "I'm entering to the timeless realm in which I can enter into any form at any time because everything that could happen or not happened I see all at once!"
In addition to the religious trappings found in his cell, investigators also found K2, a synthetic form of marijuana. K2 has been linked to psychosis, and some believe it may have contributed to Hernandez's erratic behavior in his final hours. Although toxicology did not find any trace of the drug in his system at the time of his death, a report by The Washington Post found that he had been consuming it in the days leading up to his suicide.
If you or anyone you know needs help with addiction issues, help is available. Visit the Substance Abuse and Mental Health Services Administration website or contact SAMHSA's National Helpline at 1-800-662-HELP (4357).
If you or anyone you know is having suicidal thoughts, please call the National Suicide Prevention Lifeline​ by dialing 988 or by calling 1-800-273-TALK (8255)​.