Tiger Woods Made His First Hole-In-One At Such A Young Age That He Was Too Short To See It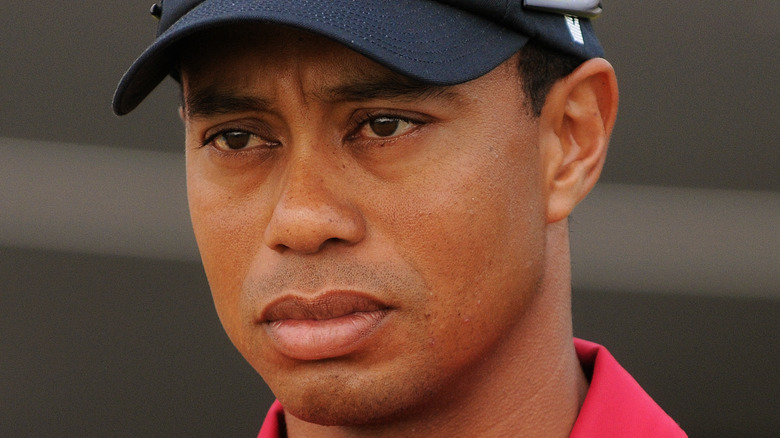 Tony Bowler/Shutterstock
For many sports fans, Tiger Woods is one of only a handful of figures who might feasibly wear the crown of the greatest golfer of all time, alongside other legendary players such as Sam Snead and Jack Niklaus.
While some point to Niklaus' incredible 18 major championship wins as evidence that he is the greatest — Woods has 15, though as he is still playing he has the chance to catch up — Tiger can also stake a claim via other metrics, such as his 82 PGA tour wins vs. Niklaus' 75, and the fact that Woods is the only player to win four major championships in succession (via National Club Golfer).
And among his achievements are a number of almost impossible golf shots: holes-in-one. Over the course of his long golfing career, Woods has hit a total of 20 holes-in-one, according to a Golf Monthly profile published in May 2022. But while only three of these have occurred on the professional golf circuit during PGA tournaments, Woods has the distinction of hitting one at a prodigiously young age, the story of which feeds into his legend as a golfer destined for greatness.
Tiger Woods' early golfing life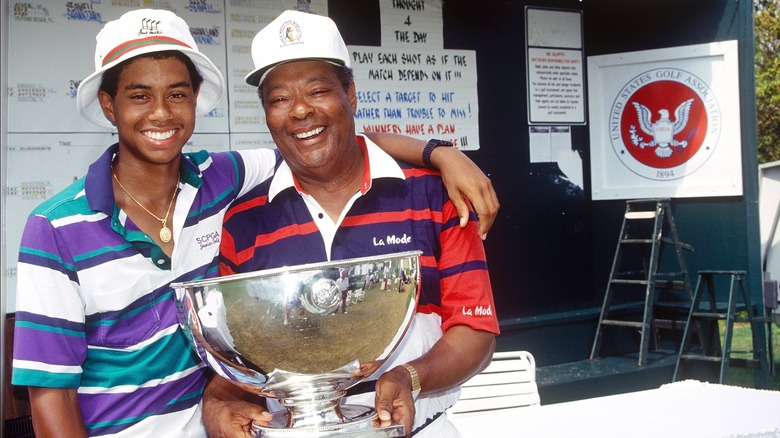 Rick Dole/Getty Images
Tiger Woods is widely considered to have enjoyed one of the greatest amateur careers of all time before he officially went pro in 1996, winning three consecutive U.S. Amateur titles, according to his official website.
And his success as a young amateur can surely be put down to the hours and hours Woods would spend on the links as a young child. As National Club Golfer notes, Woods was introduced to the game when he was just 2 years old. Soon, after those around him realized that he was an unusual prodigious talent, Woods attracted the attention of the media, and he soon made multiple television appearances, exhibiting his abilities at the age of 3 on "The Mike Douglas Show" alongside comedian and golf fanatic Bob Hope. At the age of 9, Woods promised his father to do everything he could to become "professionally excellent." As well as his incredible results thus far, his confidence at the time was also likely buoyed by the fact that, by then, he had already shot his first hole-in-one.
An impressive hole-in-one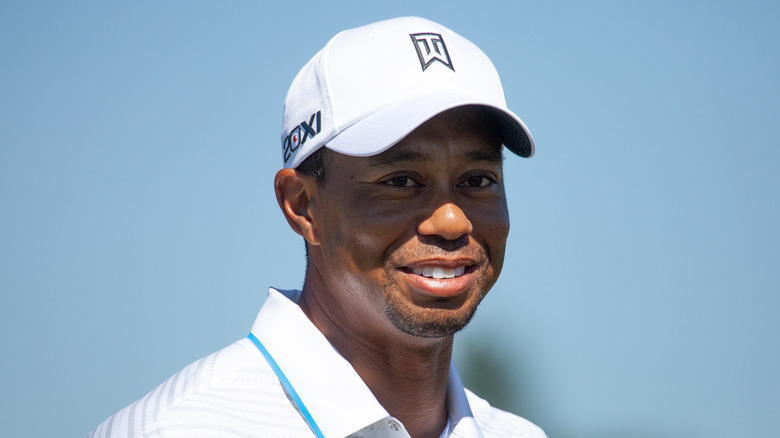 fotosteve/Shutterstock
So how old was Tiger Woods when he make his first hole-in-one? Just 8 years old. Yes, that means Tiger Woods was hitting holes-in-one when most people are just about learning to ride a bike.
As he recalled to the PGA Tour crowd while on the tee in 2018 (via YouTube), while practicing as a child, the 8-year-old Woods struck a shot that he believed was destined to land on the green. However, when the people around him started cheering, he was told that he had hit a hole-in-one: the first of what would be an illustrious career that continues to the present day.
There was just one problem, though: Woods was too short to see that the ball wasn't in fact on the green, and needed one of his companions to lift him up to prove it to him. Woods then ran to the green, celebrating as he plucked the ball from the hole. Of course, amid his jubilation, he had forgotten his golf bag on the tee and had to trundle back to get it.