The True Story Behind Golf Great Jack Nicklaus' Nickname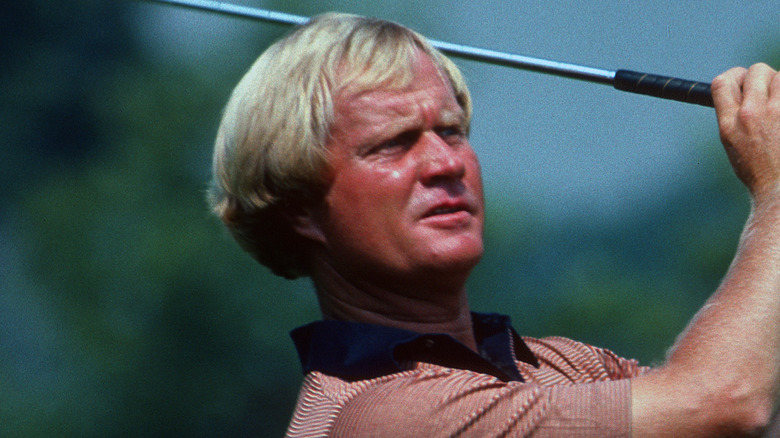 George Gojkovich/Getty Images
Jack Nicklaus is a prodigy turned golf pro who set a new record in 1986 with his sixth Masters Tournament win, per the Los Angeles Times. Nicknamed "The Golden Bear," Nicklaus racked up awards and prizes during his long career, from five PGA Championship trophies to a Presidential Medal of Freedom in 2005. He also won four U.S. Opens and three British Opens.
Now retired, Nicklaus devotes his time to his grandchildren — his grandson Gary is also a skilled golfer — to his golf course construction company, Nicklaus Design, and to charitable ventures, founding the Nicklaus Children's Health Care Foundation and dedicating the Nicklaus Children's Hospital in Florida in 2004, according to Biography.
Raised in Columbus, Ohio, Nicklaus took home an Ohio Open win at just 16 and went on to win the U.S. Amateur tournament while he was in college at Ohio State. He came in second at the 1960 U.S. Open while still a college student before finally going pro in 1961, per Biography.
Searching for a brand to rival Arnold Palmer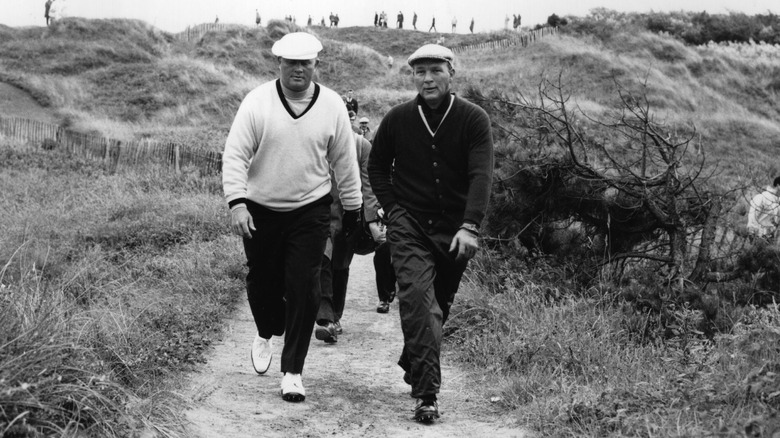 H. Thompson/Getty Images
In the era when Nicklaus turned pro, Arnold Palmer was the sport's big name, and he even had a signature drink named after him. The two were friends, per Sportscasting, but Nicklaus, who was broader and heavier than Palmer, didn't totally appreciate the first nickname he landed: Fat Jack.
Leave it to sports reporters to wrangle a more clever turn of phrase. In 1967, an Australian journalist, Don Lawrence, came up with a new nickname for Nicklaus: The Golden Bear, for the golfer's sandy locks and formidable frame. "He looks like a big, cuddly, golden bear," Lawrence said at the time, according to Golf News Net.
When Nicklaus traveled to Australia and learned of the nickname from Australian media sources, he instantly took to it. And so a legendary golfing brand was born, with Nicklaus even going so far as to design a golden bear logo for use on apparel.
Golf success offers a golden opportunity to give back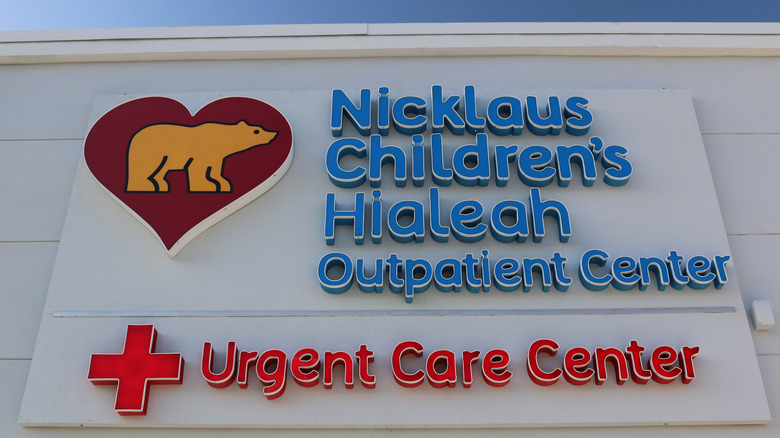 tome213/Shutterstock
Nicklaus took his new nickname and ran with it, and his Golden Bear logo now adorns everything from golfers' caps and golf clubs to seven flavors of ice cream. It decorates commemorative travel cups and wallets, leather key rings and dopp kits; Nicklaus has even created his own Golden Bear-branded lines of men's and women's clothing, according to Sportscasting.
But Nicklaus, who majored in pre-pharmacy at Ohio State, has also put the lucrative Golden Bear logo to more benevolent use. The logo now graces a string of nearly a dozen children's urgent care centers in South Florida, close to where the Nicklaus Children's Hospital is located.
Nicklaus himself recently stood atop the Golden Bear logo on the hospital grounds in Miami to kick off construction on a new 127,000-square-foot surgical tower that will feature cutting-edge operating suites, according to a press release the hospital sent out this week (via Cision PR Newswire). The hospital already houses pediatric, neonatal, and congenital heart intensive care units, plus hematology, oncology, bone-marrow transplant and neurology units. For all the money that Golden Bear logo has made Nicklaus, it has also done a lot of good.