The Unusual Material Used For Bridal Gowns During WWII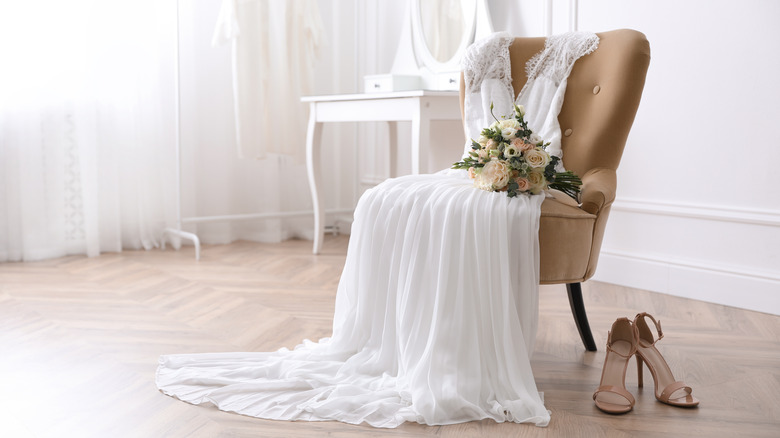 New Africa/Shutterstock
One of the things a bride-to-be looks forward to is choosing the perfect gown for her wedding day. Some choose to wear something simple yet elegant, while others want an elaborate gown fit for a queen. During World War II, however, many brides didn't get to wear what they wanted because of financial issues and difficulties in finding materials. The war made basic supplies scarce, and basic goods — such as gasoline, sugar, meat, and even shoes — were rationed as a result (via AARP). Even the war affected how people dressed.
According to Refashioning History, the U.S. War Production Board established clothing guidelines to cut down the use of fabric. Hems on clothing were limited to a couple of inches, and outerwear and pants only had one pocket. Ruffles, patches, pleats, full skirts, wide sleeves, and other unnecessary tailoring were prohibited. Women who wed at that time also had to be frugal when they chose their wedding gowns. They had to be creative, and they improvised with materials that were readily available. The results were amazing, and people wouldn't have known without being told that many brides wore gowns made of parachutes.
Parachute wedding gowns became common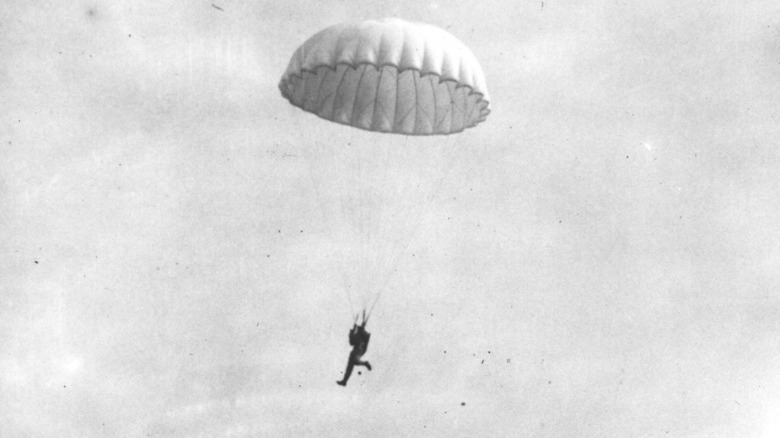 Keystone/Getty Images
One of the materials that were used for wedding gowns during and after World War II was parachutes. Parachutes during the war were made of silk because the material was light, fire resistant, and durable. Silk was difficult to come by during the war, and there came a time when the U.S. was no longer able to import the material from Japan. The characteristics of the fabric made it perfect for wedding gowns. Newspapers reported about brides getting married in gowns made from their grooms' parachutes. One instance was reported by the Kenosha News on August 4, 1943, and stated that the bride will be donning a parachute gown "resplendent with a 'U.S. Army' stencil and serial numbers."
One Army veteran, Ted Zimmerman, shared that before his wedding, his fiancée, Jackie, phoned him crying and said that it was impossible for her to get materials for her wedding dress. "The factories were all bombed out, everything. There was nothing in that society," he told KREM. Zimmerman told a few soldiers from the parachute unit about his dilemma, and he was given a combat parachute in exchange for a bottle of whiskey, and the wedding dress problem was solved.
An honor to servicemen
Some of the parachute wedding gowns had fascinating stories behind them. In one instance, a pilot named George Braet was on a mission in Europe in 1945 when an enemy shot down his plane, per My Modern Met. Braet survived the ordeal, thanks to his parachute, and when he proposed, his bride-to-be turned the life-saving parachute into her wedding gown. The fabric, although damaged, was salvaged and was turned into a lovely dress.
The Smithsonian also has a parachute wedding gown in its collection. It was made from the parachute of pilot Claude Hensinger, who was forced to bail on his plane when it caught fire. He survived with a few injuries and used his parachute as a blanket and pillow while waiting for rescuers to get to him. Hensinger kept the parachute and it was used to make his bride's wedding gown when they married in 1947.
The parachute wedding gowns proved how innovative women were during and after the war, but wearing them for a special occasion was also a way to honor the services of the men who risked their lives for their country.