The Tragic 2019 Death Of Jan-Michael Vincent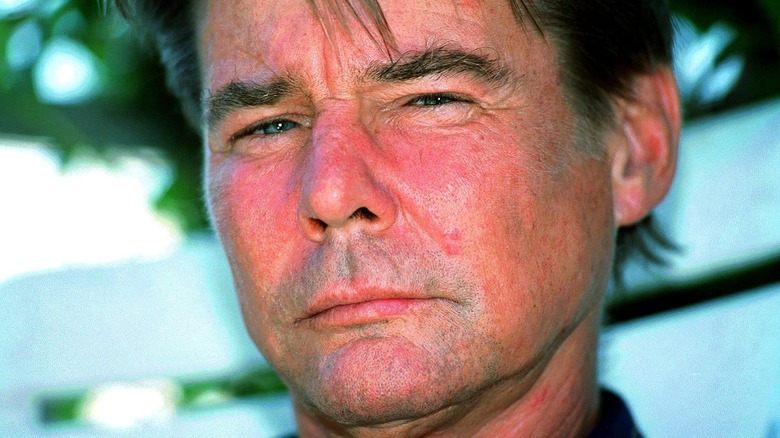 Dan Callister/Getty Images
Known for his rugged good looks and bright blue eyes, actor Jan-Michael Vincent started his career in the late 1960s with guest appearances on such shows as "Lassie" and "Bonanza" (via IMDb). He then landed roles in several films, including the 1975 western "Bite the Bullet," the 1978 Burt Reynolds action comedy "Hooper," and the 1978 coming-of-age drama "Big Wednesday." Vincent may be best remembered for his TV work in the mid-1980s — the miniseries "Winds of War" and the action series, "Airwolf."
Born in Denver, Colo., Vincent grew up in Hanford, California, as the son of the former World War II pilot, per The Guardian. He attended the local high school and then went to Ventura College. Having no interest in his family's sign painting business, he eventually stumbled into acting after being discovered by a talent scout. While Vincent may not have wanted to follow in his father's footsteps professionally, he did eventually struggle with something that his family members were prone to for generations. Both his father and grandfather were alcoholics, and he experienced the repercussions of substance abuse for decades before his death in 2019.
Vincent encountered numerous legal and health problems
At his career peak, Vincent was one of TV's highest-paid actors. He reportedly received $200,000 per episode for "Airwolf," according to The New York Times. On the show, Vincent played Stringfellow Hawke, a pilot who operated an advanced technological military helicopter on special missions. Vincent acted alongside legendary actor Ernest Borgnine. But even as his career thrived, it became apparent that he was getting out of control in his personal life. He took drugs, drank heavily, and got into trouble with the law. Bar fights in 1984 and in 1985 led to Vincent's arrest (via The Press-Courier).
Vincent was on probation after being convicted of drunk driving, and he chose to go to rehab in 1986 instead of facing jail time for violating his parole. "Airwolf" was canceled that same year, and its troubled star kept working, albeit in less prominent TV and film projects. A 1996 car accident devastated Vincent physically. According to The Hollywood Reporter, he was incapacitated by alcohol when he crashed his car, breaking his neck and injuring his vocal cords.
Vincent's long battle with addiction took its toll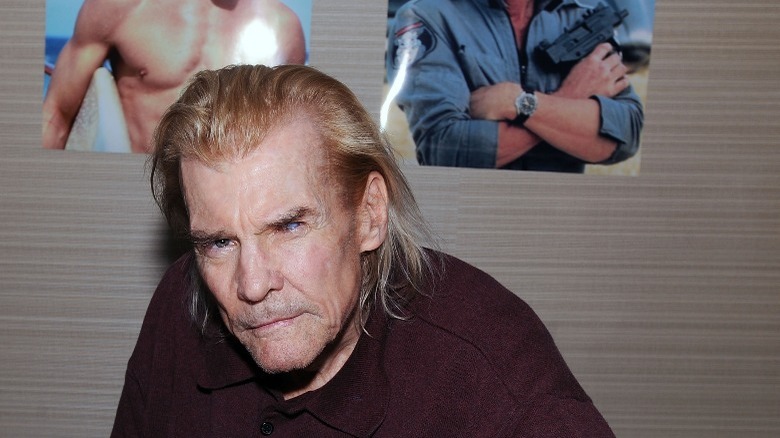 Bobby Bank/Getty Images
After the car accident, Vincent's career declined, taking on a few film and TV roles, such as Vincent Gallo's 1998 independent film "Buffalo 66" and the 2000 family western "Escape to Grizzly Mountain," per IMDb. His last credited role was in 2002's "White Boy." Vincent still battled legal problems around this time, many of which stemmed from his addictions. He was sentenced to 60 days in jail in 2000 for three incidents of public intoxication considered probation violations (via the Los Angeles Times). He also reportedly assaulted his girlfriend, which was another violation of his probation.
Vincent experienced more misfortune in 2008 when he had another car accident, according to The Guardian. An infection related to this crash led to the actor having part of his right leg amputated in 2012. When he appeared on the Australian TV show "Studio 10" in 2016, Vincent appeared somewhat haggard. Perhaps all his medical issues and years of substance abuse had caught up with him. The program revealed that he lived a quiet life in Mississippi with his wife, Ann. As he explained, "I'm just laying low."
By the time of his death in 2019, Vincent completely fell off Hollywood's radar. The news of his death on February 10 didn't hit the papers until nearly a month later when his death certificate was released, per BBC News. He died of cardiac arrest at a hospital in Asheville, North Carolina (via The Hollywood Reporter).
If you or anyone you know needs help with addiction issues, help is available. Visit the Substance Abuse and Mental Health Services Administration website or contact SAMHSA's National Helpline at 1-800-662-HELP (4357).