How El Salvador Is Using Mano Dura To Combat Gang Violence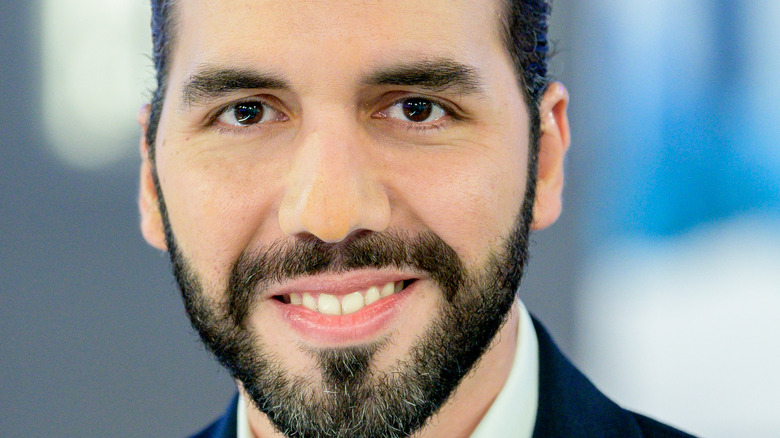 Roy Rochlin/Getty Images
Located in Central America, El Salvador gained a reputation for being riddled with violence and gangs like Barrio 18 and MS-13 (via CNN). In 2022, El Salvadorian President Nayib Bukele claimed that the number of gang members in the country increased from 6,000 members in 2003 to roughly 86,000 in 2021, per Human Rights Watch. The United States Institute of Peace adds that in 2015, El Salvador was averaging 18 murders per day. A 2020 study done by Jonathan D. Rosen, an assistant professor at New Jersey City University, described El Salvador as a brutal country ravaged by bloodshed.
The country elected Bukele (pictured above) president in 2019 (AP News). Bukele took action in March 2022 when gang violence resulted in the deaths of 62 people in just one day. The New York Times states that the country had not seen violence like this since the civil war, which ended in 1992. Consequently, he implemented what is known as mano dura, Human Rights Watch reports. What exactly is Mano dura?  Per CNN, mano dura translates to "iron fist. "This measure allowed Bukele to declare a state of emergency and decrease citizens' constitutional rights.
Mano dura is a desperate solution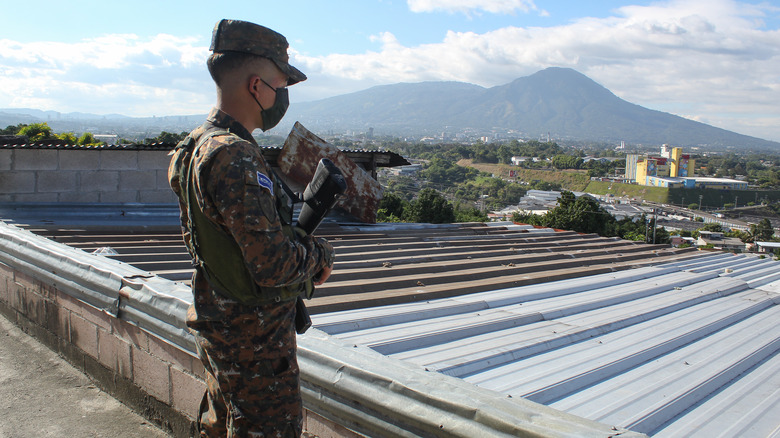 Aphotografia/Getty Images
Around 100,000 people were thrown in jail due to the 2022 implementation of mano dura, per CNN. As a result, the United States Institute of Peace described El Salvador as having the highest rate of incarceration in the world. Alternately, Reuters writes that homicides decreased by 56.8% in 2022. Mano dura was supposed to be temporary, but at the time of this publication, Reuters noted that President Nayib Bukele had no plans to end the measure any time soon. The New York Times explains that enforcing Mano Dura is no easy task. It includes daily military patrolling and arrests. In other words, it transformed El Salvador into a militaristic state.
According to Human Rights Watch, this is not the first time a ruler has enacted mano dura. Prior presidents Francisco Flores and Antonio Saca rolled out Plan Mano Dura in 2003 and Plan Súper Mano Dura in 2004, respectively. Juan Pappier from Human Rights Watch told CNN that Bukele's mano dura is "a perfect recipe for abuse." However, for Bukele, The New York Times states that the pros outweigh the cons. The streets became safer, the extortion rates declined, and crime heavily decreased. In addition, his approval ratings as president were at 86% in October 2022, months after he first administered mano dura (per CNN).
The implications of mano dura
Bloomberg/Getty Images
Despite the success of President Nayib Bukele's methodology, CNN reports that some human rights experts believe he overstepped his power. Moreover, the U.S. Treasury Department alleges that Bukele is culpable for the massacre that occurred in March 2022. They note that he may have provided El Salvador's gangs with financial incentives to control them, which Bukele denied. When the deal disintegrated, violence erupted. Having said that, The New York Times explains that mano dura could have some lasting adverse effects on the country. Instead of fearing gangs, a lack of civil rights and corruption could lead the citizens to fear the government. 
Per Human Rights Watch, mano dura readily increased human rights violations. This includes torturing citizens and failing to provide individuals with reasons behind their arrests or the cause of death of loved ones in custody. Juan Pappier explained to The New York Times that this could ultimately increase gang members or worst. "Similar policies of mass incarceration and an iron fist in El Salvador and the rest of the region have shown that in the long term, they don't achieve sustainable results and [instead] bring back surges of violence," he said. 
AP News notes that Bukele made it clear that he is indifferent to critiques of mano dura. He stated, "I don't care what the international organizations say." He continued, "They can come and take the gang members. If they want them we will give them all of them."