What Happened To The Maverick From Deadliest Catch?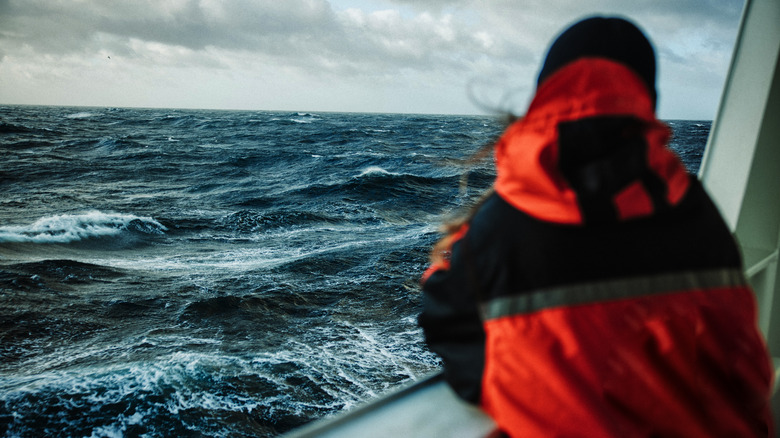 Piola666/Getty Images
As of 2023, Discovery's hit reality TV series "Deadliest Catch" was in its 19th season, and over the years, fans of the show have grown attached to the boats as much as they have to the captains and crew. The F/V Maverick — owned and co-captained by Rick Quashnick and his late wife, Donna Quashnick — was featured in the first three seasons of the show. By Season 4, though, the roughly 82-foot, 173-ton commercial crab fishing vessel was nowhere to be found: It had returned back home to port in Astoria, Oregon where it remains in operation, Beach Connection reports.
As "Deadliest Catch" fans are well aware, though, tragedy has struck cast and crew on several occasions. And the same can be said for the crew of the Maverick after it left the show. The first tragedy happened when Maverick co-owner Donna died in 2017, and then Blake Painter — who captained the Maverick in Season 2 and Season 3 of "Deadliest Catch" — sadly died one year later. Before that, the F/V Maverick crew also found themselves in legal hot water, according to The Seattle Times in 2008.
The Quashnicks were fined $1,500 for an undersized crab harvest
The same year Season 4 of "Deadliest Catch" was broadcast, and after the F/V Maverick had left the show, Maverick co-owners Rick and Donna Quashnick were fined $1,500 when an Alaska wildlife trooper found undersized bairdi tanner crab in its catch. Rick pleaded no contest to the charges and said out of the thousands of pounds of crab on the boat, only a few crabs under the mandated 5.5 inches were found. "It was an accident. It was just a mistake that my crew made, and we took care of it," Rick said (via The Seattle Times).
In 2012, "Deadliest Catch" fans were alarmed to read a fishing boat also named F/V Maverick sank in a collision with the F/V Viking. One person was killed, according to Fishery Nation. That 40-foot F/V Maverick was based in LaPush, Washington — not Astoria, Oregon like the much larger F/V Maverick owned by the Quashnicks — and had no connection to the Maverick featured on the reality TV show.
Former Maverick captain Blake Painter likely died from an overdose
One year after the death of F/V Maverick co-captain Donna Quashnick, former Maverick skipper Blake Painter from "Deadliest Catch" was found dead in his Astoria, Oregon home. With a history of substance use issues, drugs and drug paraphernalia were found at the scene, TMZ reported in 2018. Painter (pictured) was dead for some days when he was found and no foul play was suspected. He was 38.
In response to Painter's death, another "Deadliest Catch" star, Nick McGlashan tweeted, "A fellow fisherman has lost his life due to an overdose. Prayers to his family please." McGlashan also died from drug-related causes in late 2020, according to Vulture. As of spring 2023, the F/V Maverick was on the West Coast of North America, traveling at 8.2 knots, according to Vessel Finder. Built in 1982, the Maverick is otherwise 24 feet across with a depth of 7.6 feet, and has room for 120 crab pots and crews of up to 10 people.
If you or anyone you know needs help with addiction issues, help is available. Visit the Substance Abuse and Mental Health Services Administration website or contact SAMHSA's National Helpline at 1-800-662-HELP (4357).