The Tragic Death Of Blake Painter From Deadliest Catch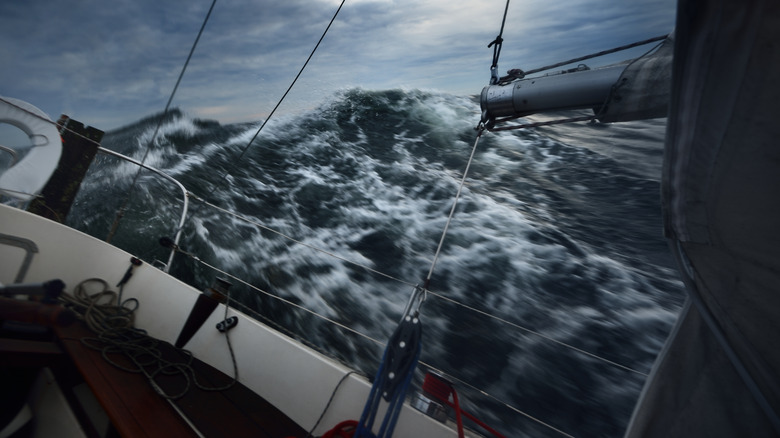 Aastels/Shutterstock
In 2018, TMZ reported that Captain Blake Painter from the long-running Discovery series "Deadliest Catch" was found dead in his Astoria, Oregon home. Painter was 38 years old when he died, and drugs and drug paraphernalia were found at the scene. In Season 2 and Season 3 of the "Deadliest Catch," Painter worked the fishing boat F/V Maverick. In his final season, Painter became captain of the boat. He last appeared on the show in 2007.
Painter had a long criminal record, with a 2013 DUI arrest and a life-threatening car wreck three years later, but when he died, TMZ said he was "sober and happy." No foul play was suspected, and Painter's toxicology report was never revealed to the public. Those positive words are only part of the story, though. In 2018, before he died, Painter was accused of driving under the influence and unlawful possession of heroin, among other charges, according to The Daily Astorian.
Focused on the difficult and sometimes lucrative king crab fishing industry in the rough waters of the Bering Sea, Painter was sadly just one in a long list of "Deadliest Catch" cast and crew members to tragically lose their lives since the show premiered in 2005 — so much so, the production is now said to be "cursed' (via ABC News). Painter's untimely death at a young age — and the implication that substance use may have been the cause — underscores the dangerous and taxing nature of the fishing industry. 
Painter's body was discovered by a friend
In the 2018 incident DUI incident, a patrol officer said he spotted Blake Painter smoking heroin while he drove and was seen hiding evidence once he was stopped. Only a few months after that, Painter had not been heard from, and his friend made a grim discovery when he peered through the window of Painter's home to check on him. 
Painter was reportedly seen through the window, laying on his side on the floor of his living room. It was later determined Painter had been dead for some time by that point, and once the police were called, an officer told TMZ the "odor of decaying flesh" could be smelled inside the house. Large portions of Painter's body had already turned blue.
Among the drugs found at the scene were the painkiller tramadol, a container filled with what was apparently heroin and meth, a mix of pills and medication, two pipes, and tinfoil. Although firm numbers are hard to come by, tens of thousands of fishermen die each year in work-related circumstances, according to The PEW Charitable Trusts. Meanwhile, many in the fishing industry also have histories of substance use issues.
On top of that, the heavy toll of the work can lead to an array of health problems, as Painter himself told Seattle Weekly in 2013, as well as opioid use for pain management (via International Journal of Environmental Research and Public Health). But when fishing is good, "You're making money quick. It's not uncommon to make $1,000 a day," Painter told the Seattle outlet.
Painter lived with a number of fishing-related health issues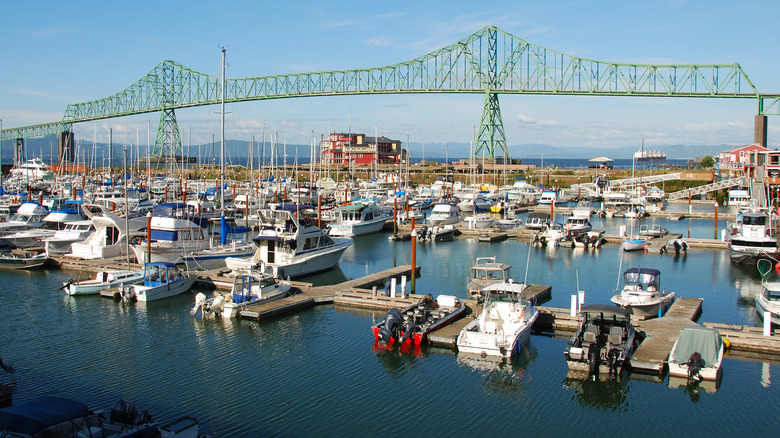 TFoxFoto/Shutterstock
As Captain Blake Painter went on to explain to Seattle Weekly, his work as a fisherman — both before and after his time on "Deadliest Catch" — led to a condition called "the claw," with his hand clenched shut in that shape and pain radiating up the length of his arm. His shoulder and back also fared poorly, and he required surgeries for carpal tunnel syndrome. These are just a few of the harrowing injuries Painter outlined in 2013, five years before he died.
As news of Painter's death spread, "Catch" captain Keith Colburn tweeted, "My sincerest condolences to Capt. Blake's family, friends, crew, and all who loved him. Fair winds and following seas, Captain. Rest easy; we have the watch." And "Deadliest Catch" cast member Nick McGlashan tweeted, "A fellow fisherman has lost his life due to an overdose. Prayers to his family please," referring to Painter's death. McGlashan also died in 2020 at the age of 33, having experienced substance use issues of his own, according to CNN.
According to Reco Intensive, a Florida-based drug and alcohol rehabilitation center, Painter was a second-generation fisherman and began the work when he was just 19 years old. By the time he died, Painter had bought his own boat, the F/V Tradition, Variety writes. As of 2023, in Season 19 of the show, eight "Deadliest Catch" cast members had died, including Painter. He had two daughters, according to his obituary (via The Daily Astorian).
If you or anyone you know needs help with addiction issues, help is available. Visit the Substance Abuse and Mental Health Services Administration website or contact SAMHSA's National Helpline at 1-800-662-HELP (4357).