The Unsolved 1997 Murder Of Denise Johnson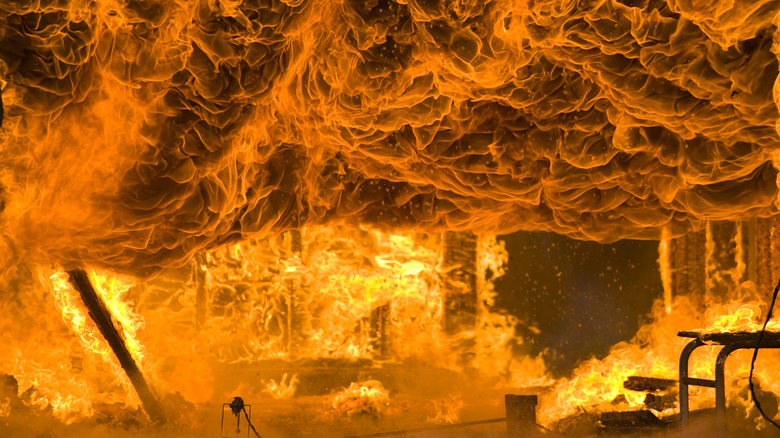 Adventure_photo/Getty Images
As of 2023, police were doggedly pursuing leads connected to the 1997 Denise Johnson cold case murder thanks to a revival of public interest generated by a hit true crime podcast. The "CounterClock" series drew attention to the grisly murder, which went cold after the investigation was abandoned many years ago.
Aged just 33, Johnson was found in a burned-out building in Kill Devil Hills, North Carolina, having been brutally attacked by an unknown assailant. First responders at the scene quickly discovered that Johnson had not simply died in the fire — she had actually been stabbed in the neck while choking on fumes. According to All That's Interesting, initially Johnson's family could think of no reason why anybody would want to hurt her, as she was known as a cheerful and likable person. Nonetheless, during Johnson's final months, she seems to have been stalked and harassed.
Thanks to renewed interest in the murder, new leads may result in the cracking of the case — but for now, police are still asking for tips. There is a $2,500 reward on offer by Crime Line and a $5,000 reward from Johnson's friends for any information that leads to an arrest.
Stalking and a scuffle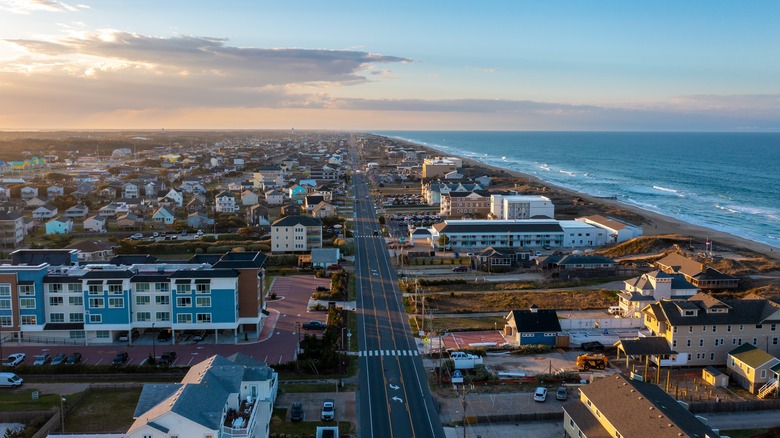 Kyle J Little/Shutterstock
At the time of her murder, Denise Johnson was working as a waitress near her home in North Carolina where she grew up. The Coastland Times reported that around 10 months before her death, Johnson had lodged a complaint with the police about a series of harassment calls. She also told friends she felt that she was being stalked. One evening in July 1997, Johnson left her job at the Barrier Inn at around 11 p.m. Little is known about Johnson's final few hours. However, according to Crime Line, after work, she was seen visiting a convenience store near Avalon Drive in the company of a young blonde woman. The identity of her companion is still unknown.
Sometime that night, Johnson fought off an attacker, who stabbed her multiple times in the neck. She sustained various injuries from the struggle before succumbing to her wounds, but there was no sign of rape or sexual assault. At 4:34 a.m. a neighbor called the emergency services after spotting smoke coming from Johnson's house. The police were able to collect 59 pieces of evidence from the scene, but with no obvious suspects, the case went cold for many years.
A triumph of investigative journalism
Just like Denise Johnson, investigative journalist Delia D'Ambra grew up in North Carolina. Johnson's killing happened when D'Ambra was just 4 years old, but the budding journalist was the daughter of a police officer, and she began to investigate the case herself in 2018.
It would take two years of research and writing, but D'Ambra was able to put together a series on the case for her podcast "CounterClock," a project she pursued in her free time. During the course of the show, she interviewed witnesses and chased leads in 13 riveting episodes that caught the attention of police. A year and a half later, police had reopened the case, inspired by her investigation. Officers were also now much more confident that advances in forensics could help them to solve the crime — and they seem to have made some serious headway. In July 2023, The Coastland Times reported that local police and D'Ambra herself were working with homicide detectives from Oregon who may have helped to connect the case to a known killer. The suspect is from the Kill Devil Hills area where Johnson lived and fled back to North Carolina in 1997 after committing homicide in Oregon.