What Happened To Hollywood Icon Faye Dunaway?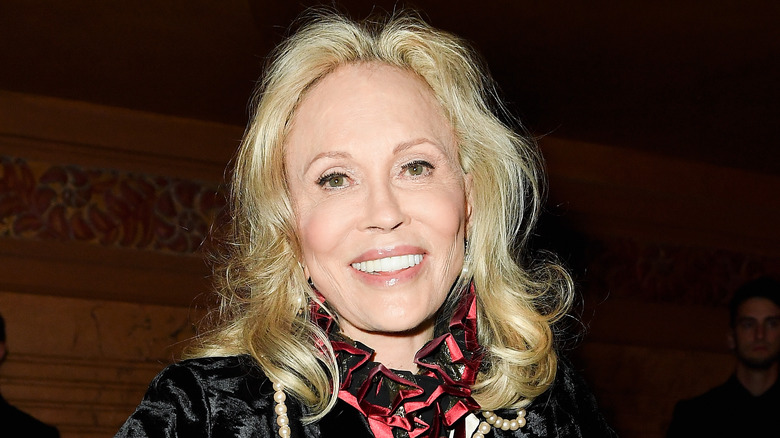 Jacopo M. Raule/Getty Images
Any cinephile worth their salt knows that Faye Dunaway is one of the most prolific actresses to ever grace the silver screen. Her triple whammy of Oscar nominations for "Bonnie and Clyde," "Chinatown," and "Network," the last of which got her the gold, represented the emergence of a major new Hollywood talent. Her desire to portray brash but sophisticated female characters went against the entertainment industry's norms for women at the time, yet her strong features and graceful beauty still made her a feminine icon in both entertainment and fashion.
However, her reputation has since withered to the point that many people don't realize she's still a working actor to this day. Following a string of failed follow-ups to her Oscar win for "Network," not to mention a reputation for being difficult on set, Dunaway began to retreat out of the public eye. These days, a public appearance is rare — in fact, Dunaway's name is more associated with scandal than anything else. Once considered Hollywood royalty, the actress' legacy has been redefined as that of a diva past her prime, but that shouldn't discredit her contributions to cinema.
Faye Dunaway was made into a joke with Mommie Dearest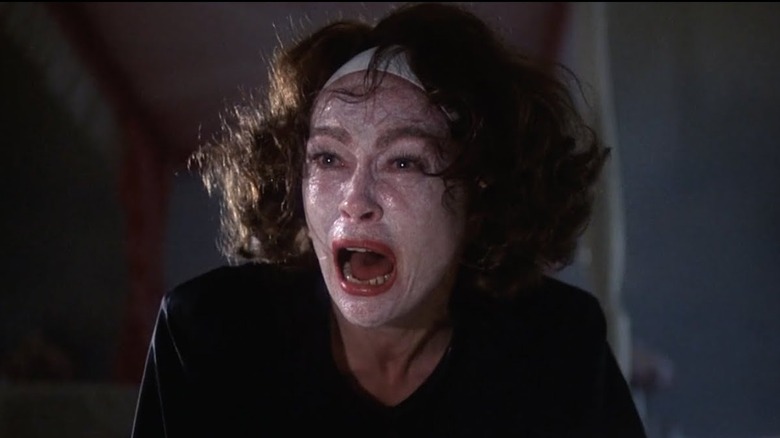 Paramount
Following her Oscar win for "Network," Faye Dunaway failed to produce a significant follow-up until 1981's "Mommie Dearest." The film, adapted from Christina Crawford's controversial autobiography of the same name, follows the abuse she endured at the hands of her adopted mother, renowned Hollywood actress Joan Crawford. Dunaway portrayed Crawford in the film using extensive makeup and method acting, going so far as to hold her facial muscles differently to better resemble her.
Critics and audiences found Dunaway's intense performance, though committed, to be unintentionally hilarious. Kevin Thomas of The Los Angeles Times said Dunaway's on-screen rage was comical, while Variety wrote that Dunaway "does not chew scenery" but rather "swallows it whole." The movie was so heavily skewered in the press that Paramount, the studio behind the film, retooled the film's marketing campaign to capitalize on its newfound reputation. That year, Dunaway was awarded a Razzie for Worst Actress.
In her 1995 memoir "Looking for Gatsby," Dunaway recounts the entire ordeal as nearly career-ending. She felt that her reputation, which had already been stained by claims of diva behavior on set, became conflated with Crawford's own larger-than-life reputation. "The roles we play become a part of our persona," she wrote. "People thought of me as being like her." Despite her remorse, the film has since achieved cult status as a quintessential piece of camp cinema.
She left Hollywood to spend married life in England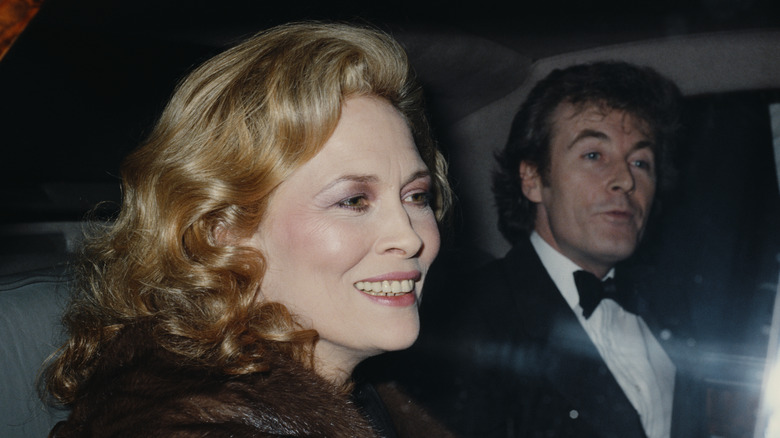 Fox Photos/Getty Images
In her memoir, Faye Dunaway wrote that, following the embarrassment of "Mommie Dearest," "fame had begun to eat away at my soul." She had become disillusioned with Hollywood and was looking for a better work-life balance following the birth of her son with then-boyfriend and successful photographer Terry O'Neill. Considering O'Neill was born and raised in London, the couple decided to move across the pond, which Dunaway described as being more calm than New York.
Dunaway and O'Neill would marry while living in London and raise their son together. In the midst of this, the two began working together on a film adaptation of "Duet For One," a play about a renowned concert violinist who loses everything after being diagnosed with multiple sclerosis. It would be O'Neill's directorial debut with Dunaway as his muse, but the two struggled to work with Tom Kempinski, the original playwright-turned-screenwriter.
They eventually gave up on the project, but the strain in working together was one of many factors that led the two to amicably divorce in 1987. Dunaway wrote that the two were headed in different directions despite having affection for one another. In addition, Dunaway began to long for the kind of compelling work that originally made her a star. After finishing a stint on the West End, Dunaway returned to New York ready to re-introduce herself to Hollywood.
She continued acting in film to mixed results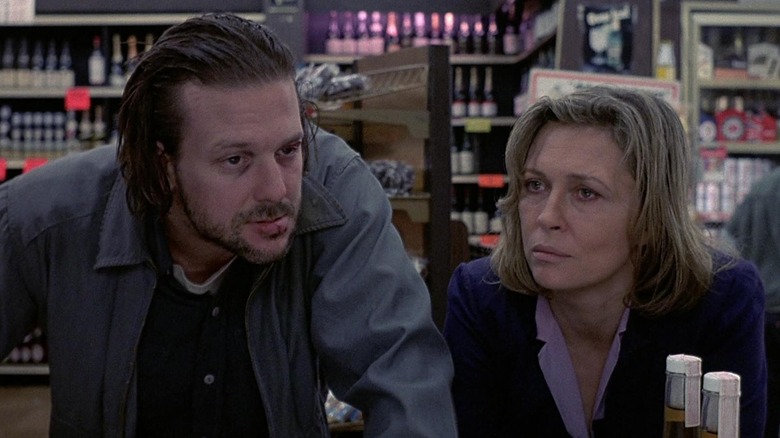 The Cannon Group
As discussed in her memoir, Faye Dunaway continued to act while living in London but only accepted projects that were shooting nearby so that she could spend time with her family. Some of those projects include 1983's "The Wicked Lady" and 1984's "Supergirl," both of which earned Dunaway additional Razzie nominations. However, unlike "Mommie Dearest," Dunaway enjoyed filming both projects, saying they provided some much-needed levity following her work as Joan Crawford.
Upon her return to Hollywood, Dunaway did make a bit of a splash opposite Mickey Rourke in "Barfly," a drama about struggling alcoholics. The film, released in 1987, earned her some of the best reviews she has ever received, including from established critics like Pauline Kael and Roger Ebert, as well as her eighth Golden Globe nomination. Later, in 1993, Dunaway appeared opposite Johnny Depp and Jerry Lewis in "Arizona Dream," which received the Silver Bear Prize at the Berlin International Film Festival.
However, even considering her successes, Dunaway struggled to reach the top of her once-tall pedestal. Films like 1990's "The Handmaid's Tale" and 1993's "The Temp" were both critical and box office failures, despite Dunaway receiving light praise for her performances. In addition, studio interference on "The Temp," which had its ending reshot one month before release, and "Arizona Dream," which had been unsuccessfully recut by the studio after its festival premiere, had soured Dunaway's experiences with Hollywood yet again.
She almost was in the Sunset Boulevard musical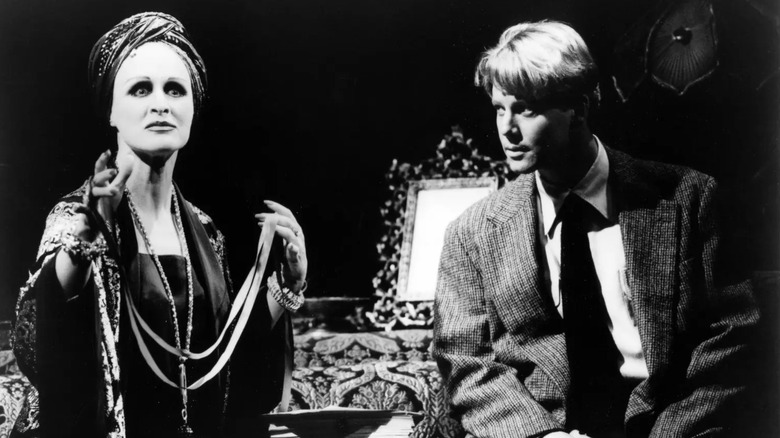 The New York Post
Once again dismayed with the film industry, Faye Dunaway longed to return to the stage. Until that point, Dunaway had maintained a successful career of straight plays but had never been in a musical. This was set to change when, in 1994, she auditioned and was selected to replace Glenn Close as Norma Desmond in the Los Angeles production of Andrew Lloyd Webber's musical adaptation of "Sunset Boulevard." The production was already popular, but Dunaway's involvement became the talk of the town, generating over $4 million in advanced ticket sales.
However, mere weeks before Dunaway was set to begin performances, Lloyd Webber's production company suddenly announced that her scheduled run in the production had been canceled, citing that Dunaway was unable to meet the vocal demands of the role during rehearsals. However, during an impromptu press conference, Dunaway claimed she had received nothing but encouragement from Lloyd Webber up to the announcement. "This is yet another capricious act by a capricious man," Dunaway told the press. 
Two months following the announcement, Dunaway filed a lawsuit against Lloyd Webber for $6 million, claiming defamation, breach of contract, and fraud. This led to a heavily publicized legal battle that resulted in an undisclosed settlement. 
She found success on television
Ron Davis/Getty Images
Both before and after her "Sunset Boulevard" dispute, Faye Dunaway was proving to find memorable roles on the small screen. In her memoir, Dunaway recounts that, in 1993, she got in touch with Peter Falk seeking advice on how to play an effective TV detective for a potential NBC series. The actor had risen to popularity portraying the titular sleuth on "Columbo" and wound up offering Dunaway the role of Laura Staton in one of the series' final episodes, "It's All in the Game." The role saw Dunaway playing a wealthy socialite who strikes up a flirty banter with the humble Columbo.
She eagerly accepted the part and greatly enjoyed the experience shooting the episode, recalling Falk as not only a talented writer but also a quality person. The episode was released to great acclaim, earning Dunaway her first and only Primetime Emmy Award. At the ceremony, she was overwhelmed by the warm reception she received from her peers in the industry, a response she had not received for a project in quite some time.
Later in the decade — following a long overdue star on the Hollywood Walk of Fame – Dunaway would receive two more recognitions for roles in television movies: a Screen Actors Guild nomination for her turn as matriarch Phyliss Gold in "The Twilight of the Golds" and another Golden Globe win for her performance as agent Wilhelmina Cooper in "Gia," a biopic starring Angelina Jolie as world's first supermodel, Gia Carangi.
Faye Dunaway converted to Catholicism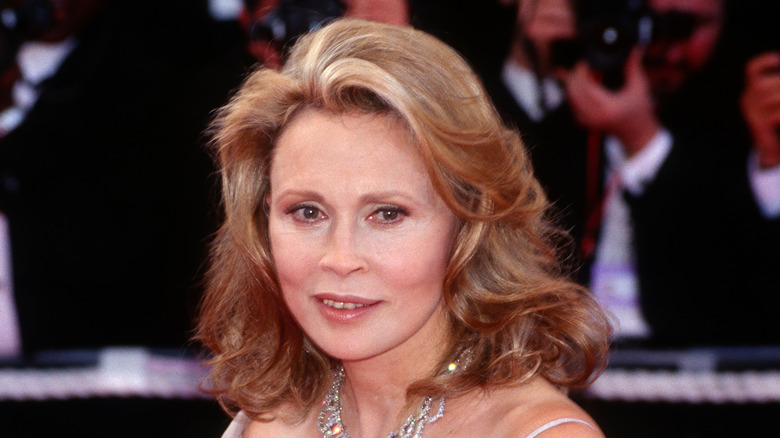 Foc Kan/Getty Images
One of the lesser known details about Faye Dunaway was that she converted to Catholicism later in life. Dunaway was born Protestant but maintained a strong interest in Catholicism, specifically in the context of working with director Franco Zeffirelli on 1979's "The Champ." As she recounts in "Looking for Gatsby," Zeffirelli was a devout Catholic himself and decided that all proceeds from the film's benefit premiere would go toward building a California parish church of his own design. The director's passion for his charity work, as well the sudden passing of her Catholic mentor Bill Alfred, inspired Dunaway to begin studying Catholicism. She then considered fully converting so that she could properly marry Terry O'Neill, her second husband, who was also Catholic.
Despite all of this, there is no formal record of Dunaway's conversion to Catholicism during this time. In fact, it's unclear exactly when Dunaway converted, though she confirms that she had recently completed the process in a piece she wrote for Esquire in 1999. Regardless, she devoutly maintains her Catholic faith to this day. In a 2017 interview with TODAY, Dunaway says she tries to go to mass every day. She spoke with the morning show to promote her 2017 film "The Case for Christ," a film she took part in as a result of her interest in exploring portrayals of faith on-screen.
She was a judge on a reality show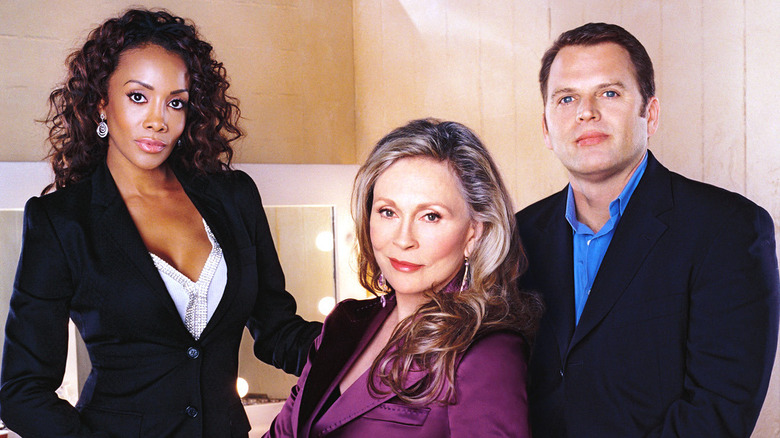 Warner Bros.
Who remembers "The Starlet?" Probably no one, considering it was a very short-lived reality series on The WB, which has since been rebranded as The CW. If one of us remembers it, however, it's probably Faye Dunaway. Still struggling to recapture her former success even into the mid-2000s, "The Starlet" was her bid to stay in the public eye amidst the wave of celebrity judges on reality TV, such as on "American Idol" and "The X Factor."
The 2005 competition series follows a group of 10 women vying for a career in Hollywood — in this case, an agency contract as well as a guest role on "One Tree Hill." Each episode saw the young actresses learning skills they would apply to a weekly screen test, which would be judged by a panel that included Dunaway. At a press conference for the series, Dunaway expressed that part of the decision behind participating in "The Starlet" was so that she could pass along her wisdom to future generations.
Sadly, whatever wisdom she hoped to provide fell on deaf ears. The show was poorly received — in their review, The Hollywood Reporter wrote that Dunaway "really ought to know better than to be here"– and subsequently canceled after just one season.
She failed to make her directorial debut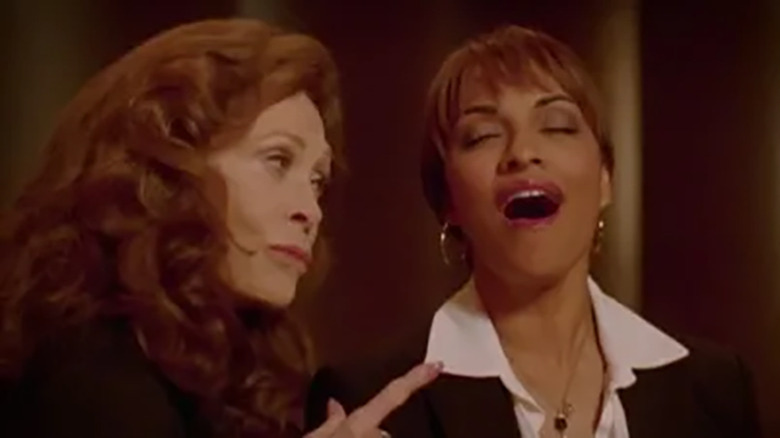 Vulture
Another reason Faye Dunaway agreed to be part of "The Starlet" was that, around the same time in 2005, Dunaway was about to begin production on her directorial debut, "Master Class." Adapted from Terrence McNally's play of the same name, which Dunaway herself toured to great acclaim in 1996, the story sees opera legend Maria Callas training an up-and-coming Juilliard student. Dunaway saw her mentor role on "The Starlet" as spiritually tied to her by-then already long-belabored passion project.
Dunaway had originally earned the film rights almost a decade earlier after she performed as Callas during the touring production. However, in 2002, Interview Magazine (via Playbill) reported that McNally himself was rewriting parts of the script. Production continued to be delayed well into the 2010's, as Dunaway struggled to secure financing for the film and encountered multiple lawsuits with fraudulent producers and allegedly unpaid editors. Though Dunaway insisted much of the film had been shot by 2013 (she even shared the pictured screenshot on her now-defunct Twitter account), there was no clear release in sight.
In 2014, after rumors emerged that Dunaway had officially given up hope, HBO announced that they were developing a separate adaptation of "Master Class" with Mike Nichols and Meryl Streep attached. According to Latin Times, Dunaway had resold the film rights to Barbra Streisand, of all people, who was reportedly behind the deal. Just like that, another Dunaway project had bit the dust.
She was honored at several film festivals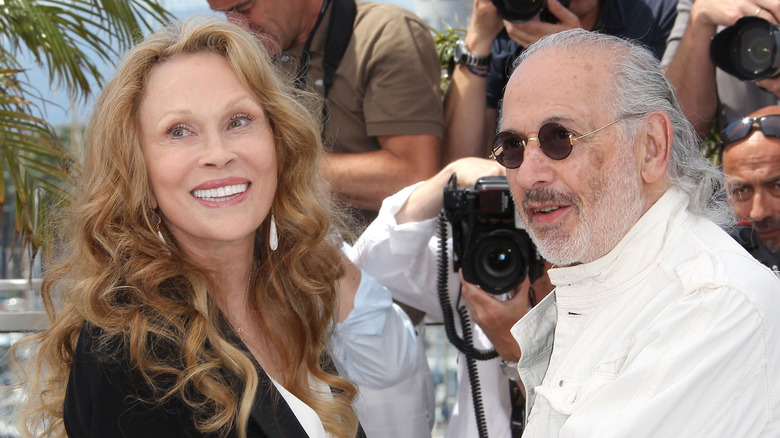 Toni Anne Barson/Getty Images
After her role in 2010's "A Family Thanksgiving," Faye Dunaway began making very few public appearances and wouldn't act in a film again until 2017. However, with the actress entering her twilight years and no Hollywood comeback in sight, several organizations chose to honor her and her many contributions to cinema.
In 2011, a photo of Dunaway was used for the 2011 Cannes Film Festival official poster. The photo, originally taken in 1970 by photographer and filmmaker Jerry Schatzberg, was described by the festival as "an embodiment of the cinematic dream that the Festival de Cannes seeks to maintain." Dunaway and Schatzberg previously collaborated on the obscure 1970 drama "Puzzle of a Downfall Child," which had been restored by Universal Pictures for a special screening at the festival that Dunaway and Schatzberg attended.
Dunaway went on to be honored at the 2013 Locarno Film Festival, in which she received the festival's first-ever Leopard Club Award and held a special conversation with film fans. The following year, she was honored at the Lumiere Film Festival, where they screened a restoration of "Bonnie and Clyde." Before giving her opening remarks, she was greeted by a standing ovation, after which she became incredibly emotional. 
Finally, in 2016, Turner Classic Movies held a special Q&A with Dunaway as part of the TCM Classic Film Festival following a screening of "Network." During it, the actress insisted she had no plans to retire. "I just want to keep working," Dunaway said. "It's where I'm happiest." 
Remember the Oscars fiasco?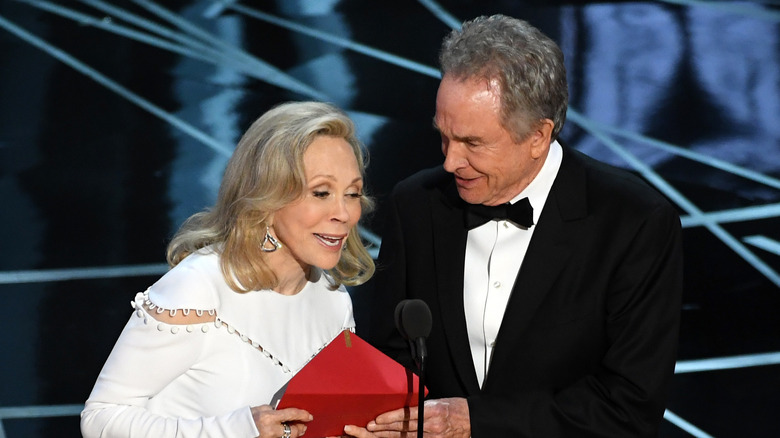 Kevin Winter/Getty Images
It's impossible to look back on Faye Dunaway's career without recounting the infamous Best Picture mix-up at the 2017 Academy Awards. Despite the fact she was not responsible for the mistake, it made major headlines and cast a shadow over her and her work for well over a year.
We all know the story: Dunaway joined "Bonnie and Clyde" co-star Warren Beatty to present that year's award. Upon opening the envelope, Beatty was visibly confused and stalled announcing the winner before Dunaway, believing him to be joking, announced the winner to be "La La Land." However, after a round of victory speeches, the "La La Land" team was informed that there had been a mistake and that "Moonlight" was the actual winner. The incident occurred due to Oscars accountants PricewaterhouseCoopers accidentally giving the duo the wrong envelope.
Regardless, the event stirred up a media frenzy in which Dunaway and Beatty became the butt of many jokes. Dunaway kept silent about the event until an interview with NBC Nightly News two months later, during which she revealed that she still felt guilty about the entire ordeal. In another interview with TODAY, she described it as one of the worst moments she had ever experienced in her entire career. However, time heals all wounds, as the two returned to the ceremony the following year to both poke fun at and redeem themselves by correctly awarding "The Shape of Water" with Best Picture.
She was fired from her big return to Broadway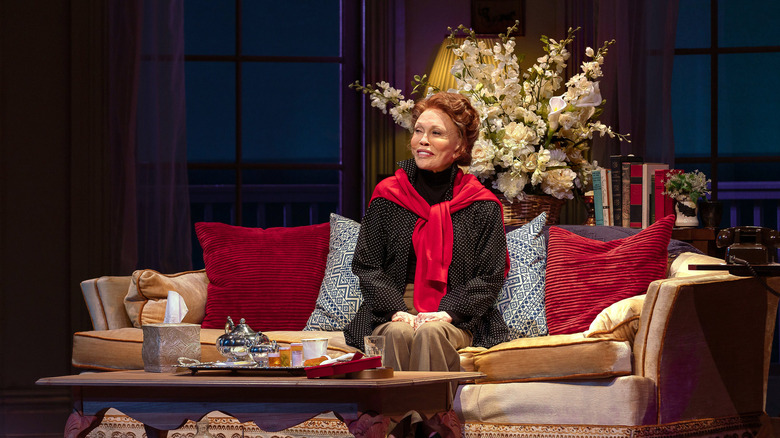 Nile Scott Studios
In 2018, it was announced that Faye Dunaway would return to Broadway after a 35-year absence in a revival of "Tea At Five," Matthew Lombardo's one-woman show centered on Katharine Hepburn. The production's pre-Broadway run at Boston's Hartford Stage was well-received, positioning it for a smooth transition onto the Great White Way. However, shortly after the initial run concluded, the show's producers announced that they had terminated their relationship with Dunaway and were now seeking a replacement.
Their statement neglected to mention the exact reason why she was fired, but reports of physically abusive behavior during rehearsals and before performances filled in the gaps. The actress reportedly was often late for rehearsals, went on verbal tirades, and even slapped or threw things at crew members. These accusations were made worse one month later when one of Dunaway's assistants, Michael Rocha, filed a lawsuit against her. Rocha detailed the abuse he endured while working for her, including how she used his sexual orientation as a way to demean and humiliate him. 
Faye Dunaway continues to act to his day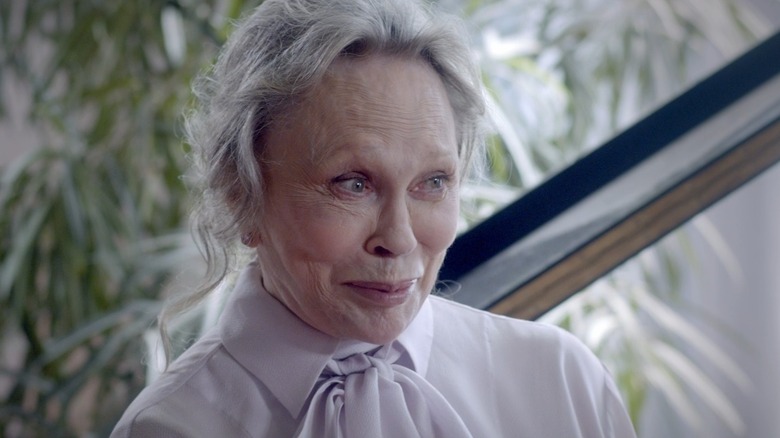 L'Altrofilm
Contrary to popular belief, Faye Dunaway remains a working actor to this day. Since 2017, the actress has continued working in film. She was most recently in "The Man Who Drew God," Franco Nero's Italian drama that is most well-known for being the first film to cast Kevin Spacey following his heavily publicized allegations of sexual assault. She was also seen in 2021's "The American Connection," and the 2017 films "Inconceivable," "The Case for Christ," and — hilariously enough – "The Bye Bye Man."
None of these films were especially well-reviewed or even widely seen, so it's not a surprise people assume Dunaway had simply retired. In her 80s and no additional credits in television or theater since "A Family Thanksgiving" and "Tea At Five," one does have to wonder if Dunaway's career is coming to an unceremonious close. She is still revered in the film community despite her controversies, so perhaps she still has one last hit left in her.