What Manson Family Member Tex Watson's Life In Prison Is Like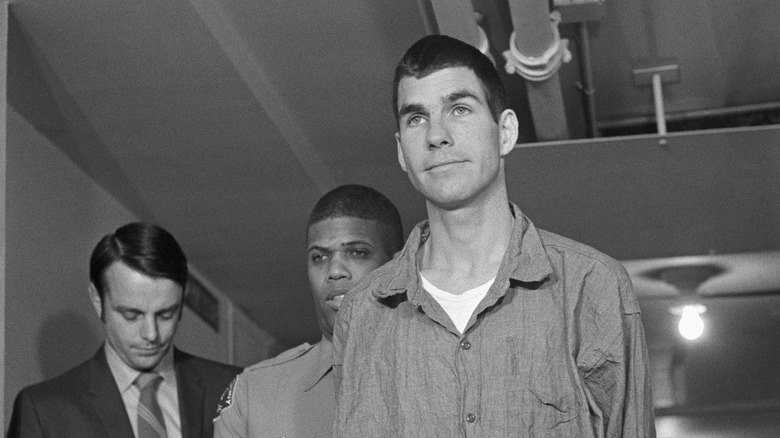 Bettmann/Getty Images
"I'm the devil and I'm here to the do the devil's business," Charles "Tex" Watson told one of his victims, a Polish actor named Voytek Frykowski, on the night of August 8, 1969. Watson eventually murdered Frykowski, shooting him, stabbing him, and clubbing him with the gun's butt, per "The Family." By his own account, Watson was Charlie Manson's right-hand man and carried out his orders by slaughtering seven people over two nights in the summer of 1969. Among the victims were the pregnant actress Sharon Tate and the LaBiancas, who were successful grocery store owners. But the statement Watson made more than 50 years ago about being the devil is a far cry from his latest missive on his Christian ministry website, Abounding Love: "Happy Thanksgiving!" he begins. "We have many things to be thankful for in our lives, but make sure you thank God for the greatest gift of all — forgiveness and eternal life with Jesus forever in heaven."
In November 1971, Judge Adolph Alexander sentenced Watson to death after a jury found him guilty of first-degree murder in the Tate-LaBianca murders, per Reuters. In 1972, California overturned the death penalty, and Watson was instead given life in prison, according to NBC Los Angeles. In Watson's more than five decades behind bars, he's been denied parole 18 times. But he managed to get married and divorced, father four children, and start a Christian ministry, per Texas Monthly and journalist Scott Thomas Anderson.
He's housed in San Diego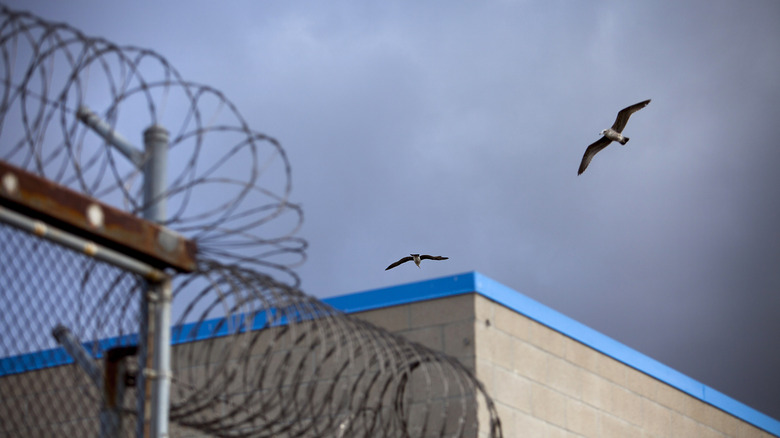 Bloomberg/Getty Images
Tex Watson is currently serving his prison sentence at the Richard J. Donovan Correctional Facility in San Diego, per the California Department of Corrections and Rehabilitation (CDCR). The nearly 800-acre facility is located on an arid mesa outside of the city less than a mile from the Mexican border and is surrounded by other law enforcement facilities, per CDCR. The prison has a commercial bakery, laundry area, and shoe-making facility where inmates work. According to the transcript from his 2021 parole hearing (via CieloDrive.com), Watson was a hazmat porter — akin to janitorial service — at the prison from 2009 to 2017. He later became involved in facilitating recovery groups.
Among the more than 3,300 inmates housed at the prison as of this writing, there are several other infamous criminals besides Watson, such as Erik and Lyle Menendez, who were convicted in 1996 of murdering their parents (per CDCR). Marion "Suge" Knight, the former CEO of Death Row Records, is also housed there, serving 28 years for voluntary manslaughter after intentionally running someone over in 2015, per TMZ.
He found God and started a ministry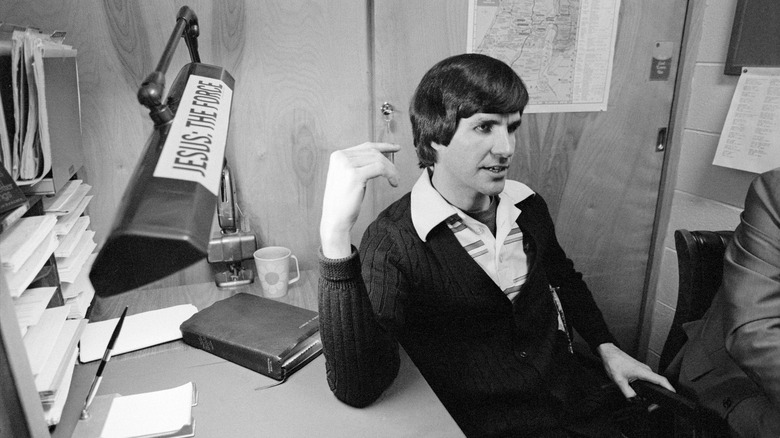 Bettmann/Getty Images
In 1975, Tex Watson found God and became a born-again Christian. "And from that point on, I began to look for ways that I could really reach out to people," he told the parole board in 2016. He founded his ministry in 1980, became an ordained minister the next year, and launched his ministry's website in 1997, according to Abounding Love. He has gained many supporters who believe he's a changed man, including the daughter of Rosemary LaBianca, one of Watson's victims.
"She found out I was really changed, so she came from New Mexico to tell me who her parents were and to forgive me," Watson wrote in his book "Charle's Watson Speaks Out." "It was a miraculous event with the anointing of God all over us." But in the 1980s, while helping to lead the Protestant chapel at the California Men's Colony prison where he was then incarcerated, Watson allegedly used his position to get administrative disciplinary actions against other inmates who didn't agree with his teachings, per UPI. The California attorney general's office looked into the dealings of Watson's Abounding Love Ministries concerning the alleged misuse of funds for personal use.
Married, with children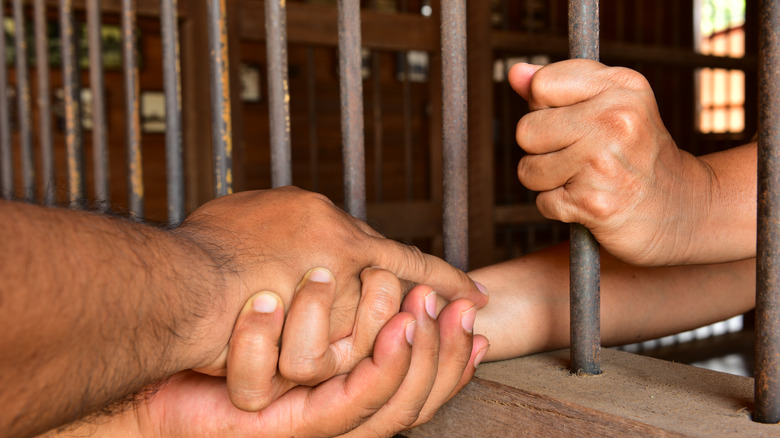 Sanit Fuangnakhon/Shutterstock
In September 1979, Tex Watson married Kristen Joan Svege in a prison ceremony, according to UPI. They had begun corresponding through the mail before falling in love. According to journalist Scott Thomas Anderson, the prison allowed them to have conjugal visits until 1996, when the state outlawed them for inmates serving life sentences. According to Oxygen, they had four children together and divorced in 2003.
While married, Svege not only raised their children but also financially supported Watson's elderly parents before they died, per testimony in the 2016 parole hearing. In 2011, Anderson claimed that even after the divorce, Svege continued to stand by Watson and push for his release. When his children were young, he explained to them why he was behind bars. "I put it to them in a way that a 6-year-old could understand, that dad did a horrible thing in the late '60s and that he's now suffering the consequences of what he's done," Watson told the parole board in 2016 (via CieloDrive.com). He said he continues to have close relationships with his children and his siblings.
Life behind bars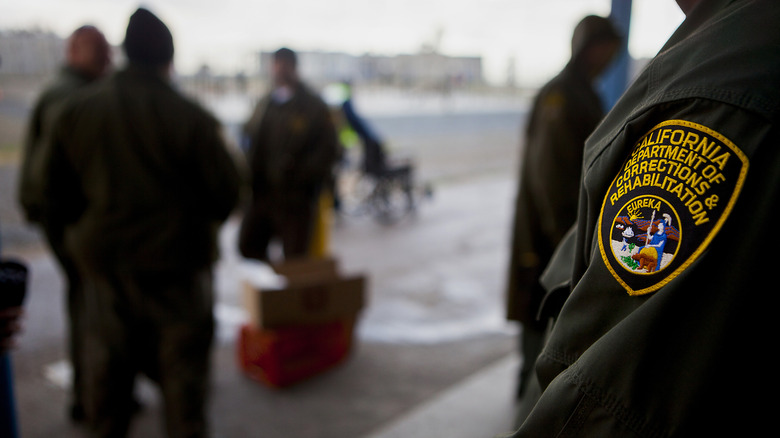 Bloomberg/Getty Images
In 2013, a fellow inmate stabbed Tex Watson in the back with a paintbrush handle sharpened to a point and tried to toss him off the prison's second story due to the notoriety of the Manson murders, per the parole hearing transcript. "He was trying to throw me off the tier, right, and I just hung on kind of for dear life and waited until the officers got there," Watson recounted. He recovered from his injuries. It was the only violent incident he'd experienced while behind bars.
In the 2016 hearing, Watson's disciplinary record was described by multiple officials as "exemplary." At the time, Watson said that when he's not working at his prison job, he "walk[s] the yard" ministering to other inmates. According to Scott Thomas Anderson, Watson once helped save a fellow prisoner's life "during a medical situation." The journalist also reported that the attorney who represented Watson at his 2011 parole hearing said correction officers have "praised Watson's honesty, reliability, and work ethic." While incarcerated, Watson has participated in various prison programs, learned data processing and office machine repair, and earned a bachelor's degree in business management.
Denied parole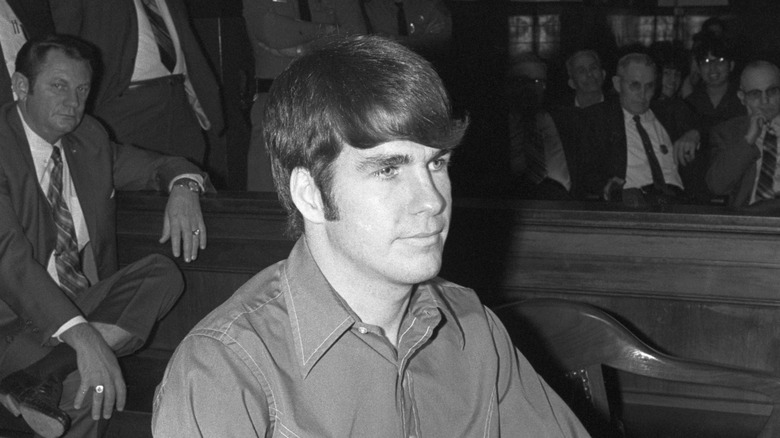 Bettmann/Getty Images
On October 15, 2021, a California parole board again denied Tex Watson his freedom, per NBC Los Angeles. It was the then-77-year-old's 18th try. In making its decision, the board found Watson "does pose a reasonable risk to public safety and is not suitable for parole at this time" due in part to "a lack of effective growth" and "an incomplete acceptance of responsibility" for the Tate-LaBianca murders, according to the parole hearing transcript (via CieloDrive.com). Watson, according to the board, continued to blame his murderous actions over those two nights on drug use and Charles Manson. "It is especially troubling that he actually committed some of the most disturbing and atrocious and cruel aspects of the murders," Commissioner Randolf Grounds said during the hearing.
As in past parole board hearings for Watson, relatives of his victims attended and spoke out against letting him out. Debra Tate, Sharon Tate's sister, told the board she couldn't say whether the "factors" behind Watson's killing spree are still present. "It scares me to death," she said, adding, "He may have full intentions ... of leading a quiet life with his children, but I don't think he possesses the tools in order to guarantee society that the factors that made him the monster in the past won't again happen and make him a monster in the future." Watson's next parole hearing will be in October 2026, per the Los Angeles Times.